Sacramento's nightlife scene is nothing short of impressive, boasting a diverse selection of bars catering to different preferences and tastes. From swanky cocktail lounges to laid-back dive bars, the city offers unforgettable experiences for young adults and seasoned pub-goers alike.
In this blog post, we've rounded up 12 of the best bars in Sacramento that promise tantalizing cocktails, great beer selections, vibrant atmospheres, and much more.
12 Best Bars In Sacramento
Discover the 12 best bars in Sacramento, each offering their own unique vibe and experience – from patio bars to speakeasies, craft beer to mixology cocktails, sports bars to wine bars.
The Snug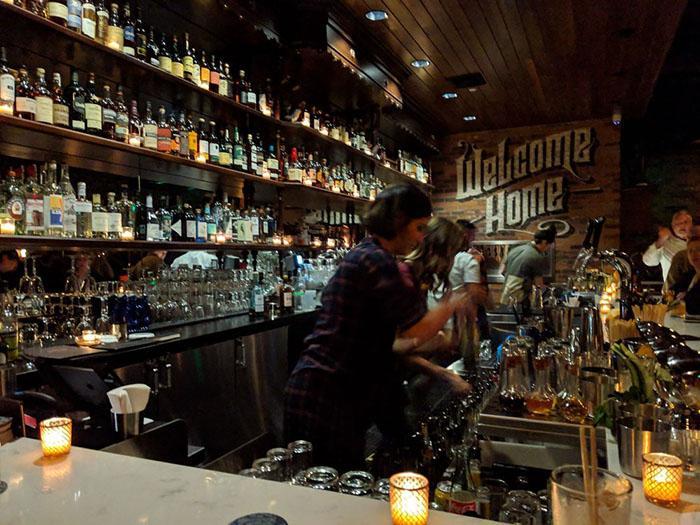 The Snug has quickly become one of the premier destinations for cocktail enthusiasts in Sacramento. Since opening its doors in 2019, it has consistently been voted as the city's best cocktail bar and even earned a spot on the list of top 10 cocktail bars in the US West region.
Inspired by Ireland's traditional annex concept, The Snug offers a cozy atmosphere that perfectly complements its exceptional mixology and craft bartending expertise. You'll find classic cocktails mixed with high-quality spirits alongside innovative concoctions created by their talented team of bartenders – who were recognized as a 2020 Spirited Awards regional honoree for Best High-Volume Cocktail Bar and Best Bar Team.
This unique bar concept not only elevates Sacramento's cocktail culture but also introduces customers to an unforgettable experience at one of the best bars in Sacramento.
Firestone Public House
As someone who's experienced the nightlife in Sacramento, I can confidently say that Firestone Public House is one of the top bars you must visit while you're in town.
One of my favorite things about Firestone Public House is their energetic atmosphere during happy hour and on game nights, making it a perfect spot for sports enthusiasts.
If you're into patio bars like me, you'll love chilling out in Mix Downtown's rooftop patio right above the Firestone building – a fantastic place for enjoying drinks with friends as you take in Sacramento's vibrant city life.
The rave reviews they've received on Tripadvisor giving them a solid 4 out of 5 rating shows just how much people enjoy spending time at this popular bar.
Coin-Op Game Room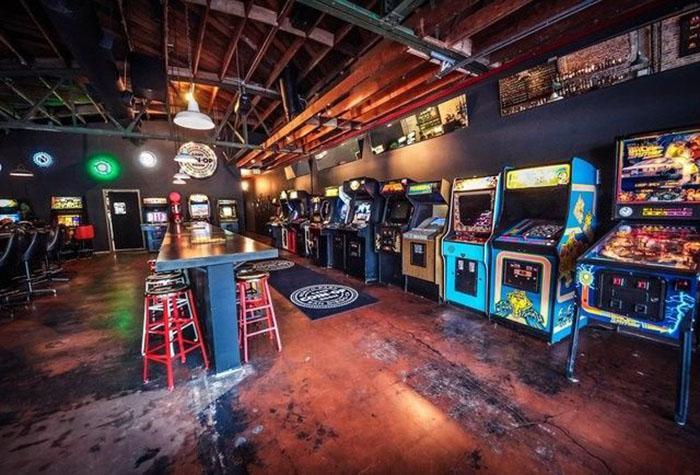 If you're a fan of nostalgia, arcade games, and great drinks, then Coin-Op Game Room is the perfect spot for you. Located in the heart of Downtown Sacramento, this basement bar has been a nightlife staple since it opened its doors in 2015.
As soon as I walked into Coin-Op Game Room, I was transported back to my childhood days spent at arcades. The space boasts an impressive collection of over 42 arcade games that are enough to make any gaming enthusiast feel right at home.
It's not just about the games though; with live music events held regularly (once at Marilyn's on K), this bar has earned a place among Sacramento's top 50 bars with live music too.
Tank House BBQ And Bar
Tank House BBQ and Bar is a popular spot in Sacramento for those looking to indulge in some classic BBQ food and enjoy a full bar.
This top-rated bar offers some of the best ribs and brisket that you can find in town.
If you're looking for a place to indulge your craving for delicious BBQ food while enjoying some drinks with friends, head over to Tank House BBQ and Bar.
Shady Lady Saloon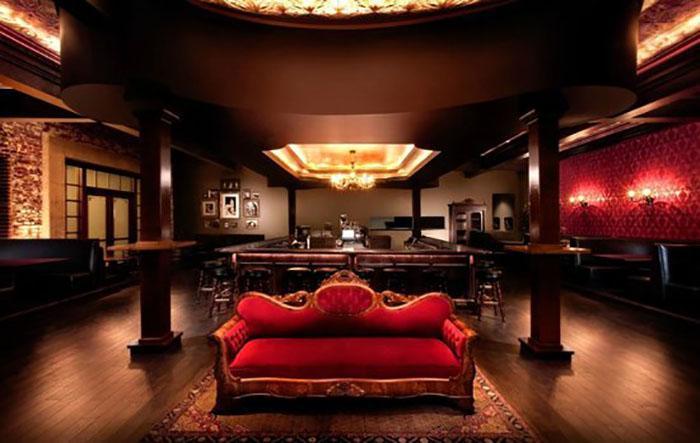 Shady Lady Saloon is one of Sacramento's most popular cocktail bars, known for its artesian cocktails and bespoke menu that takes you back to the 1920s.
Located in the trendy Midtown neighborhood, the bar exudes a cozy vintage atmosphere with dim lighting, antique decor, and an impressive collection of spirits behind the bar.
As a top spot for grabbing classic and seasonal cocktails, patrons can't resist indulging in Shady Lady Saloon's signature drink – the White Linen.
Whether you're looking for a happy hour special or seeking out secret speakeasy-style bars, Shady Lady Saloon sits perfectly on Sacramento's scene as one of its finest gems.
The nostalgic ambiance paired with masterful mixology has made it a cherished neighborhood hangout spot where classics like Mai Tais are crafted with precision.
The Red Rabbit Kitchen And Bar
One of the best bars in Sacramento that I highly recommend is The Red Rabbit Kitchen and Bar. If you're looking for craft cocktails that use only the freshest ingredients, then this bar should be on your list of places to visit.
The Rustic-chic ambiance at The Red Rabbit is perfect for winding down after a long day or weekend with friends. It serves farm-to-table New American plates made from locally sourced ingredients with a seasonal menu that offers new items every few months.
This makes every visit a unique experience where no two meals are ever quite alike.
Bonn Lair
Bonn Lair is one of the best bars in Sacramento, and for good reason – it's been a beloved neighborhood pub for over 21 years. The British-style bar has a cozy atmosphere that mixes the charm of an English pub with the laid-back vibe of a Sacramento dive bar.
As someone who struggles with alcoholism, I appreciate that Bonn Lair offers an inclusive and welcoming environment for all drinkers. Whether you're looking for a place to catch up on sports or just unwind after work with some friends, this is definitely worth checking out.
LowBrau Bierhall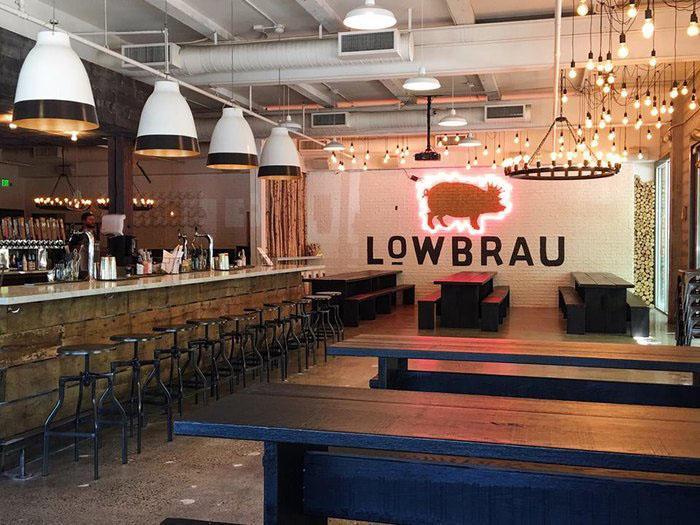 As someone who struggles with alcoholism, finding a bar that offers not only delicious drinks but also a trendy atmosphere can be difficult. That's why I highly recommend LowBrau Bierhall, one of the best bars in Sacramento.
Located at 1050 20th Street, LowBrau Bierhall is known for its wide selection of local craft beers and German cuisine. The outdoor seating options make it the perfect spot to enjoy happy hour specials or catch live music events.
One of my favorite things about this bar is that they often have local food trucks parked outside, offering even more delicious options to pair with your drinks.
Plus, their bottle shop next door called Holy Spirits Bar & Bottle Shop makes taking home your favorite beverage easy and convenient.
Kupros Craft House
If you're looking for a great place to enjoy craft beer and a full bar in Sacramento, Kupros Craft House is definitely worth checking out. Housed in a gorgeous classic 1910 Craftsman home that was rejuvenated with modern amenities, this unique establishment stands out as one of the best bars in the area.
Known for its outstanding craftsmanship and impeccable service, Kupros Craft House is a favorite among locals and tourists alike.
Whether you're looking to relax with good company or celebrate an occasion in style, Kupros Craft House offers an unparalleled dining experience that will leave you wanting more.
Station 16 Seafood Restaurant And Bar
If you're looking for a new spot to check out in Midtown Sacramento, Station 16 Seafood Restaurant and Bar is definitely worth a visit.
As someone struggling with alcoholism, it can be hard to find social spots that offer non-alcoholic drink options while also providing a fun atmosphere. Thankfully, Station 16 has both.
The raw bar offers plenty of tasty options to pair with their unique mocktails like the "Midtown Mule" or "Hibiscus Crush". And even if you do indulge in an alcoholic beverage, there's no denying that their menu has received positive reviews for good reason – everything from their oysters to meat dishes are made using only fresh ingredients.
The Jungle Bird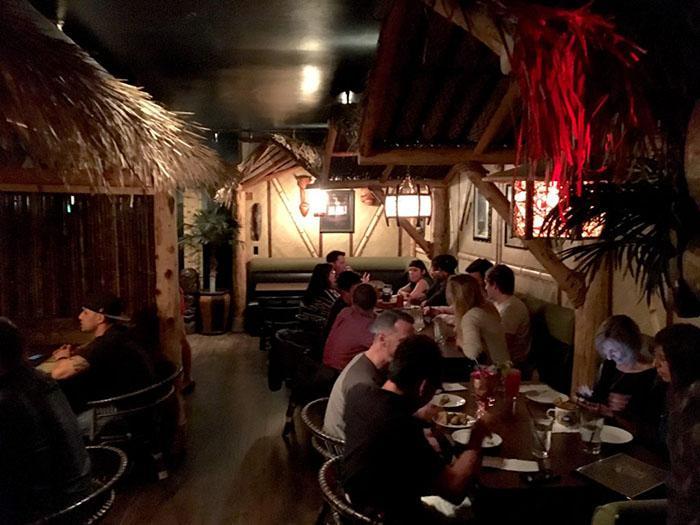 As someone struggling with alcoholism, finding a bar that offers more than just drinks can be challenging. Luckily, The Jungle Bird in Sacramento provides an escape from reality with its tropical atmosphere and island-inspired cuisine.
The decor transports you to a paradise setting, complete with bamboo furniture and palm leaf wallpaper. What sets this tiki-themed bar apart is its extensive rum selection and signature cocktails, like the Mai Tai or Painkiller.
These rum-based drinks are served in fun tiki mugs to add to the overall beachy ambiance.
The Jungle Bird has quickly become one of Sacramento's best bars since its opening in October 2016. People travel from all over, including the Bay Area, just to visit this unique spot.
And it's no surprise why – sipping on a fruity cocktail while surrounded by vibrant colors and friendly staff can easily lift anyone's spirits.
The Golden Bear
The Golden Bear is a favorite spot for locals and visitors alike who enjoy craft cocktails, cold beer, and scratch-made food. The bar has a laid-back atmosphere perfect for socializing and catching up with friends.
The staff is friendly, making it feel like a second home for many regulars. The menu features creative items like the PB&J Burger and specialty drinks such as the famous Moscow Mule served in a copper mug.
Happy hour specials are also available, showcasing specialties from local breweries.
Conclusion
In conclusion, Sacramento has a vibrant and diverse nightlife scene with an abundance of top-notch bars to choose from. Whether you're in the mood for craft beer or fancy cocktails, live music or karaoke, patio bars or whiskey lounges – Sacramento has it all.
The 12 best bars mentioned above are just a small taste of what this city has to offer. With so many options available, there's never a dull moment when exploring Sacramento's nightlife.