Welcome to the Lower East Side, home to a dynamic and diverse nightlife scene that continues to buzz with energy. Whether you're looking for swanky wine bars, historic dive bars, or trendy cocktail lounges, this vibrant NYC neighborhood has got it all.
From live music venues and rooftop views to hidden gems and craft beer havens, our carefully curated list of the 15 best bars in the Lower East Side promises an unforgettable night out in one of New York City's most iconic neighborhoods.
Top 15 Bars In Lower East Side NYC
Copper & Oak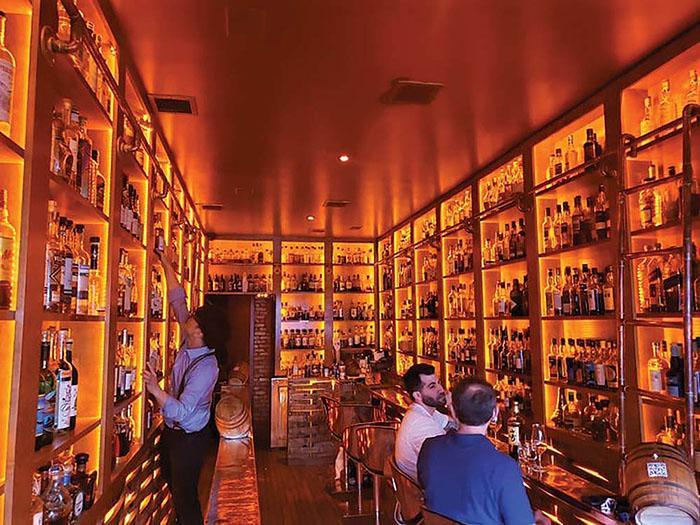 Copper & Oak is a standout among the Lower East Side bars, boasting an impressive collection of hundreds of whiskeys and various other liquors. Located at 157 Allen St, this hidden gem may be small, but it compensates with its warm atmosphere and shelves filled to the brim with rare spirits.
Alcohol enthusiasts will appreciate Copper & Oak's diverse offerings and great deals available for patrons. The knowledgeable staff adds to the experience by providing insight on whiskey selections tailored from their extensive list.
Whether you're looking for a quiet spot for an evening drink or simply eager to expand your palate, Copper & Oak delivers on all fronts as one of the best bars in Lower East Side NYC.
Gugu Room
Nestled in the bustling neighborhood of Lower East Side, Gugu Room stands out as a top destination for those seeking an unforgettable NYC bar experience.
The talented team behind Gugu Room are seasoned restaurant and bar industry experts, ensuring that every guest's experience is nothing short of enjoyable and memorable. The cozy atmosphere features a wide-ranging wine selection to suit any taste, while enticing customers with happy hour deals on select drinks throughout the week.
As night falls, visitors witness Gugu Room transform from a vibrant eatery into an energetic bar and cocktail lounge; complete with DJ music catering to New York nightlife enthusiasts.
Lullaby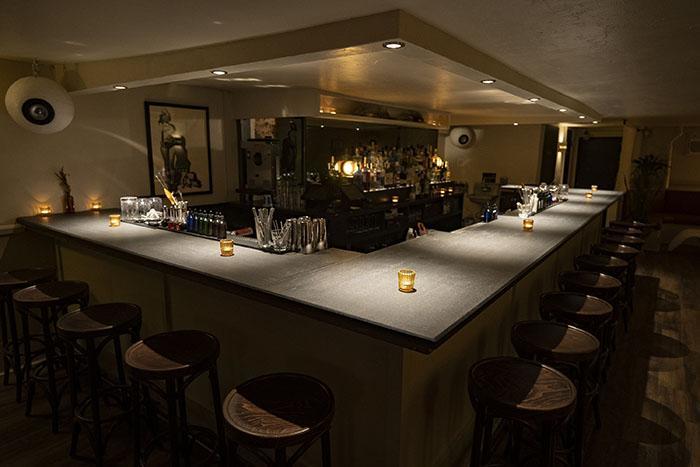 Lullaby is known for its laid-back atmosphere featuring comfortable couches, low ceilings, and a lively mix of people dancing the night away. Patrons can savor expertly crafted cocktails or dive into an extensive selection of organic and biodynamic wines while enjoying one of the best places to drink in NYC.
Las' Lap
Las' Lap is a unique bar in the Lower East Side that offers a fusion of Caribbean culture, jazz music, and craft drinks.
The sultry atmosphere and upbeat energy make it feel like you've stepped into another world. What sets Las' Lap apart from other bars is their focus on rum culture – they offer an extensive selection of classic and modern cocktails made with various rums.
Not to mention, their small plates are perfect for sharing while enjoying a night out with friends.
The Flower Shop
This new bar-and-grill boasts an eclectic decor that feels like you're stepping into a funky 1970s rec room, complete with vintage wallpaper and cozy velvet couches.
But what sets The Flower Shop apart from other trendy spots in the area is its commitment to proper cocktails and good vibes.
One thing to note about The Flower Shop is that they don't take reservations or have a guest list – it's all first-come, first-served.
Clandestino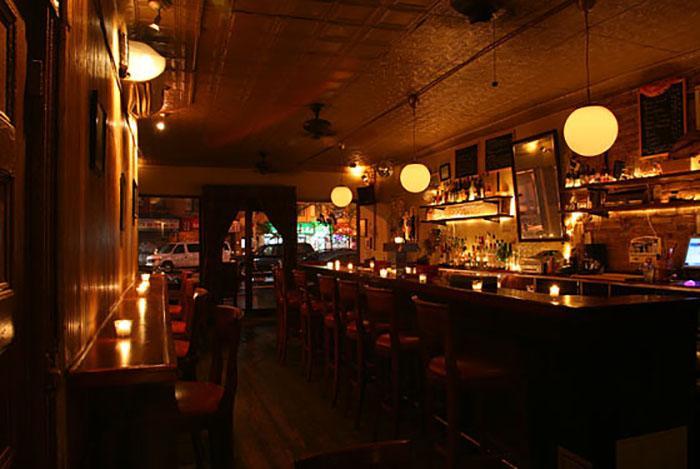 Clandestino is a cozy neighborhood bar that is sure to satisfy anyone looking for an intimate and casual setting. With its well-chosen craft beers and specialty cocktails, this Lower East Side hotspot has become a local hangout that attracts both tourists and regulars alike.
Clandestino's mixology game is strong with standout drinks like the D'Amiti, which combines bourbon, amaro, lemon juice, honey syrup and ginger. The warm atmosphere makes it perfect for conversation over drinks or simply enjoying happy hour after work.
The Ten Bells
The Ten Bells is a natural wine and tapas bar that offers a unique experience to guests. The bar serves an impressive selection of wine from small producers, which are perfectly paired with international cuisine, including charcuterie platters and oysters.
What sets The Ten Bells apart from other bars in the Lower East Side NYC is its casual atmosphere and romantic ambiance, making it an ideal spot for those looking to dine with friends or family.
Attaboy
This speakeasy-style bar, formerly known as Milk & Honey, serves up some of the most innovative cocktails around.
In fact, Attaboy has been ranked as one of the top 50 bars in NYC! The industrial-style decor adds to the unique atmosphere that makes this upscale bar a trendy hotspot for mixology enthusiasts and cocktail aficionados.
The Late Late
The Late Late is a popular bar in Lower East Side that attracts a diverse crowd of alcohol enthusiasts. This Irish-inspired lounge serves up a range of cocktails and beers, making it an ideal spot for happy hour gatherings or late-night parties.
The decor is stylish and trendy, creating an inviting atmosphere for all who enter. Despite being labeled as an "Irish Pub," the bar has carved out its own niche in the bustling neighborhood by offering unique entertainment experiences like live music performances and comedy shows.
Bar Goto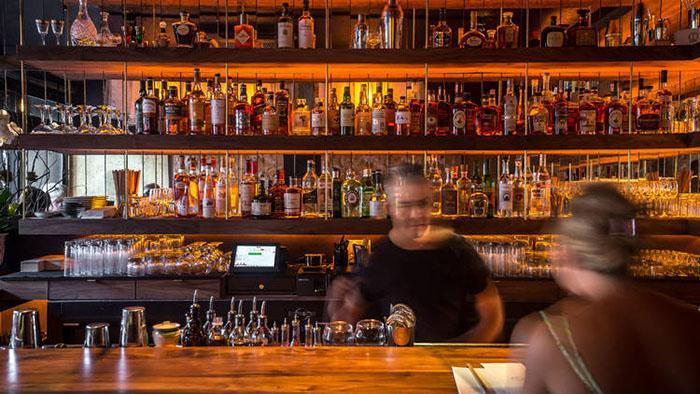 Bar Goto is a must-visit bar in the Lower East Side of NYC for anyone looking for a unique and innovative drink menu. Japanese inspired cocktails using sake and shochu are the specialty here, making it stand out from other bars in the area.
The selections on their menu feature a range of signature drinks that promise to excite your tastebuds with their unique blend of flavors. With its reputation as one of the most trendy bars in NYC, Bar Goto attracts crowds looking for an unforgettable night-out experience.
169 Bar
One of the must-visit bars in NYC's Lower East Side is 169 Bar, a local institution that has been around for over 100 years. This historic bar was bought by Charles Hanson back in 2006, and he infused it with New Orleans-inspired culture and unique drinks that make this place a popular destination for locals and tourists alike.
One of its signature cocktails is the infamous pickle martini – a drink you won't find anywhere else in the city.
If you're looking for craft cocktails with a twist, then look no further than Loreley Beer Garden – another top spot to check out in Lower East Side.
Subject
Subject is a must-visit bar for anyone looking for a cozy and beautiful drinking spot in Lower East Side NYC. This welcoming bar has an atmosphere that's big and expressive, with huge windows overlooking the bustling city streets.
Whether you're in the mood for craft cocktails or refreshing wine, Subject has it all. The beautifully designed space features comfy seating areas perfect for enjoying drinks with friends or solo.
Reception Bar
Reception Bar is definitely worth checking out. This trendy spot offers unique drinks like the "Big Bird," made with mezcal and citrus, and the "Boulevardier Spritz," which adds grapefruit to the traditional bitter cocktail.
And if you're not sure what to order, their friendly bartenders are always happy to make suggestions based on your preferences.
But be warned – this isn't one of those dive bars where you can grab a cheap drink and blend into the crowd. Reception Bar is a popular destination, especially on weekend nights when crowds spill out onto Canal Street.
Fools Gold NYC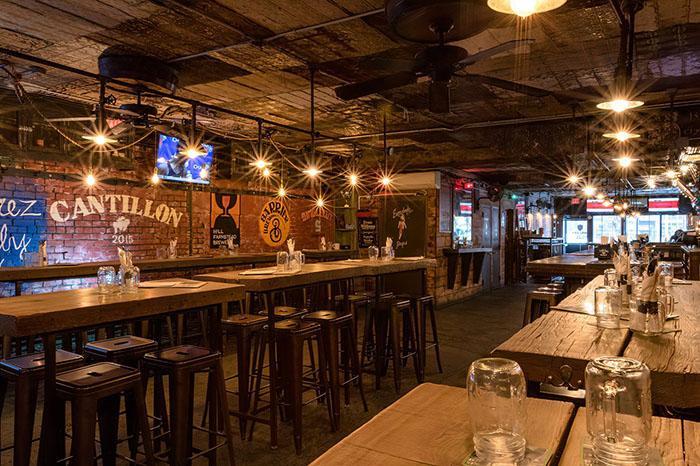 Fools Gold NYC is a well-known casual drinking spot in the Lower East Side of NYC. This bar offers a relaxed atmosphere that appeals to beer enthusiasts and sports fans alike.
If you're looking for a place with excellent Alewife beer options, then Fools Gold should be your go-to destination.
Located at 145 E Houston Street in NY, NY, this Houston Street bar scene has made quite an impression on both locals and tourists seeking fantastic drinks in Downtown Manhattan bars.
Hair Of The Dog
Located at the heart of Lower East Side, NYC, Hair of the Dog is a go-to bar for locals and tourists alike. This sports bar is famous for its relaxed atmosphere and extensive garden seating area.
The all-day happy hour specials make this spot a popular destination for those looking to enjoy drinks on a budget while watching their favorite sports teams play.