Welcome to the vibrant nightlife scene of Chinatown, NYC, a lively neighborhood that offers an eclectic mix of bars, lounges, and speakeasies.
In this bustling New York City locale, you'll find everything from casual dive bars to upscale cocktail joints with Asian-inspired concoctions.
Whether you're seeking out a cozy spot for happy hour or looking to embark on a thrilling bar crawl adventure through Manhattan's charming Chinatown streets, our list of the 14 best bars is tailored just for you.
The 14 Best Bars In Chinatown, NYC
Apothéke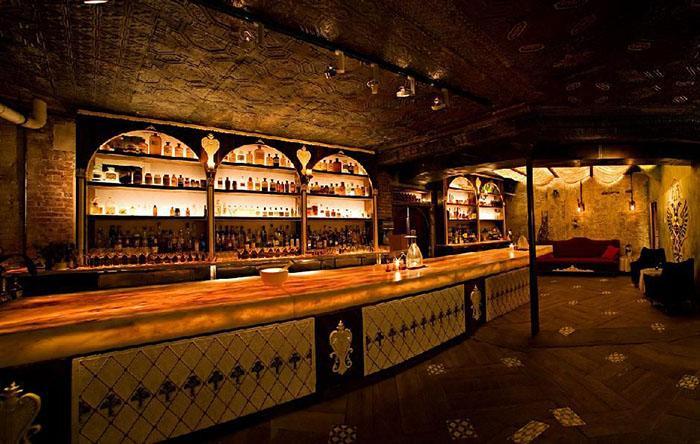 Apothéke, a stylish absinthe den located in the heart of Chinatown, NYC, should be at the top of your list if you're looking to sample unique craft cocktails in an unforgettable setting.
Nestled behind a 200-year-old door on a twisting corner, this cocktail bar has been recognized as one of the best bars in Chinatown by various sources such as New York Magazine and MyBartender.
With each cocktail priced between $14 and $16, patrons can expect to enjoy expertly crafted libations featuring exotic ingredients like kaffir lime leaves or hibiscus syrup.
Apothéke stands out among its peers due to its dedication to high-end mixology and commitment to serving quality beverages
Mulberry Project
Located in the heart of NYC's Chinatown, Mulberry Project has become a popular destination for those looking to enjoy some of the best cocktails in the area. This discreet and cozy speakeasy-style establishment is known for its personalized and bespoke mixology experience that caters to each individual's preferences.
Dive into an unforgettable nightlife experience at this trendy bar while also taking advantage of the self-guided walking tour through Mulberry Street and discovering other delightful establishments nearby such as Asia Roma.
Genuine Liquorette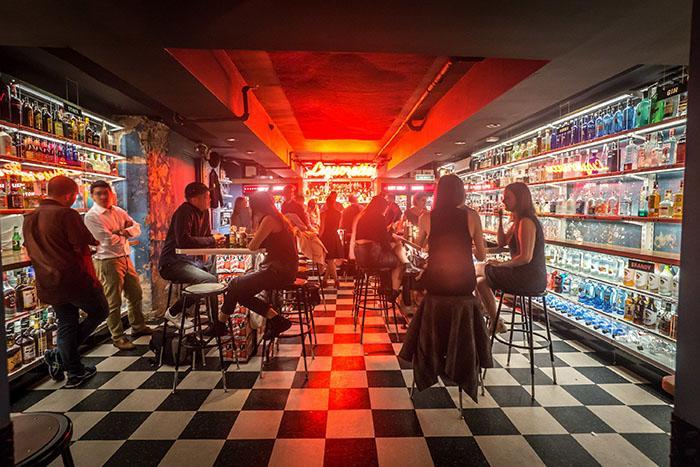 Nestled in the heart of Chinatown, NYC, Genuine Liquorette stands out as one of the best bars to visit for those seeking a unique experience. With its origins dating back to 2015, this establishment has made quite a mark on New York's diverse nightlife scene.
Genuine Liquorette sets itself apart from other bars in Chinatown with its innovative cocktail creations and excellent service. Here, mixologists skillfully craft drinks customized to your preferences while incorporating fresh ingredients and top-notch spirits.
The bar also offers various events such as themed nights and guest bartending sessions, providing new experiences each time you visit.
169 Bar
The 169 Bar is a legendary dive bar that has been serving up cheap drinks and live music since the early 20th century. Located in the heart of Chinatown where it meets the Lower East Side, this vintage tiki-themed bar features indoor palm trees and a leopard motif.
One unique feature of this bar is its famous jukebox with an extensive collection of eclectic music genres. The 169 Bar has also been featured in various publications such as The New York Times and Time Out New York for its lively nightlife scene and vintage aesthetics.
Asia Roma
Asia Roma is a popular destination in Chinatown, NYC for those looking for an exceptional multi-level experience. It serves as a bar, lounge, and restaurant that offers visitors a unique blend of Asian-inspired cocktails and food options.
With its beautiful décor and welcoming ambiance, Asia Roma creates an unforgettable atmosphere perfect for anyone who wants to relax with friends or have private parties.
Moreover, aside from providing some of the best cocktails in town alongside delicious dishes that can be ordered online via TripAdvisor makes it easy to enjoy great-tasting food while taking advantage of their vast space and event services ideal for hosting private events or simply enjoying the nightlife of Chinatown NYC.
Peachy's
Peachy's is a hidden gem of a bar located in the vibrant Chinatown neighborhood of New York City. This chic cocktail lounge can be found under the Chinese Tuxedo restaurant, and it provides an immersive experience that combines Asian-inspired ambiance with exquisite craft cocktails.
What sets Peachy's apart from other bars in Chinatown is its speakeasy vibe – guests enter through a discreet door inside the restaurant and descend down a staircase to find themselves in this intimate space filled with dim lighting and cozy booths.
Basement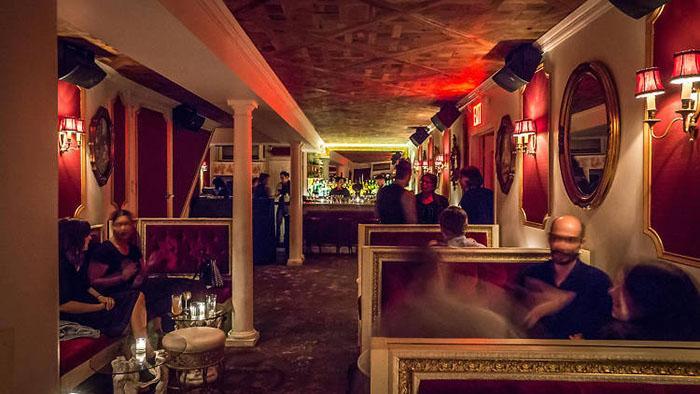 Located on the Lower East Side, Basement is a hidden gem that offers a speakeasy-style vibe with dim lighting and cozy booths. The bar features signature cocktails made with fresh ingredients and an extensive whiskey selection.
With its low-key atmosphere and unpretentious crowd, it's the perfect spot for those who want to escape the hustle and bustle of Chinatown's lively streets.
Whether you're in the mood for a classic Old Fashioned or something more adventurous like their "Hot Spring" cocktail made with gin, green tea, yuzu, and shiso, Basement has something to satisfy every taste.
Ye's Apothecary
The bar serves authentic Asian flavors and Szechuan food, making it a favorite among locals and tourists alike.
According to Yelp reviews, the ambiance at Ye's Apothecary is fantastic and creates an unforgettable drinking experience. Although not a speakeasy bar, Ye's Apothecary has been listed among the best speakeasies in NYC for its secret and secluded vibe.
If you are looking for a great place to unwind after work or just hang out with friends while sipping on some delicious drinks surrounded by a cozy atmosphere with bright lights all around you then Ye's is definitely your go-to spot!
Whiskey Tavern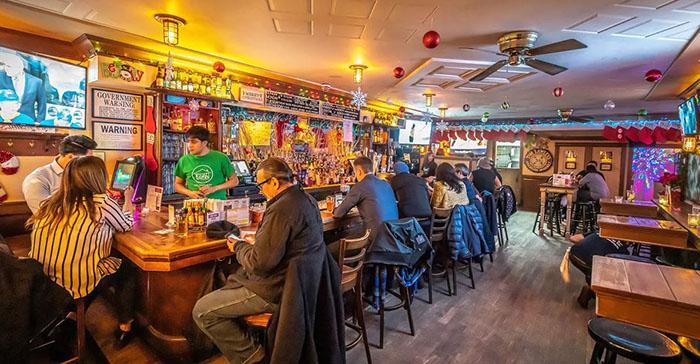 Located on Baxter Street, Whiskey Tavern is one of the 14 best bars in Chinatown, NYC. As a no-nonsense option in an underliquored neighborhood, it has everything that makes for a good neighborhood bar: thoughtful ambiance, decent food options and a fully stocked bar with an impressive whiskey selection.
Whiskey Tavern is loved by locals and visitors alike thanks to its unpretentious vibe and friendly service. The small garden located at the back of the bar adds to its allure.
Rooftop 93
Rooftop 93 Bar & Lounge is a must-visit destination in downtown Manhattan for those looking to enjoy the vibrant nightlife of New York City.
Located on 93 Bowery, this award-winning rooftop bar offers stunning city views and an unforgettable experience. With its modern decor, craft cocktails, and comfortable seating areas, it's the perfect spot for happy hour or a night out with friends.
The bar has become increasingly popular over the years and is often included in lists of the best bars in Chinatown and NYC rooftops.
Bandits
Bandits is one of the best bars in Chinatown, NYC which was ranked by TimeOut New York among the top bars in the West Village. This chic and cozy bar features an impressive list of classic cocktails created by expert mixologists with a unique twist.
While Bandits may not have made it to MyBartender's "15 Best Bars in Chinatown" list, its popularity continues to grow among locals who appreciate their creative concoctions and upbeat atmosphere.
Little Branch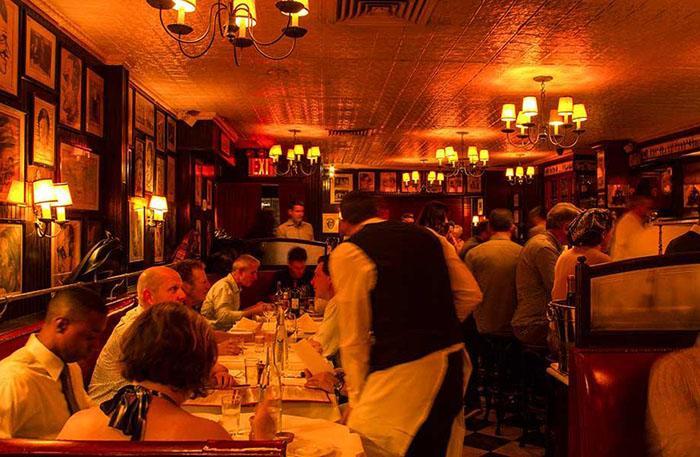 This cozy and intimate bar is located on a side street and has a speakeasy vibe, with dimly lit rooms and vintage decor.
The cocktails at Little Branch are expertly crafted by skilled mixologists and include classic favorites as well as inventive creations. Alcoholism can find solace in the fact that they also offer non-alcoholic beverages for those looking to enjoy the atmosphere without imbibing.
If you're looking for an alternative option to dive bars or crowded nightclubs in Chinatown, Little Branch may be just what you need. With its relaxed atmosphere and impressive drink menu, it's no wonder why this bar has become such a popular destination among locals and visitors alike.
Katana Kitten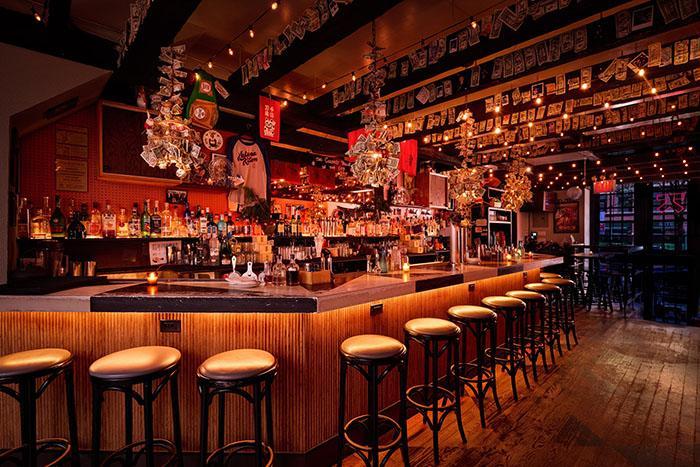 Katana Kitten is an award-winning, top-ranked bar located in Chinatown, NYC. It has been ranked No.9 in The World's 50 Best Bars 2022 and won the Best New Opening Award in World's 50 Best Bars 2019.
Urushido himself shares his personal recommendations for the best bars in New York City, making Katana Kitten a must-visit spot for anyone looking for a mixology experience like no other.
Whether you're after refreshing cocktails or expertly crafted classics, this top-rated bar has it all.
Venice Bar At Saint Theo's
Venice Bar at Saint Theo's is a hidden gem located in the West Village, making it an ideal spot for a secluded night out with friends. It offers a classic Venetian ambiance inspired by the concept of cicchetti, where small plates are paired with cocktails.
The bar is found behind a velvet curtain near Italian restaurant Saint Theo and serves up delicious drinks that cater to all tastes.
Its secret location makes it attractive to alcoholism enthusiasts looking for something unique and different from the norm.