Whether you're a visitor or a proud Tulsan looking for new spots, our list serves as your ultimate guide to an unforgettable night out on the town.
Top 15 Best Bars In Tulsa
Valkyrie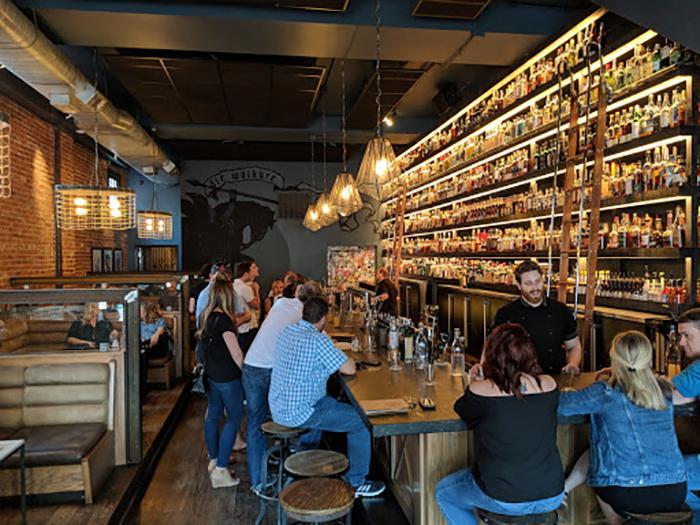 Located in the heart of Tulsa's Brady Arts District, Valkyrie is an upscale and trendy bar that caters to cocktail enthusiasts and whiskey connoisseurs alike. Not only has it earned its rightful place among the best bars in Tulsa, but it also stands out as a local hotspot boasting an urban atmosphere with its industrial-chic decor.
Beyond their impressive array of craft beers and extensive whiskey selection, Valkyrie showcases the true essence of cocktail culture by concocting creative cocktails that cannot be found anywhere else.
Complemented perfectly by a speakeasy vibe, this high-end bar consistently draws in both locals and visitors looking for memorable nights out on the town.
The Saturn Room
The Saturn Room is a must-visit destination for anyone looking to indulge in expertly crafted tiki drinks and immerse themselves in an enchanting atmosphere.
This trendy hotspot has even been recognized by Food Network as one of the Best Tiki Bars in America.
Each cocktail at The Saturn Room is carefully handcrafted using only premium spirits, fresh juices, and high-quality ingredients.
Their commitment to mixology excellence is evident from their glowing reviews on Tripadvisor, boasting an impressive 4.5 out of 5 rating.
Fassler Hall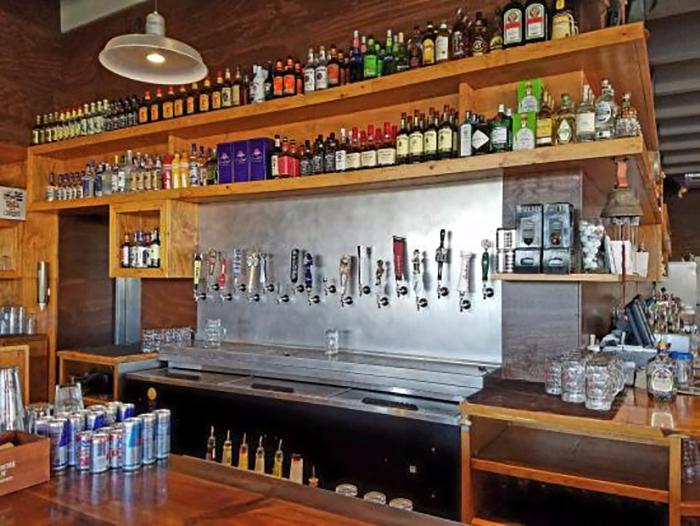 Diving deeper into what makes Fassler Hall stand out among the plethora of nightlife options available in Tulsa, patrons will find a casual dining setup complete with shared tables that ignite conversation amongst strangers-turned-friends.
As fans sample various local breweries' craft beers on their night out, they'll also appreciate traditional German cuisine offerings such as sausages and savory brunch dishes.
MixCo
MixCo is definitely one of the best bars in Tulsa. This bar offers a wide variety of specialty drinks and cocktails that are perfect for those who love trying new things.
One of the things that sets MixCo apart from other bars in Tulsa is its electric atmosphere. The bar scene here is hardcore, making it a favorite among those who love to indulge in drinking culture.
Whether you're looking for a night out with friends or just need to unwind after work, this bar has something for everyone.
The Max Retropub
If you're a fan of classic arcade games and draft beer, then this is your hot spot.
With its unique '80s and '90s theme, The Max Retropub stands out as the only arcade bar in Tulsa that fully captures the nostalgia with its vintage decor and throwback games.
This makes for an enjoyable night out coupled with drinks and friendly banter! It is no surprise that during St Patrick's Day celebrations in Tulsa, The Max Retropub is one of the popular spots listed on "Tulsa guide to St.
Cellar Dweller
This local hangout offers craft cocktails and an impressive beer selection, along with a happy hour that keeps customers coming back for more.
The speakeasy vibe of Cellar Dweller attracts small crowds looking for a unique experience while enjoying live music from local artists.
Dead Armadillo Brewery
Dead Armadillo Brewery is a gem in Tulsa's beer culture. The brewery has an extensive selection of craft beers that will please any beer connoisseur, and its tap room has a sleek design with indoor and outdoor seating to match.
You can take a walk around the brewing equipment on one of their tours or just relax in the tasting room while you sip on your favorite brew.
Dead Armadillo Craft Brewing is not only popular within Tulsa but also well-known abroad as one of Oklahoma's most esteemed breweries.
Hodges Bend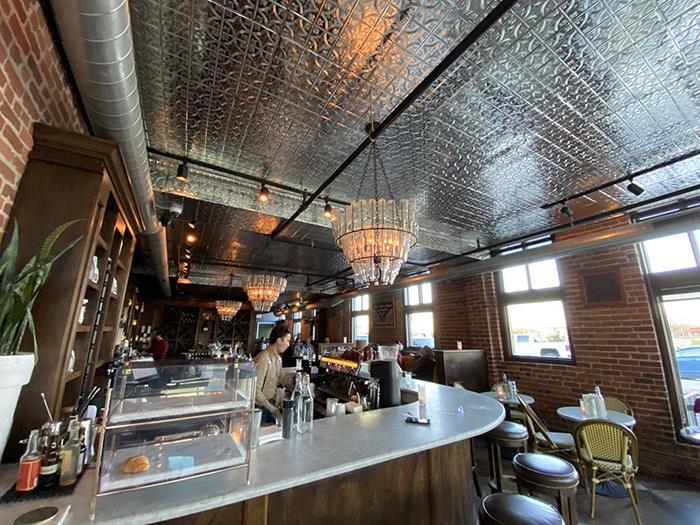 This upscale lounge also provides specialty coffee and artisanal wines made from locally-sourced ingredients.
The chic interior of Hodges Bend features marble and tile flooring, chandeliers made of clear glass, banquettes for seating, and a long bar where patrons can sit back and enjoy the jazz music playing in the background.
The Colony
This historic bar has been serving the community for over six decades, opening its doors in 1958 as The Colony Inn.
The Colony is a popular spot for locals and visitors alike who are looking for a friendly atmosphere with live music events. It has a wide selection of drinks and friendly bartenders who know how to make classic cocktails and satisfy any palate.
The renovated space offers event spaces that can be booked for private functions upon request, making it an ideal location to host your next gathering or celebration.
Soundpony
Soundpony Lounge is a must-visit bar for anyone looking to experience the lively nightlife in Tulsa. This local dive bar has gained quite a reputation for its funky decor, cycling theme, and exceptional cocktails.
One of the things that make Soundpony Lounge stand out from other bars is their focus on local live music. The bar provides a platform for budding musicians to showcase their talents, making it one of the go-to venues for music lovers in Tulsa.
McNellie's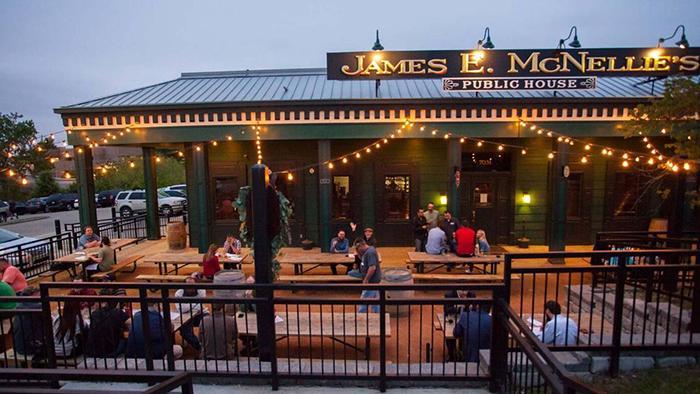 They offer an impressive selection of over 350 beers, making it a beer lover's paradise. Not only that, but their classic pub grub is also something to rave about.
From loaded nachos to juicy burgers and fries, they've got all the essentials covered. If you're looking for some entertainment while you sip on your drink, McNellie's hosts regular tasting events where you can sample different types of craft beer and expand your palate.
The Boxyard
If you're looking for a fun time, The Boxyard has happy hours that are perfect for socializing with friends or colleagues after work. You'll also find live music venues within walking distance to keep the party going all night long.
Don't forget to try local distilleries like Dead Armadillo Brewery and Prairie Brewpub which offer some of the best drinks made right in Tulsa.
Lefty's On Greenwood
One of the standout bars in Tulsa is Lefty's on Greenwood, a popular sports bar located in downtown Tulsa's historic Greenwood District. With its friendly atmosphere and excellent craft beer selection, this black-owned establishment has become a beloved local favorite.
Whether you're looking to catch the game or simply enjoy some good food and cocktails with friends, Lefty's on Greenwood is the perfect spot.
Marshall Brewing Company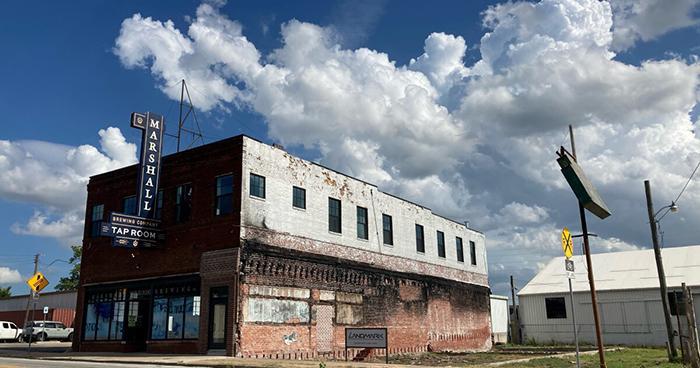 Marshall Brewing Company, established in 1998, is the oldest craft brewery in Tulsa. Located in the city's Kendall Whittier neighborhood, Marshall Brewing Co.offers an excellent variety of craft beers that cater to all tastes and preferences.
The brewery has gained widespread recognition for its high-quality beers and commitment to supporting local charities. In fact, they have recently announced their partnership with Food, a local charity whose mission aligns with Marshall Brewing Company's values.
Prairie Brewpub
The Prairie Brewpub is the perfect spot for those looking to enjoy locally brewed craft beer and delicious farm-to-table gastropub fare. This popular bar in Tulsa offers a variety of beers on tap, with beer flights available for those who want to try a little bit of everything.
Many Tulsa locals have singled out the Prairie Brewpub as one of their favorite date night spots in town due to its casual ambiance and relaxed vibe. It's no wonder that it has been named one of the things to love about Tulsa by the Tulsa World Magazine.