Welcome to the vibrant nightlife scene of Tribeca, NYC! This bustling neighborhood is home to some of the city's most trendy and chic bars, offering an array of top-notch cocktails, craft beers, delicious eats, and lively entertainment.
Whether you're in search of a swanky cocktail lounge or a cozy local pub with great happy hour specials – we've got you covered. In this article, we'll introduce you to 14 of the very best bars in Tribeca that truly capture its unique spirit.
So grab your friends and get ready for an unforgettable night out as we embark on this thrilling tour through Tribeca's exhilarating bar scene.
Top 14 Best Bars In Tribeca NYC
Galerie Bar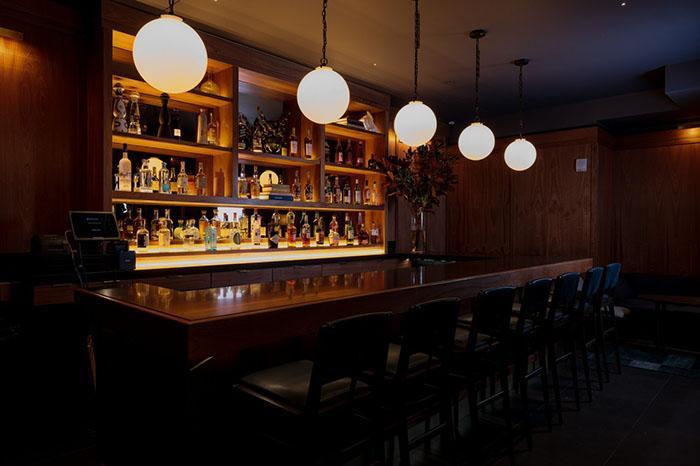 Tucked away in the heart of Tribeca, Galerie Bar offers a unique and unforgettable experience for alcohol enthusiasts.
Upon entering Galerie Bar, guests are greeted with an extensive menu showcasing a variety of craft cocktails tailored to satisfy even the most discerning palates. Mixing up creative concoctions using fresh ingredients and top-quality spirits, their talented mixologists demonstrate why this establishment stands out among the other nightlife scene options in New York.
Brandy Library
Since opening its doors in 2004, this luxurious lounge has gained a reputation as one of New York's premier whiskey bars.
Brandy Library offers customers an unforgettable tasting experience led by expert bartenders who skillfully craft cocktails from their extensive collection of whiskeys and other liquors.
With a focus on brown spirits, patrons can enjoy unique concoctions or sample rare offerings from their impressive whiskey selection. No wonder it frequently makes the list among discerning alcohol enthusiasts seeking high-quality drinks in a refined setting.
Weather Up
Weather Up, a must-visit cocktail bar in Tribeca, is known for its speakeasy-style atmosphere and expertly crafted cocktails.
Upon entering Weather Up, you'll immediately be captivated by the cozy ambiance enhanced by attentive service from knowledgeable bartenders who are always eager to personalize your experience with their mixology skills.
The Wooly Public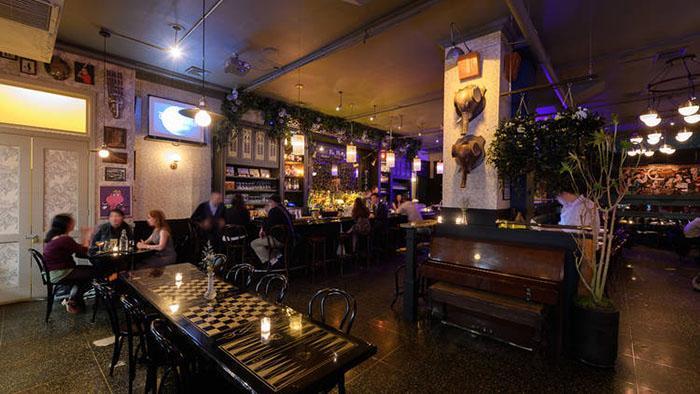 The Wooly Public is a must-visit bar for those in Tribeca, New York City. This trendy spot offers a unique atmosphere with its vintage decor and cozy seating areas. The bar boasts an impressive selection of cocktails, wines, and craft beers to choose from.
Visitors can indulge in the signature drink – The Wooly Old Fashioned, made with their house blend bourbon, or try one of their specialty drinks like the refreshing Cucumber Fizz.
Nancy Whiskey Pub
Nancy Whiskey Pub is a renowned dive bar located in the heart of Tribeca, New York. One of the oldest establishments in the area, it has been serving cheap drinks and attracting locals since 1967.
This whiskey bar is also famous for its vast selection of different whiskeys, making it popular with those who appreciate a good drink. If you're looking for one of the best bars in Tribeca that offers affordable prices without sacrificing quality, Nancy Whiskey Pub should be at the top of your list.
Smith & Mills
Whether you're looking for craft cocktails or small plate dining, Smith & Mills has you covered.
One of the highlights of Smith & Mills is their noteworthy cocktails. With expert mixologists on staff, you're sure to find something new and exciting on their menu.
Tiny's And The Bar Upstairs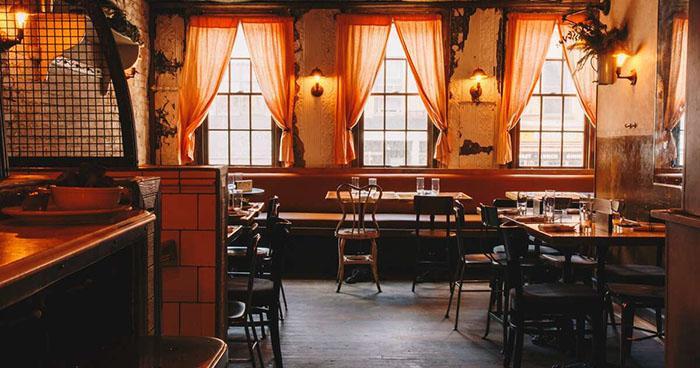 Located in a three-story pastel pink townhouse, Tiny's and the Bar Upstairs is one of the most popular Tribeca restaurants. It  offering an intimate atmosphere with low lighting and rustic decor.
The cozy setting makes it a perfect venue for those looking to relax after a long day or have a romantic night out.
Añejo
If you're looking for a great spot to grab some delicious Mexican cuisine and drinks in Tribeca, then Añejo is definitely worth checking out. They offer an extensive selection of cocktails and spirits, including over 200 types of tequila, making it a haven for tequila lovers.
The bar also offers outdoor seating with heaters so that you can enjoy the fresh air even during colder months.
In addition to its impressive drink selection, Añejo also boasts live music performances several nights each week. Whether you're in the mood for late-night dining or just want to grab something quick on-the-go, Añejo has got you covered with its takeout and delivery options available through various platforms like Grubhub and Seamless.
The Bennett
With its polished decor and chic ambiance, this intimate setting offers craft cocktails and specialty drinks that cater to a sophisticated clientele.
The blue-and-gold-plated space spans over 1600 square feet and is operated by the team behind Dear Irving and Raines Law Room.
The Django.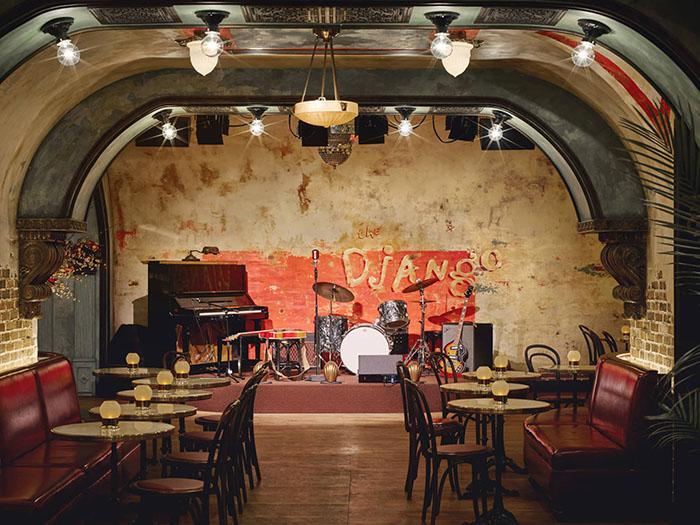 The bar has an open dining area and is located in a cozy basement space that adds to its intimate atmosphere.
If you're looking to experience something different from your average bar, then The Django should be on your list of places to visit in Tribeca. You'll get the chance to enjoy some fantastic food while sipping on their delicious drinks, all while listening to live jazz music played by some of the most talented musicians around.
M1-5 Lounge
M1-5 Lounge is a popular Tribeca bar that was known for its large, red-walled hangout area and unique cocktails. The name of the bar refers to Tribeca's zoning ordinance, which allows trendy restaurants and bars to coexist with warehouses in the area.
Unfortunately, M1-5 Lounge has permanently closed its doors. However, it will always be remembered as one of the hottest spots in downtown NYC's drinking scene. If you were lucky enough to visit before its closure, you might have tried their famous "Raspberry & Pear Margarita" or their delicious sliders.
The Dead Rabbit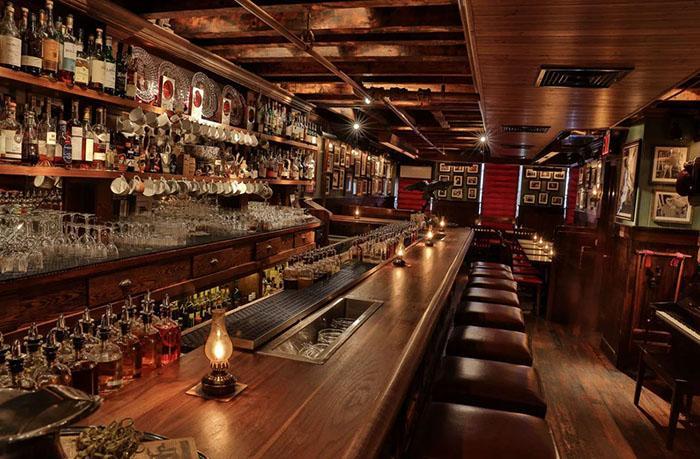 The Dead Rabbit is a world-renowned bar that has garnered international recognition for its exceptional mixology and craft cocktails. Located in the Financial District of New York City, The Dead Rabbit celebrates both classic and contemporary cocktails while paying homage to its Irish heritage.
The Dead Rabbit has also been recognized as one of North America's 50 Best Bars and one of the World's 50 Best Bars.
Ward III
Ward III is a must-visit upscale lounge and restaurant that serves as a central gathering place in trendy Tribeca NYC. It's known for its extensive whiskey selection, creative mixology, and classy ambiance.
Ward III boasts an elegant cocktail lounge where craft cocktails are concocted by skilled bartenders. The bar takes center stage visually and conceptually, making it the perfect spot to relax with friends or impress clients with its sophisticated atmosphere.