Welcome to Tucson, Arizona, a city known for its vibrant nightlife and diverse bar scene! In this bustling desert metropolis, you'll find everything from cozy cocktail bars to lively sports hangouts.
Whether you're in search of the perfect craft beer, an elegant wine bar experience, or just seeking a unique atmosphere to unwind with friends, Tucson's got it all.
Top 12 Best Bars In Tucson, Arizona
The Shelter Cocktail Lounge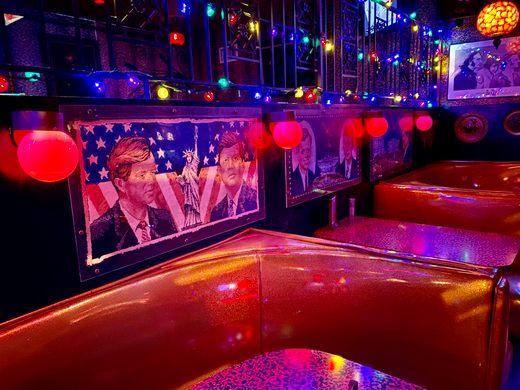 The Shelter Cocktail Lounge, an iconic dive bar nestled in the heart of Tucson, Arizona, has been satisfying patrons since 1961. Embracing a retro theme that will transport you back to the Cold War era of JFK with dazzling sparkly vinyl chairs and nostalgic vintage advertisements adorning the walls.
A popular destination for those seeking refuge from daily stressors or simply celebrating good times with friends, The Shelter Cocktail Lounge boasts of being Tucson's only '60s retro lounge.
This local hangout offers up more than just a memorable ambiance; it serves as a testament to the power of friendship and community bonding amidst lively nightlife settings.
Tap & Bottle
Tap & Bottle, located in both downtown and North Tucson, is a popular spot among alcohol aficionados and lands itself at the top of the best bars list in Arizona.
This gem is famous for its curated selection of craft beer offerings with an impressive 21 rotating taps to satisfy even the most discerning beer connoisseur's palate.
In addition to their diverse draft choices, Tap & Bottle also offers an extensive array of single bottles that allows guests to sample different flavors or take home a favorite find.
Communal tables set the perfect stage for lively conversations within this casual atmosphere.
The Buffet Bar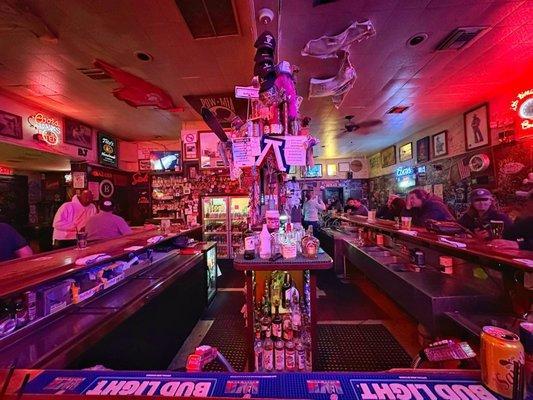 The Buffet Bar, a legendary establishment in Tucson, has earned its reputation as one of the best dive bars in America according to Esquire and stands proudly as the oldest continuously serving bar in the city.
This historic locale is tucked away off Fourth Avenue, offering patrons an escape from the bustling nightlife scene while still being able to indulge in its unique atmosphere.
Frequently associated with hidden bars, old bars, and dive bars in Tucson, The Buffet Bar invites locals and tourists alike to experience a true taste of authentic Arizona culture.
With dim lights setting a cozy ambiance amidst aged décor indicative of its deep-rooted history, guests can enjoy cold brews and engaging conversations that create memorable moments worth repeating.
Reilly Craft Pizza & Drink
Reilly Craft Pizza & Drink is a must-visit bar in Tucson for those who love modern Italian cuisine and craft cocktails. Located in the heart of downtown, Reilly offers an urban atmosphere perfect for casual dining or a night out with friends.
Their 12-inch hot stone oven pizza made with rye flour is a fan favorite that will leave you craving more. But what truly sets Reilly apart is its basement bar – The Tough Luck Club.
With a brutalist design, this underground bar offers an excellent selection of local beers and craft cocktails that will satisfy any taste bud.
Ermanos Craft Beer And Wine Bar
This bar has a fantastic selection of craft beer and wine to choose from, all in a comfortable setting that makes it the perfect place to hang out with friends or unwind after work.
The outdoor patio area provides a relaxed atmosphere where you can enjoy your drinks while soaking up some sunshine.
The Owl's Club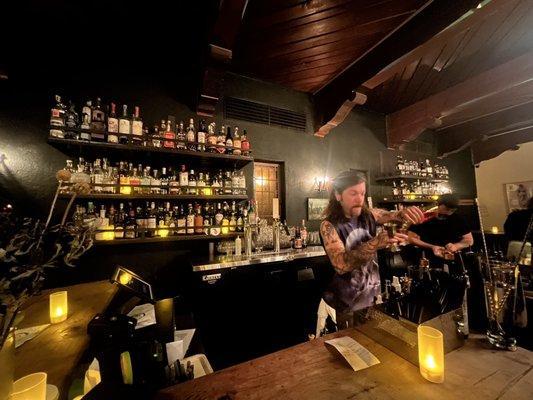 Located in the historic Armory Park neighborhood of Downtown Tucson. This swanky cocktail bar has transformed a former funeral home into an elegant atmosphere where visitors and locals alike can enjoy exceptional service and handcrafted cocktails.
The whiskey selection at Owls Club is extensive and highly regarded by alcoholism enthusiasts, making this unique establishment stand out among other bars in the city.
Sidecar
Located in midtown Tucson, Sidecar is a craft cocktail bar that specializes in Prohibition-era cocktails. Its signature drink is the Sidecar, which was first created during this era and has become the bar's namesake.
The bartenders are experts at their craft, making use of high-quality ingredients to create unique and creative drinks that delight customers.
With only 10 barstools and three bartenders, Sidecar creates an intimate atmosphere perfect for enjoying a night out with friends or a romantic date. Customers can enjoy classic cocktails as well as customized drinks based on their preferences from the knowledgeable staff.
In addition to its indoor seating area, the bar features a lit veranda that offers outdoor seating on warm evenings.
Kon Tiki Restaurant And Lounge
Kon Tiki Restaurant and Lounge is a must-visit location for anyone looking for an authentic tiki bar experience. With over 50 tiki-inspired libations on their cocktail menu, Kon Tiki offers a vibrant and lively atmosphere to enjoy classic drinks.
They have been around for almost 60 years, making them one of the oldest tiki bars in the U.S.
The lounge has preserved its classic appeal with its retro décor since 1963 when it was established by Dana Smith and Granville "Grant" Smith.
The establishment boasts an extensive cocktail list consisting of classic drinks such as mai tai, pina colada, Zombie Punch alongside newer favorites like Malolo Mule.
Outlaw Saloon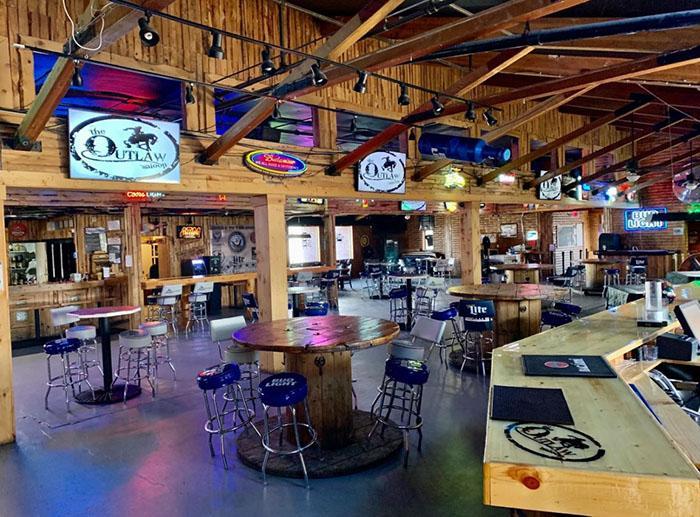 The Outlaw Saloon is a must-visit for anyone who loves the biker culture and enjoys a unique atmosphere. The owners of this locally owned bar are welcoming, making their guests feel comfortable and ensuring they have an enjoyable time.
This western-themed biker bar in Tucson offers lively entertainment, including live music from local bands and DJs on weekends.
If you're looking for a drinking spot in downtown Tucson that caters to those who appreciate the biker culture, then make sure to visit the Outlaw Saloon. This establishment offers something different compared to other bars on this list; it's all about creating an experience that's unforgettable while providing patrons with excellent service and drinks at reasonable prices.
Two Country Tavern
For those seeking country music and a Western edge, Two Country Tavern is one of the best bars in Tucson to check out. Renowned for its lively atmosphere and dedication to all things country, this bar offers patrons an authentic honky-tonk experience right in the heart of Arizona.
The bar hosts regular live music events, featuring both local talent and touring acts.
If you're looking for a place where you can let your hair down and dance the night away, Two Country Tavern should be at the top of your list. Along with traditional country line dancing, visitors can also enjoy a variety of other popular dances like two-step or cowboy cha-cha.
Crooked Tooth Brewing Co.
Crooked Tooth Brewing Co. is a charming brewery located in downtown Tucson, just two blocks from Historic 4th Ave.
With its Sonoran-inspired ales, diverse selection of drafts, and fantastic seating options indoors and outdoors with "misters," this place deserves its place among the best bars in Tucson, Arizona.
Whether you're looking to sample their famous Barrio blonde or try out something new like an American pale ale or coffee stout, Crooked Tooth has something for everyone.
The brewery's opening hours are Wednesdays (3-10 pm), Thursdays (3 pm-12 am), Fridays and Saturdays (12 pm-12 am), and Sundays (12-8 pm).
The Maverick King Of Clubs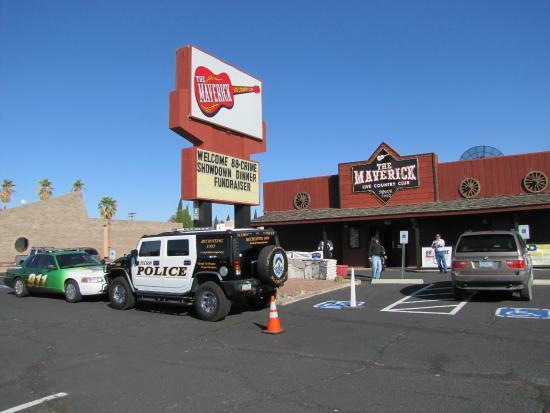 The Maverick King of Clubs is a staple in Tucson's nightlife scene and has been for almost 60 years. This country bar offers a fun atmosphere, live entertainment, and dancing for those looking for a night out with friends or solo.
The bar regularly hosts line dancing classes and plays country music that will have you tapping your feet. It's no wonder it made the list of top 12 best bars in Tucson.