Welcome to the world of Irish pubs in America, where warm hospitality, hearty pub food, and an inviting atmosphere come together to create a truly unique experience.
In this blog post, we reveal the 14 best Irish Pubs across the nation that transport you straight back to Ireland with their authentic Celtic decor, traditional live music sessions, delectable dishes like shepherd's pie and fish & chips – not forgetting ice-cold Guinness and top-shelf whiskey flights.
So raise your glass as we embark on our St Patrick's Day-inspired journey through these outstanding establishments that keep Irish heritage alive thousands of miles away from its roots.
Top 14 Irish Pubs In America
Galway Bay In Annapolis, Maryland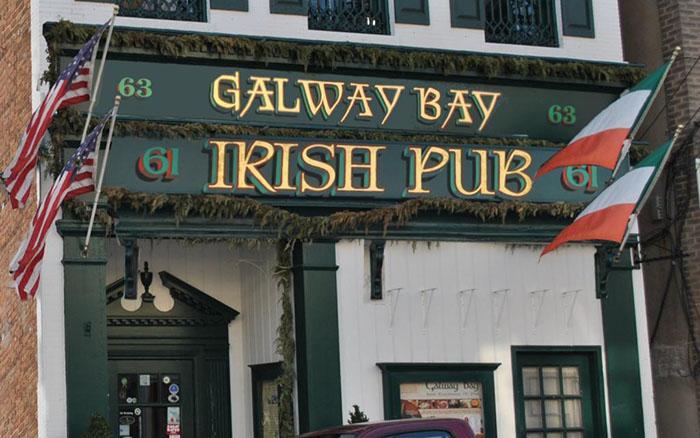 Galway Bay, located in Annapolis, Maryland, has been making a name for itself as one of the best Irish Pubs in America. With its authentic atmosphere and traditional pub fare, it's no surprise that this beloved establishment has received the recognition of Best Irish Pub annually since 2000.
At Galway Bay, you can expect to enjoy casual dining in an environment filled with good cheer and hearty laughs. The menu boasts classic dishes prepared by Chef Mike Marone that not only cater to those looking for a taste of Ireland but also anyone seeking comfort food with a bit of flair.
From shepherd's pie to fish & chips, there's something on the menu sure to satisfy your craving for delicious Irish cuisine.
Kilkenny's Irish Pub In Tulsa, Oklahoma
Kilkenny's Irish Pub in Tulsa, Oklahoma stands out as a top rated destination among the  Best Irish Pubs in America, embodying everything that makes an authentic Irish pub experience special.
With its rich wooden interiors and engaging atmosphere, patrons can't help but be transported to the heart of Ireland itself. The pub is celebrated not only for its ambiance but also for providing traditional cuisine and a diverse selection of beverages.
What truly sets Kilkenny's apart from other establishments are its regular live Celtic music performances which create a lively and inviting environment perfect for meeting with friends or unwinding after work.
Not surprisingly, this popular spot has become renowned for its happy hour offerings – one taste of their top-rated craft beers paired with scrumptious appetizers on offer will have you coming back time and again.
Doyle's Café In Boston, Massachusetts
Stepping into Doyle's Café in Boston, Massachusetts, was like being transported to a traditional Irish pub filled with warmth and camaraderie.This historic landmark offered a cozy atmosphere for people from all walks of life to gather and enjoy casual dining and drinks.
For over 137 years, Doyle's served not only as a local bar but also played an important role within the neighborhood institution. The lively hub attracted patrons seeking a taste of authentic Boston nightlife while fostering connections between residents from various cultural backgrounds.
Sadly closing its doors in November 2019, the loss of this iconic pub was deeply felt by many who considered it a symbol of unity among Irish immigrants and other communities across America.
The Dead Rabbit In New York City, New York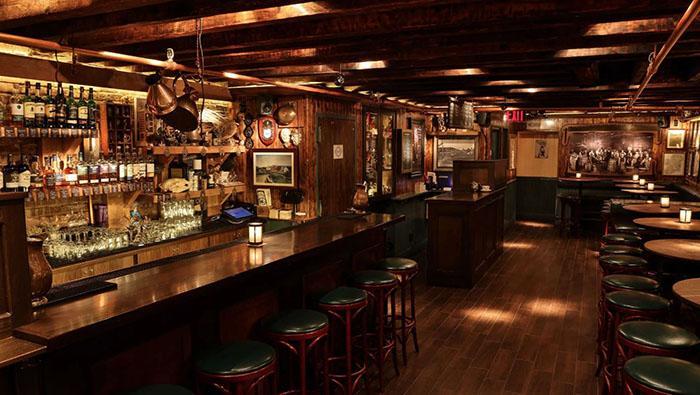 The Dead Rabbit in New York City, New York is a must-visit spot for any Irish pub enthusiast or alcoholism aficionado. Located in the heart of Lower Manhattan's Financial District, this authentic Irish pub is known for its craft beer selection and extensive menu of Irish whiskey.
The bar draws its name from an infamous 19th-century Irish-American gang that terrorized the neighborhood, and it exudes a lively atmosphere steeped in history.
In fact, The Dead Rabbit has been  was recognized as the Best Bar in the World by World's 50 Best Bars.
The Dubliner In Washington D.C.
Located in the heart of Washington D.C., The Dubliner is a must-visit spot for anyone looking for an authentic Irish pub experience. Established in 1974, this premier Irish pub has gained a reputation for its traditional hospitality and genuine Irish cuisine.
Not only is it an ideal destination any time of year, but The Dubliner really comes alive during St. Patrick's Day celebrations with live music, dancing and pints of Guinness flowing freely.
The Irish Rover In Louisville, Kentucky
 With its cozy atmosphere and authentic Irish decor, it offers visitors a chance to soak up some genuine Irish culture as well as enjoy some tasty comfort food and craft cocktails.
Owned by Michael Reidy who hails from Ireland himself, the pub proudly serves traditional dishes like Shepherd's Pie and Fish & Chips that are sure to transport your taste buds straight to the Emerald Isle.
Kelly's Irish Times In Washington D.C.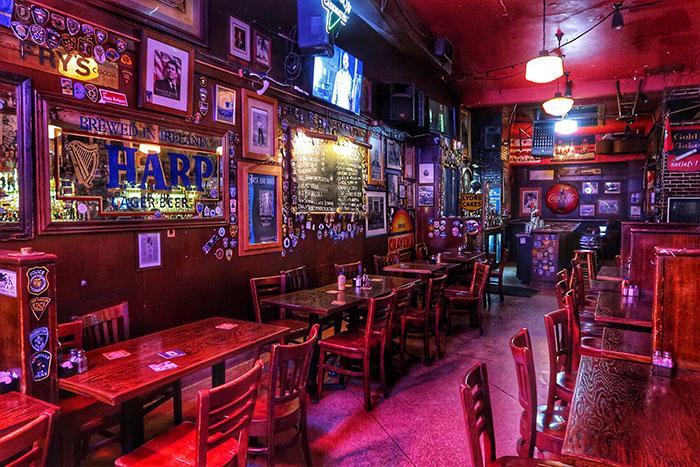 One of the liveliest Irish pubs in America, Kelly's Irish Times in Washington D.C., has more than 100 years of history on display. This popular spot for St.
Patrick's Day celebrations isassociated with the best Irish Pubs in Americaand boasts a collection of unopened beer bottles from the 1800s and Dublin police patches from the 1930s.
In addition to its impressive decor, Kelly's Irish Times serves up traditional Irish food and has a world-class jukebox that caters to all music tastes.
The Marlay House In Decatur, Georgia
The Marlay House in Decatur, Georgia is a community gathering spot that celebrates Irish culture with Celtic decor and live music.
As a traditional pub, it serves authentic pub food like shepherd's pie and fish and chips to satisfy your cravings. In addition, The Marlay House takes great pride in its extensive collection of fine Irish whiskey, making it an ideal place for whiskey tasting.
Nine Fine Irishmen In Las Vegas, Nevada
Located in the heart of Las Vegas, Nine Fine Irishmen is a must-visit Irish pub for alcoholism enthusiasts. The pub's authentic decor and cozy ambiance transport visitors straight to Ireland, making it easy to forget that you're actually in Nevada.
The pub's menu offers traditional Irish food alongside American cuisine – think hearty stews, shepherd's pie, and fish & chips. Pair your meal with a pint of Guinness or sip on some whiskey while listening to live Irish music – it doesn't get more authentic than this!
Whether you're looking for a place to celebrate St Patrick's Day or just want to experience some Irish hospitality, Nine Fine Irishmen will not disappoint.
The Plough & Stars In Cambridge, Massachusetts
This local favorite landmark offers an authentic Irish pub experience with great food and a well-curated drinks menu.
One of the highlights of this pub is its live music performances, which add to the already festive atmosphere. The Plough & Stars has been featured on several rankings as one of America's best Irish pubs, including Foursquare City Guide's top-rated Irish pubs and Food Network Magazine's favorite 11 Irish bars across the USA.
It was ranked as the 18th most authentic Irish pub in America by a survey conducted in 2015.
Tir Na NOg In Raleigh, North Carolina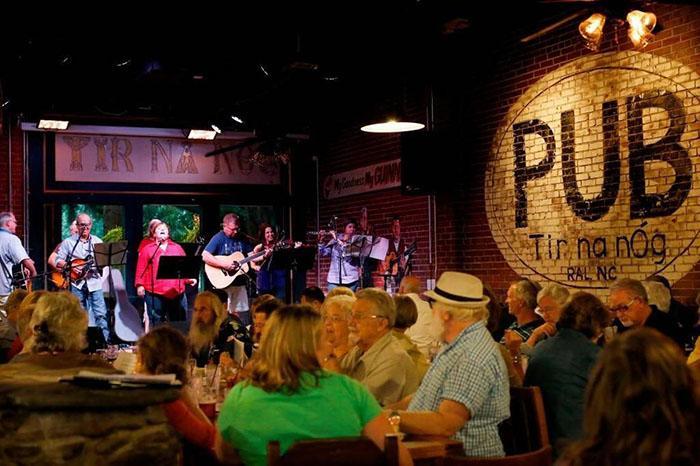 Established in 1997, the pub has been a staple for the Irish community and visitors alike.
Although it lost its soul when the original owners left, Tir na nOg has recently reopened at a new address on East Hargett Street in downtown Raleigh.
The atmosphere at Tir na nOg is warm and welcoming with friendly staff who are always ready to pour you a pint of your favorite Irish beer or whiskey. They also offer authentic Irish dishes such as shepherd's pie and fish & chips that complement their extensive drinks menu perfectly.
During St Patrick's Day celebrations, Tir na nOg becomes even more alive as patrons come together to celebrate Celtic heritage while listening to traditional music by local bands.
Tom Bergin's Tavern In Los Angeles, California
Tom Bergin's Tavern in Los Angeles, California is one of the oldest restaurant/bars that have been in continuous operation for 80 years. It has gained popularity over the decades due to its Irish coffee drink, which is made with whiskey and hot coffee topped with whipped cream.
The tavern also holds a unique feature as it was founded by Tom Bergin, whose family owned another famous bar named the Old Horseshoe Tavern in Boston.
Moreover, Tom Bergin's Tavern has created a community of loyal regulars who enjoy its traditional pub fare and classic cocktails. It also has many legends attached to it, such as John Wayne always ordering his drinks at the same table or Paul Newman proposing to Joanne Woodward here.
McGonigel's Mucky Duck In Houston, Texas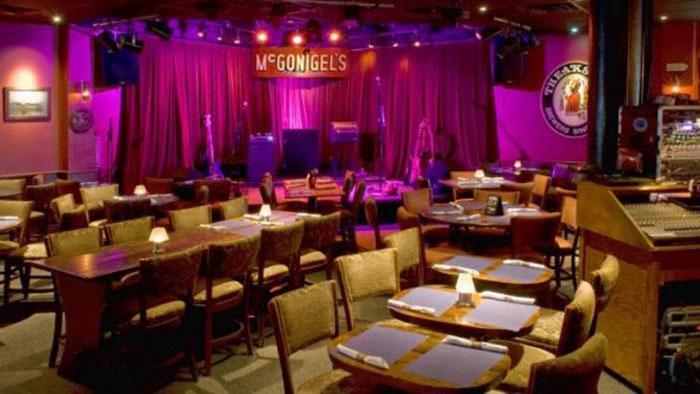 Located in the heart of Houston, Texas, McGonigel's Mucky Duck is one of the top Irish pubs in America. This lively venue boasts an impressive selection of craft beers and delicious British pub fare that will satisfy even the most discerning taste buds.
But what sets McGonigel's apart from other bars in Houston is its live music performances. With traditional Irish music acts performing seven nights a week, patrons can enjoy an entertainment experience unlike any other.
The cozy atmosphere and friendly staff also make it a great spot for Houston locals to unwind after a long day at work or catch up with friends over drinks and music.
Fadó Irish Pub & Restaurant In Atlanta, Georgia
Fadó Irish Pub & Restaurant in Atlanta, Georgia is a must-visit for anyone looking to experience authentic Irish cuisine and culture. With two locations in Buckhead and Midtown, this popular bar and restaurant offers traditional dishes like shepherd's pie, fish n' chips, and corned beef and cabbage.
Named after the Irish word for "long ago," Fadó prides itself on celebrating Celtic culture through music, entertainment, and St. Patrick's Day celebrations.
Conclusion
In conclusion, the 14 best Irish pubs in America offer a unique taste of Irish culture, hospitality and tradition. Each pub has its own charm and character, with some offering live music, traditional food and drink options like Guinness beer and whiskey flights.
Whether you're celebrating St Patrick's Day or just looking to have a good time with friends over a pint, these pubs are sure to deliver an unforgettable experience.