Chattanooga is a vibrant city boasting an exciting nightlife scene, sure to impress anyone looking for the perfect evening out. From craft breweries serving up local brews to chic lounges offering expert mixology, this buzzing destination bursts with fantastic bars catering to every taste.
Ready your palates and dive into Chattanooga's drinking destinations as we raise our glasses to the 10 best bars in town!
Read on as we explore these exceptional spots that guarantee an unforgettable night out in Chattanooga.
Top 10 Best Bars In Chattanooga
The Flying Squirrel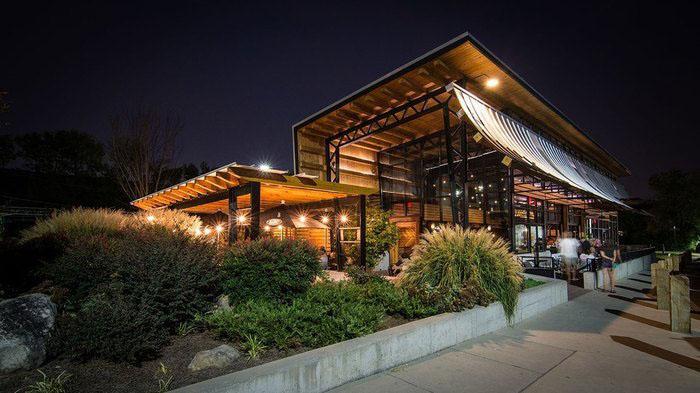 The Flying Squirrel has much to offer its visitors. At first glance, this bar sets itself apart with a unique and captivating architectural design featuring exposed trusses, cedar beams, and an open-plan garden that creates the perfect atmosphere for patrons seeking a refreshing outdoor seating experience.
As you sip on your artisanal drink at The Flying Squirrel, treat yourself to some exquisite local cuisine from Executive Chef Ben Park's expertly curated menu. Growing up in Fort Oglethorpe in a family of cooks set Park on his culinary journey early on; today he ensures that guests can indulge in mouth-watering options such as soups, salads, and sandwiches alongside their drinks.
Easy Bistro & Bar
Located in the heart of Chattanooga, Easy Bistro & Bar has earned a well-deserved spot on the list of best Bars in this vibrant city. Known for its delectable seafood dishes with an intriguing blend of classic bistro and southern-style ingredients, this upscale dining establishment offers patrons a unique gastronomic experience.
Easy Bistro & Bar boasts not only exceptional cuisine but also a full bar and raw bar, satisfying those seeking creative cocktails, fine spirits, or even fresh oysters. This popular watering hole attracts both locals and visitors alike who appreciate regional cuisine in a pub-grill ambiance while indulging in some alcoholic beverages.
For those curious about what to expect before arriving at Easy Bistro & Bar, the restaurant's menu prices and reviews are readily available online to provide insight into their offerings.
The Social
Located right in the heart of Chattanooga, Tennessee, this bar offers a cozy atmosphere for anyone looking to unwind after a long day or celebrate with loved ones during happy hour.
Known for its trendy vibe and great music selection, The Social appeals to all ages looking for an unforgettable nightlife experience. Its popularity also extends to those searching for social clubs in Chattanooga – meaning there's always someone new to mingle with while enjoying the coolest drinks in town.
While specific menu details may not be readily available online, you can expect an enticing variety of cocktails and other beverages that will cater perfectly to your tastes.
Unknown Caller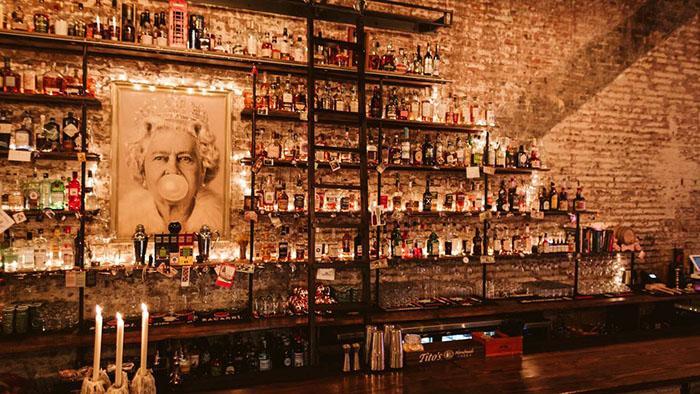 One of the top-rated bars in Chattanooga to check out is Unknown Caller. This trendy spot offers a unique atmosphere with its underground location and old-school payphone on the wall.
Guests can enjoy creative, craft cocktails made by skilled bartenders while listening to live music from local artists.
The Comedy Catch
Located at 29 Station St. Chattanooga TN 37408, The Comedy Catch is the premier comedy club in Chattanooga and a must-visit spot for anyone looking for a night of entertainment and laughter.
The bar and kitchen can accommodate up to 230 people, making it the perfect venue to enjoy drinks, food, and socializing with friends while enjoying some of the best comedy acts around.
With almost four decades of experience under their belt, The Comedy Catch is considered the most fun night out in Chattanooga by many locals and visitors alike. The Comedy Catch offers an intimate atmosphere that will make you feel right at home from the moment you walk through their doors.
Shadys Corner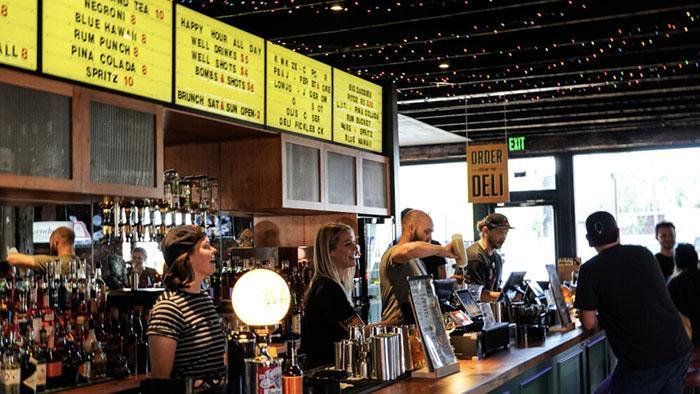 Shadys Corner is a new addition to Chattanooga's bar scene, set to open in the summer of 2022. Located on the Southside, this establishment aims to cater to a diverse clientele that includes all kinds of folks – from freaks and weirdos to ne'er-do-wells.
The person behind Shady's Corner is also the owner of Unknown Caller, another popular local bar. What makes Shady's Corner unique is its all-day deli and all-day bar setup.
Here, you can grab a sandwich or drink any time of day, making it an ideal spot for those who like to party around the clock.
Truth Vip Lounge Chattanooga
Truth VIP Lounge Chattanooga is a popular spot for those looking to experience a fun and lively night out in the city. Located downtown, this elegant bar offers a great selection of drinks, from classic cocktails to craft beers, as well as hookahs for those who want to try something different.
The lounge features a cozy atmosphere with comfy couches and mood lighting that makes it perfect for intimate gatherings or late-night parties.
The Bitter Alibi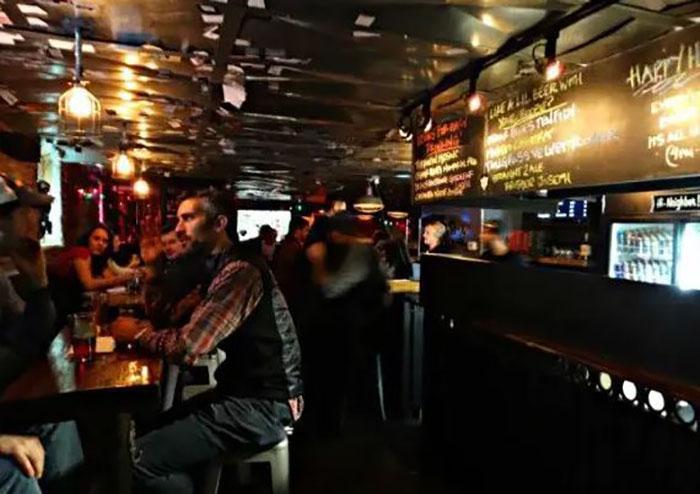 The Bitter Alibi is a must-visit bar for anyone looking to experience Chattanooga's unique downtown scene. This quirky dive bar is located in an old 3-story house, which adds to its exceptional ambiance.
The bar serves craft cocktails, beer, and delectable meals that make it one of the popular brunch spots in town. On weekends and evenings, you can pop into Dilemma – the cocktail bar within the Bitter Alibi – where some of their most inventive creations come to life.
Exile Off Main Street
Located on Rossville Avenue, Exile Off Main Street is a popular and highly rated dive bar in Chattanooga. It offers a fine drinking experience that's perfect for locals and visitors alike.
Aside from its affordable prices, Exile Off Main Street features a laid-back atmosphere and live music performances that make it one of the best local hangouts in town.
With patio seating available and plenty of craft beer options on tap, this establishment is perfect for enjoying some cold drinks on hot days or nights out with friends.
The Rosecomb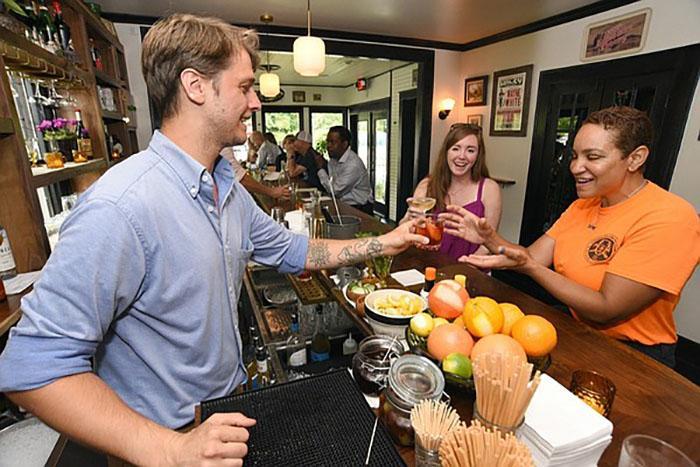 The Rosecomb is a charming 21+ neighborhood bar located on Barton Avenue in the Northshore neighborhood of Chattanooga, Tennessee.
The bar's atmosphere is cozy and inviting, with a historic cottage vibe that makes it stand out from other bars in the area.
What sets The Rosecomb apart are its unique southern-inspired drinks that incorporate cultural influences from both Tennessee and Mississippi. The bartenders here whip up some of the tastiest cocktails you'll find anywhere, including classics like Old Fashioned and innovative creations like their Blackberry Bourbon Lemonade.
Conclusion
Next time you're out exploring the city's nightlife, make sure to check out some of these top-rated bars and pubs in Chattanooga.