New York City, a bustling metropolis filled with die-hard sports fans, offers an incredible variety of sports bars to cater to every fan's needs. From football, basketball, and baseball to hockey, soccer, tennis, and golf – NYC has it all when it comes to catching the big game on screen.
Join us as we explore the 18 best sports bars in NYC that offer everything from outdoor seating options and rooftop views to great happy hour deals and mouthwatering food menus.
Top 18 Sports Bars In NYC
Here are the top 18 sports bars in NYC that cater to a variety of sports fans, with options for watching football, basketball, baseball, hockey, soccer, tennis and golf.
Stan's Sports Bar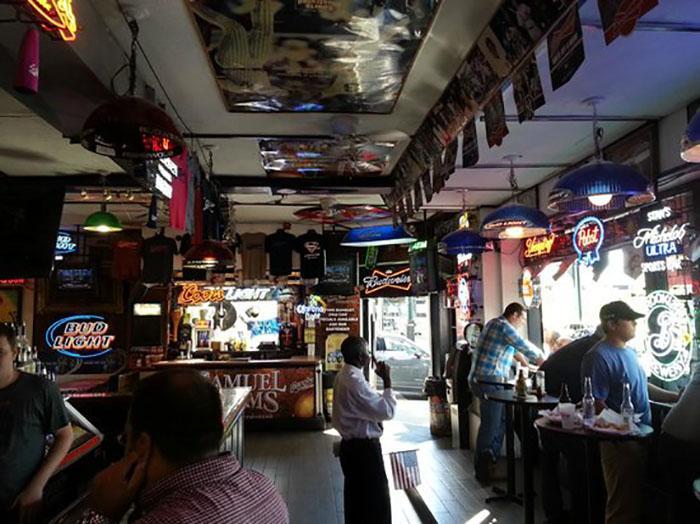 If you're looking for an authentic sports bar experience in NYC, Stan's Sports Bar is the place to go. Located just across the street from Yankee Stadium and under the elevated 4 Train, this historic establishment has earned its place as one of the best sports bars in New York City.
While enjoying your favorite team playing on big screens surrounded by impressive sports memorabilia, patrons can expect fantastic game day specials that keep loyal fans coming back.
The unique atmosphere at Stan's sets it apart from other establishments with its stadium proximity, ensuring that visitors feel like they are part of the action even without attending a live game.
In addition to their drinks menu tailored to quenching any fan's thirst, Stan's offers mouthwatering food selections as part of Americana Restaurant and Sports Bar & Grill chain.
Harlem Tavern
Harlem Tavern, located on Frederick Douglass Boulevard in Harlem, New York, is a top choice for sports fanatics seeking an ideal social gathering spot to indulge in some casual dining while enjoying their favorite games.
While Harlem Tavern may not be your typical sports bar, its diverse range of dining options – from classic bar and grill fare to more refined restaurant-style dishes – have earned it over 1300 Yelp reviews with an impressive overall rating of 4 out of 5 stars.
Keg & Lantern Brewing Company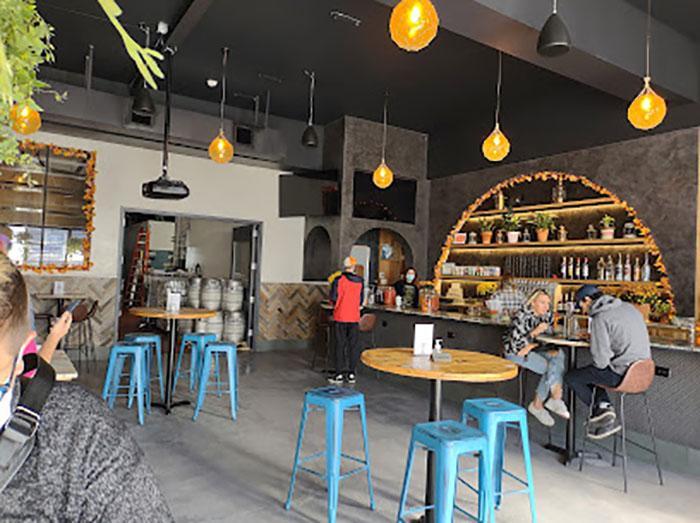 Situated in the heart of Brooklyn, Keg & Lantern Brewing Company offers a top-notch sports bar experience that is hard to match. As one of NYC's premier brew pubs, this outstanding venue specializes in brewing its own craft beers on-site while providing guests with an exceptional selection of mouthwatering pub fare.
Whether you're a local or just visiting the Big Apple, Keg & Lantern Brewing Company should be at the top of your must visit list not only for their quality beverages and bites but also because it caters to those who love to enjoy games outdoors.
Boasting an inviting outdoor seating area perfect for warm weather days, this Brooklyn gem brings together an exciting atmosphere cherished by passionate sports enthusiasts all over NYC.
Boxers
Known for its lively atmosphere, Boxers offers an exciting gameday experience with big-screen TVs and sports memorabilia adorning the walls.
This popular bar caters to both boxing enthusiasts and fans of other major sporting events such as Premier and UEFA Champions League games. Boxers also offers delicious bar food and gameday specials, making it a perfect spot to catch football games or live sports broadcasts with friends over a few drinks.
Smithfield Hall NYC
Smithfield Hall NYC is a must-visit destination for sports enthusiasts and alcoholism patients in New York City. Located in the heart of Chelsea, this premier sports bar offers an unrivaled ambiance and atmosphere that caters to fans of football and soccer alike.
The menu at Smithfield Hall NYC features classic American cuisine with a modern twist, making it perfect for those who want to indulge in some comfort food while watching their team play.
What's more, the bar hosts events like World Cup viewings and March Madness watch parties, making it an ideal place to connect with fellow fanatics over drinks and good company.
Blondies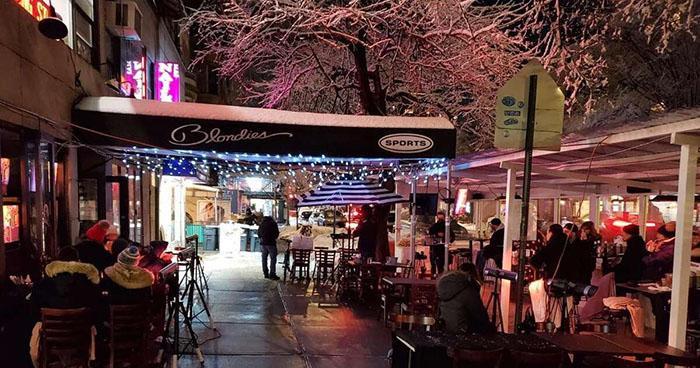 Blondies Sports is a must-visit sports bar in NYC, and it's particularly ideal for those dealing with alcoholism. Located on the Upper West Side, Blondies offers an environment that is not only fun but also welcoming.
In addition, Blondies has been rated as one of the bestsports bars in NYC by various publications because of its diverse menu of pub food, including their famous wings.
Fans of all teams flock here on game days because of their big-screen TVs and friendly barmaids who serve beer and cocktails alike.
Legends
Legends NYC is a top-rated sports bar that offers an energetic and exciting atmosphere, perfect for game day events. Located in the heart of NYC, Legends is part of a larger group of 18 sports bars that are renowned for their comfortable seating, friendly service, and variety of popular cocktails.
The bar serves some delicious bar food that pairs perfectly with your favorite beverages.
Whether you're a die-hard fan rooting for your favorite team or just looking to grab drinks with friends while watching the big game, Legends has something to offer everyone.
Additionally, happy hour specials make it affordable to enjoy drinks while you cheer on your team.
The Stumble Inn
Located in the heart of Upper East Side, Yorkville, The Stumble Inn is a quintessential American pub and sports bar that boasts a lively atmosphere perfect for sports fanatics.
With 17 HD TVs airing games all year round, you won't miss any action from basketball to football.
The friendly staff ensures that you get the best experience while you dine on delicious food served hot and fresh. Whether it's catching up with friends or making new ones in this neighborhood bar,
Billy's
Billy's Sports Bar is a must-visit spot for sports lovers who enjoy the game-day atmosphere with great appetizers and drinks. Located off of the 161st Street, close to Yankee Stadium, Billy's has been one of the top sports bars in NYC since 1998.
The comfortable seating, friendly staff, and large TVs make it a perfect place to catch all your favorite games. Not only does Billy's offer amazing viewing options but it also boasts an impressive array of live entertainment and sports memorabilia making every visit unique.
Pig Beach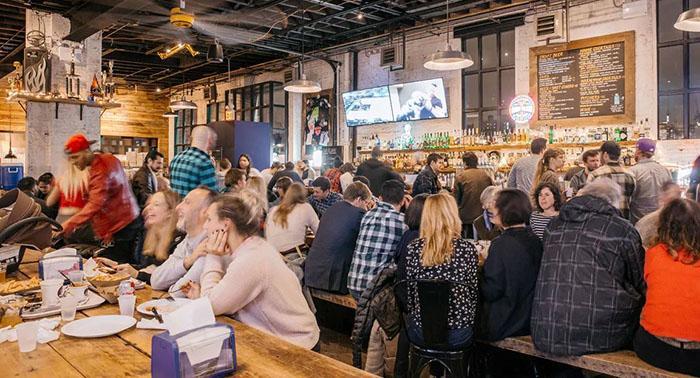 If you're looking for a sports bar in NYC that serves up delicious barbecue cuisine, Pig Beach is definitely worth checking out. This local hotspot is known among sports fanatics for their excellent viewing experience and tasty food and drinks.
Pig Beach has garnered critical acclaim as well; they were mentioned in Bon Appétit magazine's list of the best new American restaurants.
Stout
Stout NYC is a popular sports bar in the heart of Midtown Manhattan, offering an unforgettable game day experience for sports enthusiasts and alcoholism drinkers alike. The bar has multiple big screen TVs showcasing live sports entertainment, allowing fans to catch every moment of their favorite teams' games.
One of the unique features of Stout is its sportsthemed food and drinks menu, which includes items such as the classic Philly cheesesteak sandwich, buffalo chicken tenders, loaded nachos, and signature cocktails like "The Knickerbocker" or "The Big Apple." The bar also serves over 40 different beers from around the world to quench your thirst during those heated moments on game day.
Hair Of The Dog
If you're a sports fan in the Lower East Side of NYC, Hair of The Dog is a must-visit. This popular sports bar boasts an extensive garden seating area and an all-day happy hour.
You can catch multiple sports events on several TVs scattered throughout the bar while enjoying their pub food, tap beers, and cocktails. What's more? Hair of The Dog is dog-friendly! In fact, it was listed as one of the top 10 best dog-friendly sports bars in NYC.
Bronx Ale House
The Bronx Ale House is a top sports bar in NYC that draws in sports enthusiasts and casual fans alike. Its cozy, laid-back atmosphere and friendly staff make it an excellent spot to watch football, basketball, baseball, hockey, soccer, tennis or golf.
With their full bar serving up great drinks including a fantastic wine collection and beer selection along with tasty food options makes it one of the best sports bars in New York City.
Mercury Bar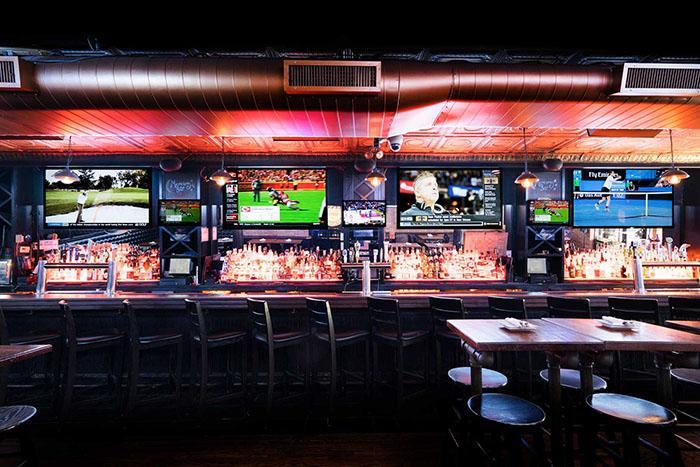 Mercury Bar is a top-rated sports bar in NYC that is perfect for fans who love to socialize and enjoy great food and drinks while watching their favorite teams.
Located in Hell's Kitchen, Mercury Bar offers patrons an upscale atmosphere with comfortable seating arrangements and multiple television screens showing live games from football, basketball, baseball, hockey, soccer, tennis or golf.
Furthermore, visitors can enjoy full menus offering delicious meals like burgers and small bites while they watch games.
The Supply House
The Supply House is one of the top sports bars in NYC, known for its game day atmosphere and extensive beer selection. This popular spot attracts many sports enthusiasts who want to watch their favorite teams play while enjoying some delicious bar food.
Whether you're a fan of basketball, football, or baseball, The Supply House has got you covered with multiple screens throughout the bar showing all the major games.
Moreover, patrons rave about the vibe at The Supply House, which ranges from lively to laid-back depending on the crowd. Its prime location in NYC's vibrant bar scene makes it a must-visit destination for anyone looking for a memorable night out.
The Grayson
The Grayson is a top-rated sports bar in New York City that offers the perfect game day experience for those who enjoy alcohol. Located on the lower east side, The Grayson boasts an impressive array of over 40 televisions and projection screens to keep you up-to-date with all the latest sports action.
Aside from being one of the best places to enjoy bar food while watching your favorite games, The Grayson also serves as a restaurant and nightclub. Whether you're looking to grab some quick bites during halftime or winding down after a night out with friends, this establishment caters to every need.
The Hairy Monk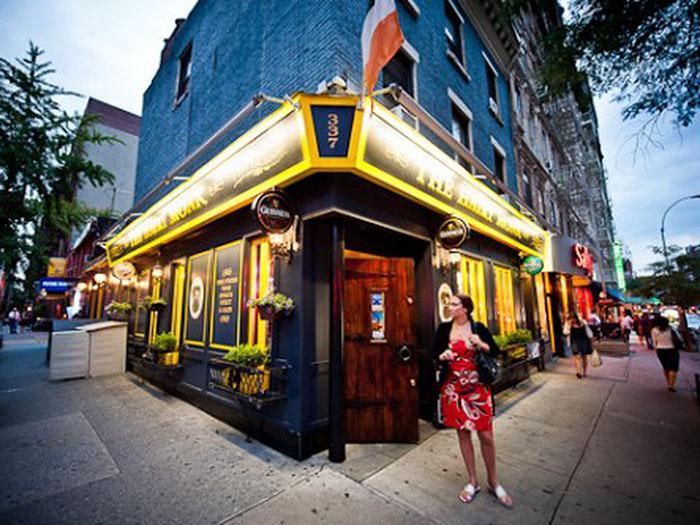 The Hairy Monk, a popular sports bar located in West Village, was once known as a haven for Red Sox fans living in NYC. Though it is no longer open today, its legacy lives on as many visitors and regulars still reminisce about the good old days spent cheering their team on inside the cozy walls of The Hairy Monk.
Despite being closed for several years now, The Hairy Monk remains part of New York City's rich sports culture and history alongside other iconic sports bars like Stan's Sports Bar, Harlem Tavern, and Keg & Lantern Brewing Company.
The Liberty
With its numerous big screens and lively atmosphere, The Liberty is the perfect venue for cheering on your favorite team while enjoying a cold beer or cocktail.
The Liberty's menu offers an impressive selection of craft beers, cocktails, and wines to suit any taste bud. Whether you're craving classic pub grub like burgers and fries or something more sophisticated like lobster rolls or steak frites, The Liberty has got you covered.