Welcome to the vibrant honky-tonk scene of New York City, where country music lovers and southern food enthusiasts come together for an unforgettable night out.
Contrary to popular belief, NYC isn't all about skyscrapers and fine dining – it's a melting pot that caters to diverse tastes in food, music, and nightlife.
Get ready to explore 9 of the best country bars in NYC offering live music, Nashville-themed decor, line dancing fun, mechanical bulls for the adventurous ones, mouthwatering southern cuisine with perfect pairing of beverages!
Grab your cowboy boots as we dive into these bustling hotspots guaranteed to make you feel like you're right in the heart of Tennessee.
Top 9 Best Country Bars In NYC
Skinny Dennis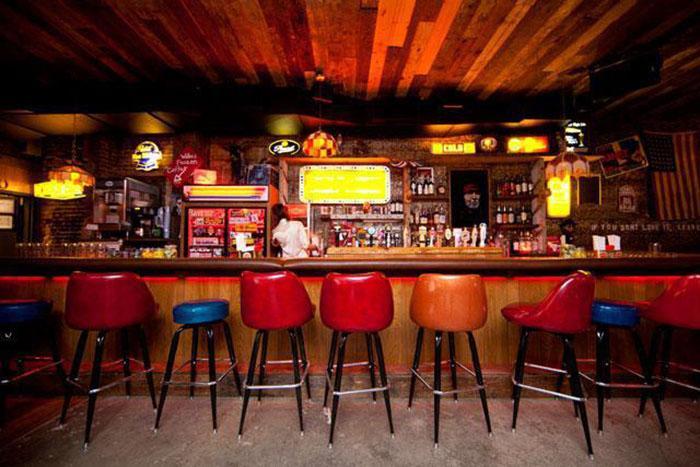 As a true country music lover, my quest for the best honky tonk venues led me to Skinny Dennis – one of the Best Country Bars in NYC. Located in Williamsburg, Brooklyn, this gem of a bar not only serves up an amazing Nashville-style atmosphere but also delivers some fantastic live country music acts.
Skinny Dennis flawlessly channels a '70s-era Nashville honky-tonk without breaking the bank. With affordable prices and great customer service, it's no wonder why both travelers and experts have given such high ratings to this beloved Brooklyn nightlife spot.
From their impressive lineup of 18 beers on draft to their unique signature cocktails, there's something for everyone at Skinny Dennis.
The Red Lion
Tucked away in the heart of Greenwich Village on McDougal Street, The Red Lion has earned its spot as one of the Best Country Bars in NYC. There's hardly a better place to experience a rustic ambiance and lively music scene while satisfying your cravings for affordable drinks and delicious pizza.
Stepping into The Red Lion, you'll immediately be greeted by friendly staff and a fun crowd that embraces the casual dress code – making you feel right at home. What truly sets this country bar apart from others is their commitment to showcasing talented local artists with nightly performances that range from up-and-coming talent to well-established acts.
One night that stands out was when I stumbled upon an indie rock band comprised of phenomenal singers that had me tapping my feet all through their amazing performances – something I never would have expected at a country bar! It's experiences like these that have kept me coming back time after time, proving how versatile The Red Lion is in offering not only an authentic country atmosphere but also catering to diverse tastes in music.
Hill Country Barbecue Market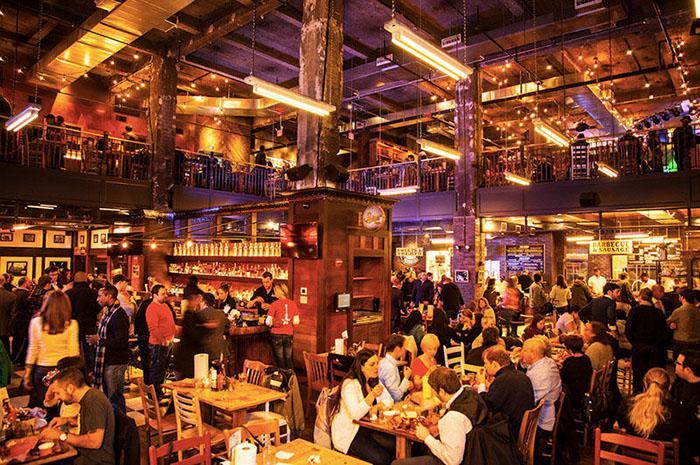 As a lover of country music and Southern hospitality, I've been to quite a few country bars in NYC. From my experience, Hill Country Barbecue Market has stood out as one of the best places for an authentic Texas-style barbecue experience coupled with live music.
One thing that sets Hill Country Barbecue Market apart from its competitors is its dedication to serving up delicious BBQ ribs, brisket and other mouth-watering dishes using wood-fired cooking techniques.
But what's a country bar without live music? The restaurant truly pays homage to Texas' barbecue and live music capital with regular events featuring talented artists.
Whether you're there to enjoy some drinks or just indulge your love for country tunes, Hill Country Barbecue Market offers the complete package for an unforgettable night out.
Cowgirl NYC
Cowgirl NYC is the perfect place to experience some authentic Southern Texan culture in the heart of New York City. I've been a regular at this bar and restaurant for years now, and every visit feels just like coming home.
The best part? The food! Cowgirl NYC specializes in juicy, mouth-watering BBQ that will leave you wanting more.
But it's not just about the food – Cowgirl NYC truly embraces country culture through its western-style decor and honky-tonk music.
One thing that sets Cowgirl apart from other country-themed bars is their dedication to Western wear, which gives patrons a chance to dress up as cowboys or cowgirls while enjoying their meals.
Brother Jimmy's BBQ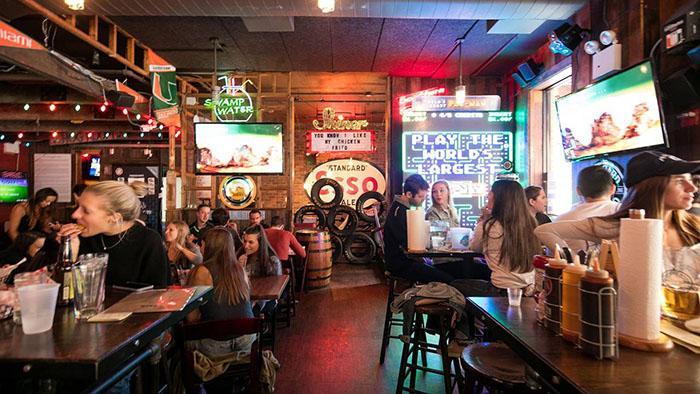 When it comes to finding the best country bars in NYC, Brother Jimmy's BBQ always ranks high on the list. This bar and restaurant was opened over 30 years ago by James Goldman with the aim of bringing a taste of Texas-style barbecue to New Yorkers.
And boy did he succeed! The menu at Brother Jimmy's was all about classic Southern comfort food, including smoked ribs, pulled pork sandwiches, and hot links.
Brother Jimmy's BBQ also offered a honky-tonk atmosphere that couldn't be missed. From line dancing parties to live music performances by up-and-coming country artists, there was never a dull moment here.
Sadly, however, Brother Jimmy's BBQ closed permanently in recent years after over three decades of serving hungry patrons looking for some good ole' Texas-style hospitality in NYC.
Honky Tonk Tavern
If you're looking for a taste of Texas in the heart of New York City, Honky Tonk Tavern is the place to go. This top-rated country bar offers a western theme, complete with line dancing and mouth-watering barbecue food that will make your stomach rumble.
But it's not just the atmosphere that makes Honky Tonk Tavern stand out; their whiskey cocktails are some of the best in town.
One thing everyone agrees on when it comes to Honky Tonk Tavern is how delicious their oversized hamburgers and bacon mac are – perfect fuel for a night filled with dancing and fun.
The Whiskey Ward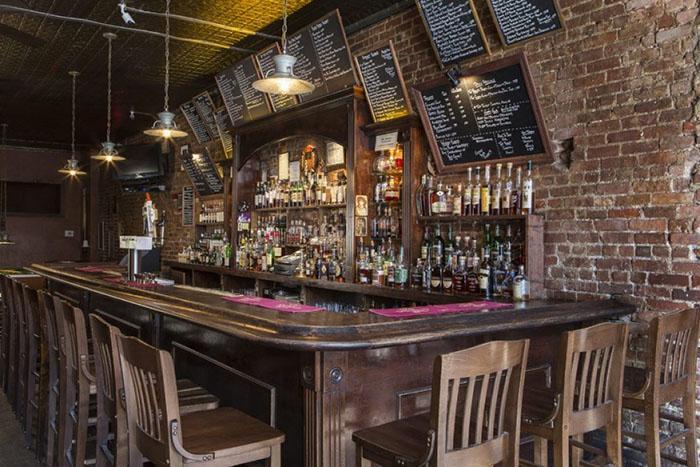 One of my personal favorite country bars in NYC is The Whiskey Ward. It's no surprise that it made the top list for best country bars in the city as it offers a true taste of Southern charm with its rustic decor, cowboy boots, and live music.
What sets The Whiskey Ward apart from other country bars is their unbeatable prices and signature whiskey cocktails.
The bar has been a local favorite for over 20 years and is located in Lower East Side, making it easily accessible for those looking to experience some Wild West fun.
Not only does The Whiskey Ward serve up great drinks, but they also have twostep dancing lessons on Thursdays and line dancing nights every week.
If you're planning your next night out or just looking for something new to try, consider The Whiskey Ward for an authentic Southern experience without having to leave the city.
Johnny Utah's
Johnny Utah's is one of the best country bars you can find in NYC, and it's especially great for those who are looking to experience a piece of southwestern culture.
With its cowboy hats, boots, and western decor, this bar offers visitors a chance to immerse themselves fully in a wild west-themed environment.
One of the unique features of this bar is its mechanical bull ride which is always a crowd-pleaser. You can try your hand at riding it or just sit back and watch as others attempt to hold on tight.
Moreover, Johnny Utah's has been known for hosting incredible southwestern cuisine events featuring some of New York City's best chefs serving up southern hospitality alongside mouth-watering dishes such as BBQ Ribs and Cornbread Muffins.
The Wild Horse Tavern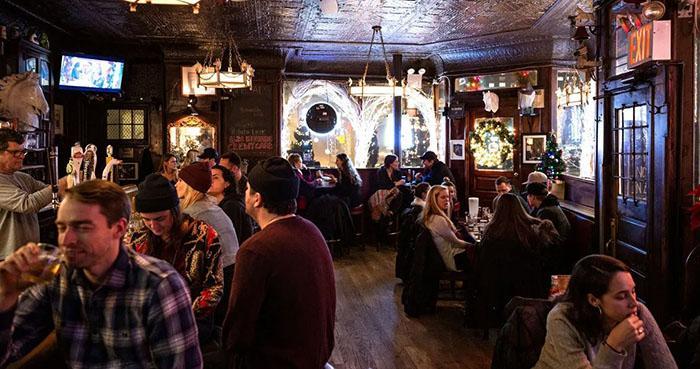 If you're a fan of country music, line dancing, and whiskey, then The Wild Horse Tavern is the perfect spot for you. This western-themed bar offers live music on weekends and a selection of delicious barbecue options to satisfy your cravings.
As soon as you step into The Wild Horse Tavern, the rustic ambiance will transport you straight to the heart of Texas. From cowboy boots nailed to the wall to vintage posters adorning every corner of the place, this bar has just the right amount of Western flair that'll make you feel at home.
Whether you're in NYC for business or pleasure, be sure to stop by this honkytonk gem and experience everything it has to offer.
Conclusion
In conclusion, if you're looking for a taste of the south and some honky-tonk fun in New York City, these nine country bars are definitely worth checking out.
From line dancing to mechanical bulls, live music to southern cuisine, there's something for everyone at these Nashville-themed saloons and cowboy bars.