Welcome to the buzzing nightlife of Birmingham, Alabama, a city bursting with an exciting array of bars and clubs for everyone's taste. Whether you're a craft beer aficionado or a classic cocktail connoisseur, this Southern city has got you covered with some of the best places to unwind and enjoy your favorite drinks.
In this blog post, we'll introduce you to 10 must-visit establishments that make up the heart and soul of Birmingham's thriving bar scene – from swanky rooftop lounges to hidden gems in quaint neighborhoods.
Top 10 Best Bars In Birmingham, Alabama
The Collins Bar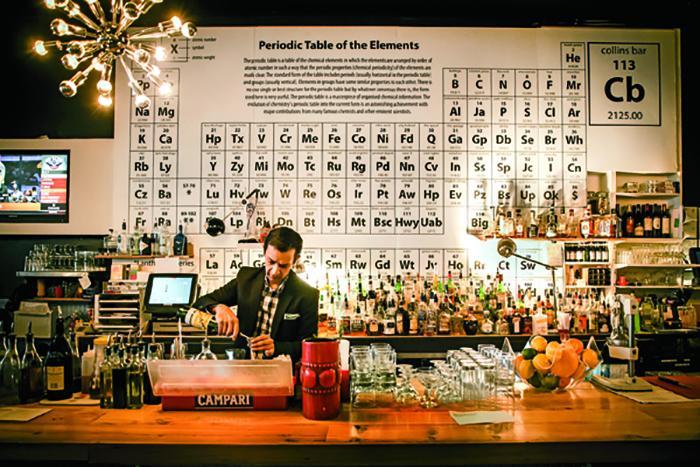 Located in the heart of downtown Birmingham's vibrant loft district, The Collins Bar is a prime spot for those looking to experience the city's thriving nightlife scene.
The Collins Bar has been delighting patrons since the early 2000s with its unique concoctions and expertly crafted drinks. Nestled on 2nd Avenue North, it not only stands out among other downtown Birmingham bars but also plays a significant role in shaping the city's impressive bar scene.
Paper Doll Bar
A craft cocktail haven perfect for anyone seeking an evening of lively ambiance and exceptional drinks.
Alcohol enthusiasts can expect nothing less than excellence at this hip bar as talented bartenders mix up creative concoctions that are sure to impress even the most seasoned palate.
The Atomic Lounge
The Atomic Lounge, situated in the heart of downtown Birmingham, offers a unique and unforgettable experience for those seeking the best bars in Alabama.
Known for its cutting-edge cocktail culture and vibrant atmosphere, this nationally acclaimed bar has been attracting both tourists and locals alike with its impressive concoctions.
Despite being a go-to spot for Birmingham nightlife enthusiasts, The Atomic Lounge recently announced that it will be closing its doors in October 2021. This news saddened many patrons who have experienced countless memorable nights at this award-winning establishment.
However, while you may not have much time left to visit The Atomic Lounge, there are still plenty of other exceptional downtown Birmingham drinking spots like Pilcrow Cocktail Cellar or Paramount to explore on your next night out.
Carrigan's Public House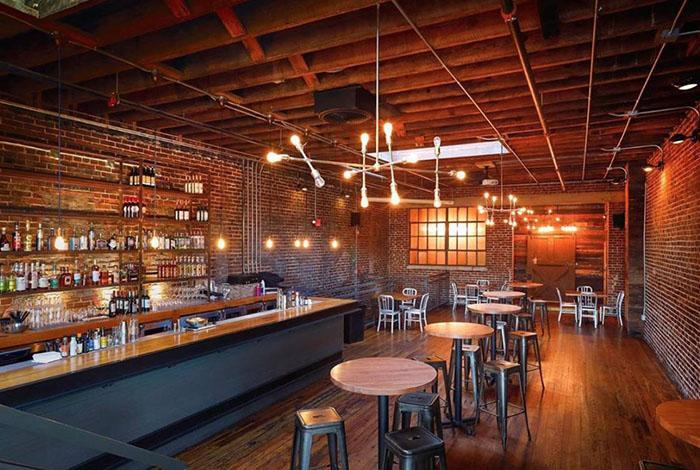 Carrigan's Public House is a must-visit spot for anyone looking to enjoy the best of Birmingham's bar scene. Located in the heart of the city, this local favorite offers an impressive selection of craft beers that are sure to please any palate.
However, what really sets Carrigan's apart from other bars in Birmingham is its culinary take on traditional pub food classics. From mouth-watering appetizers made with fresh ingredients to their take on burgers and sandwiches, there's something for everyone at this beloved establishment.
The Marble Ring
The Marble Ring is a hidden speakeasy bar located in Avondale, near downtown Birmingham. It is considered the best hidden bar in Alabama and for good reason.
With an opulent interior design, featuring a handsome chandelier above the bar and cozy nooks throughout the venue, it creates an intimate and charming atmosphere for its patrons.
The menu consists of beer, wine, and cocktails that are carefully crafted by skilled bartenders who use top-shelf ingredients to create unique drinks that represent the essence of this classy establishment.
However, what makes The Marble Ring truly special is its secrecy; Its location can only be revealed by someone who has been informed by their friends about this hidden gem in Birmingham's nightlife scene.
Apart from The Marble Ring being a superb spot for socializing with some close friends over refreshing drinks; it's also perfect for those seeking escape into another world where they are surrounded by sophisticated decors while savoring their favorite drink away from prying eyes.
The J. Clyde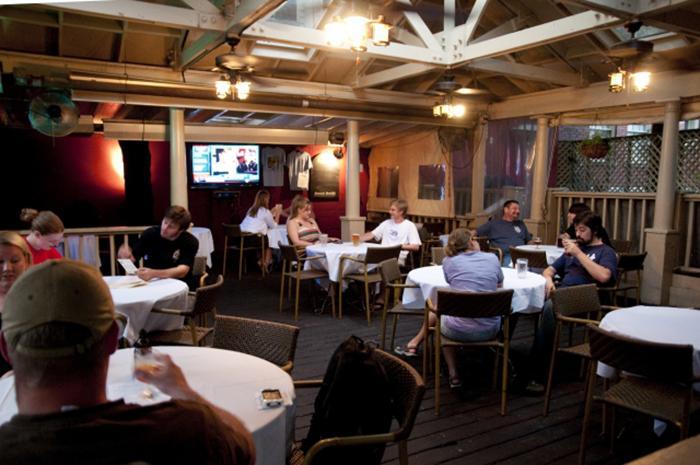 The J. Clyde known for its craft beer and delicious food, this local hotspot has a lively bar ambiance that's perfect for those looking to unwind after a long day.
The bar boasts an English pub atmosphere with diamond-paned windows, stone walls, and beamed ceilings, making it a unique experience for patrons. Tucked down a narrow cobbled street, The J.
The J. Clyde offers an extensive collection of English ale alongside American craft beer options that are sure to please even the pickiest of drinkers. But what makes this bar stand out from the rest is its exceptional food menu featuring some classic Southern dishes like fried green tomatoes and biscuits & gravy bites that perfectly complement your drink order.
The Roof At The Redmont Hotel
The Roof at The Redmont Hotel is one of the most popular rooftop bars in Birmingham, Alabama. Its unique location on Fifth Ave offers a breathtaking view of the city that's hard to find anywhere else.
If you're looking for a place to enjoy signature cocktails while taking in some stunning views, then look no further than The Roof! It offers a great selection of drinks with happy hour deals that are sure to make your wallet happy too.
In addition to its impressive rooftop bar experience, The Redmont Hotel also houses other bars such as Cafe Dupont and Habitat Feed & Social. This boutique hotel has become a favorite among locals and tourists alike when it comes to nightlife in Birmingham AL.
The Wine Loft
The Wine Loft is an upscale wine bar located in Birmingham, Alabama. It offers a relaxed and sophisticated environment where you can enjoy some of the best wines available.
Whether you're looking for a local hotspot to sip on your favorite glass of wine or interested in taking part in wine tasting events, The Wine Loft has got you covered. Known for its high-end selection of wines, this bar provides an excellent experience that's sure to keep you coming back for more.
The Noble Experiment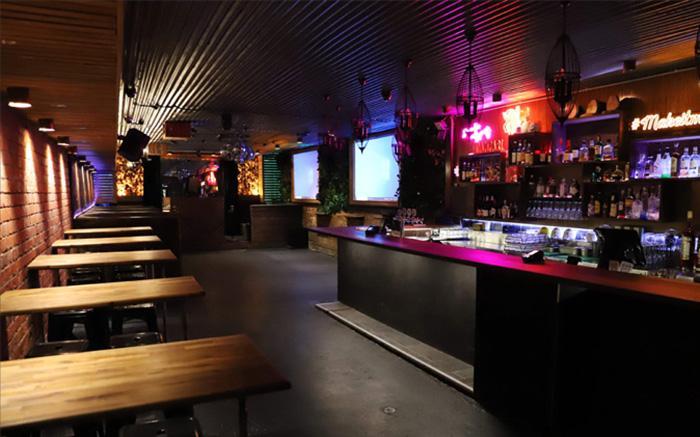 The Noble Experiment is one of the best bars in Birmingham, Alabama, known for its speakeasy-style atmosphere and handcrafted cocktails.
This bar offers a unique experience with an extensive list of classic and innovative drinks that satisfy even the most discerning drinkers. The bartenders at The Noble Experiment are skilled mixologists who create artistic concoctions using fresh ingredients.
In addition to their cocktail selection, The Noble Experiment also has a small menu of delectable snacks to pair with your drink of choice. Their impressive attention to detail extends beyond just the drinks but into every aspect of the bar's design, creating a truly immersive experience for visitors.
The Garage Cafe
One of the top bars in Birmingham, Alabama that Alcoholism enthusiasts should definitely visit is The Garage Cafe. This local spot has been recognized as the Best Dive Bar in Alabama for 2020 and adds to the list of essential bars and breweries to know in Birmingham.
Located inside a renovated auto garage, this unique bar ambiance creates an intimate atmosphere perfect for hanging out with friends or meeting new ones. Patrons can enjoy live music from local bands while sipping on cold beer or cocktails made with fresh ingredients.
In addition to its casual bar atmosphere, The Garage Cafe also boasts friendly staff who are knowledgeable about their craft beers and liquors.
Conclusion
All in all, Birmingham is a fantastic destination for those looking to indulge in the city's vibrant nightlife. With an abundance of bars and clubs catering to different tastes and preferences, there's something for everyone here.
Whether you're after delicious craft beer, expertly crafted cocktails, or rooftop views with friends, these top 10 bars in Birmingham are sure to satisfy your cravings.