New York City is known for its bustling nightlife, but why settle for a typical bar when you can elevate your experience with fun games and activities? From Brooklyn to Queens and everything in between, we've compiled a list of the 17 best bars with games in NYC.
Whether you're into arcade classics or competitive shuffleboard, these hotspots have something for everyone.
Top 17 Bars With Games In NYC
Barcade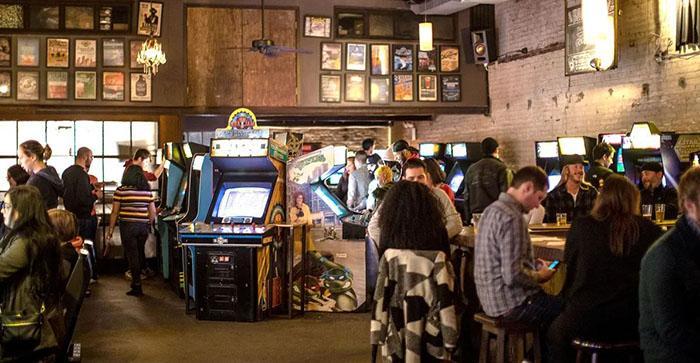 Barcade, a pioneer in the arcade bar scene and the largest operator of such establishments, is an excellent choice for those seeking a thrilling gaming experience alongside their drinks.
This popular NYC hotspot houses an impressive collection of 40 to 75 video games and pinball machines that cater to both nostalgic gamers and new enthusiasts alike.
Being recognized as one of the top bars with games in NYC reflects Barcade's commitment to providing quality entertainment and socializing options while maintaining its affinity for alcoholism.
Whether you're looking to challenge friends at classic arcade games or unwind by yourself with some pinball action, there's always something exciting happening here.
Two Bit's Retro Arcade
Two Bit's Retro Arcade, located in the Lower East Side of New York City, is a haven for those seeking nostalgia and a fusion of social entertainment. This gaming bar offers over 20 arcade classics from the 80s and 90s, providing patrons with an old school fun experience that goes beyond your typical sports bar nightlife.
Perfect for friends or dates looking to connect over retro gaming, Two Bit's Retro Arcade allows you to pop in some quarters and relive classic video game memories while sipping on your favorite beverages.
The Royal Palms Shuffleboard Club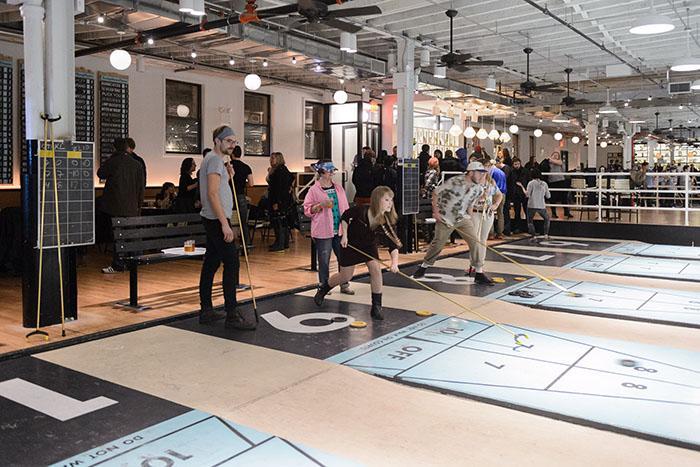 The Royal Palms Shuffleboard Club, nestled in the heart of Gowanus, Brooklyn, offers a truly unique atmosphere for those seeking a leisurely night out. Transporting you to sunny Florida with its retro decor and laid-back ambiance, this one-of-a-kind venue boasts over 20,000 square feet of space dedicated primarily to shuffleboard – making it an ideal spot for socializing and indulging in playful competition.
Aside from being ranked as one of the best bars with games in NYC by various publications, The Royal Palms Shuffleboard Club impresses visitors with its eclectic mix of Florida kitsch meets industrial design.
This Brooklyn gem provides the perfect backdrop for alcohol enthusiasts searching not only for a drink but also engaging experiences that encourage interaction and camaraderie among attendees.
Ace Bar
Ace Bar is a must-visit bar in New York City for game lovers, offering a lively atmosphere with plenty of options for entertainment. Located in the East Village, Ace Bar has an impressive selection of classic games like skee-ball, pool and billiards, darts, and pinball machines that are sure to keep patrons entertained all night long.
This popular spot is known for attracting a diverse crowd of locals and tourists alike who come together over their love for games. The bar offers a unique experience that combines the thrill of competition with socializing in style.
The Gutter
For those who are looking for a low-key dive bar with affordable drinks and fun games, The Gutter is the perfect spot. This LIC neighborhood bar offers bowling as its main attraction, making it a great destination for bowling enthusiasts or anyone looking to roll some balls while enjoying a few drinks with friends.
Besides bowling, The Gutter also features other classic games like pool tables and board games. They have something for everyone's tastes in terms of music as well, ranging from rock to blues to indie.
Fat Cat Music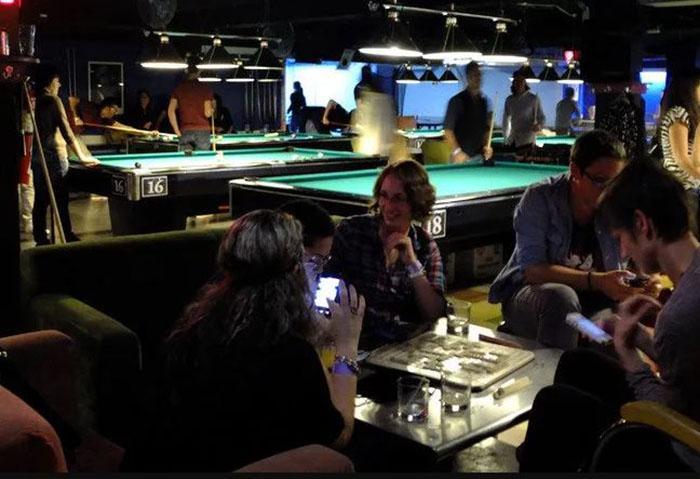 Situated in the heart of Greenwich Village, Fat Cat Music is one of NYC's most iconic bars for its lively jazz music and fun games. With a relaxed atmosphere and cozy decor, this bar offers an array of games such as billiards, ping pong, chess, checkers, and more to entertain patrons while they sip on some drinks or groove to live music.
Cellar Dog is the new name for Fat Cat Music which still offers all these activities that you can enjoy with your friends. The bar has received glowing reviews from TripAdvisor with a rating of 4.5 out of 5; thus cementing its reputation as one of the best spots in New York where you can combine entertainment and socializing over cocktails.
Full Circle Bar
Full Circle Bar is a must-visit spot for those looking to combine game night with their drinking session.
Though no specific details are provided about the games available at Full Circle Bar, visitors can expect a variety of options ranging from classic arcade games such as Pac-Man and Street Fighter to traditional board games like Scrabble or Settlers of Catan.
The Uncommons
Located in Greenwich Village, The Uncommons is a perfect place for anyone who loves board games, craft beer, and socializing. As the first board game cafe in Manhattan, it offers over 20 craft beers, wine, ciders and shandies alongside an impressive collection of popular tabletop games.
The environment fosters community building as people come together to play games with old friends or make new ones. It's not just about winning – it's also about having fun and enjoying drinks while playing your favorite classic or modern board games.
Bounce Sporting Club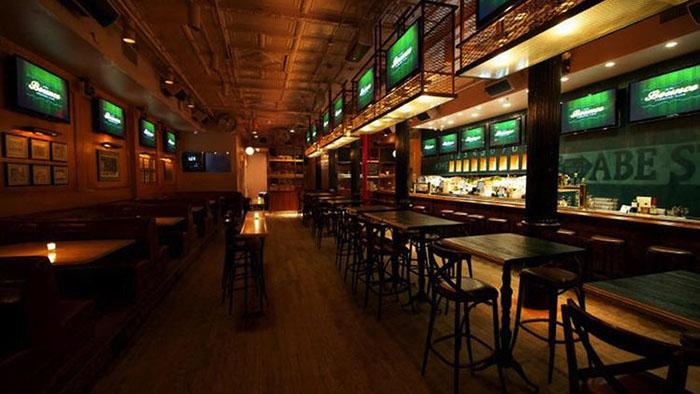 Bounce Sporting Club is a popular destination in the Flatiron neighborhood of NYC for those seeking an upscale sports bar experience. With over 20 TVs on premises, this modern sports lounge provides game day viewing like no other.
It's no surprise that Bounce made it to various lists as one of the top bars with games in NYC. The trendy atmosphere attracts fashionable locals who are drawn to the impressive selection of sports entertainment available.
Keystone Bar & Grill
Whether you're into ping pong, Jenga, or axe throwing, they've got something for everyone.
Along with their impressive game selection, Keystone Bar & Grill also has a delicious menu offering classic American fare like juicy burgers and crispy fries alongside inventive dishes like buffalo chicken egg rolls.
At Keystone Bar & Grill, you'll find an eclectic mix of people who share a love for good drinks and even better times. The bar staff is friendly and always happy to help you choose from their extensive list of craft beers or signature cocktails.
With so much to do at this vibrant spot, it's easy to see why it's become such a popular hangout among locals and tourists alike.
The Randolph At Broome
Located in downtown Manhattan, The Randolph at Broome is a cozy and unassuming spot that has become famous for its artisanal cocktails and high-end coffee.
While specific details on what kind of games are available are not provided, visitors can expect an eclectic mix of classic arcade games, pool tables, shuffleboard courts, board games like Scrabble or Settlers of Catan, ping pong tables, darts boards among others.
The Brooklyn Strategist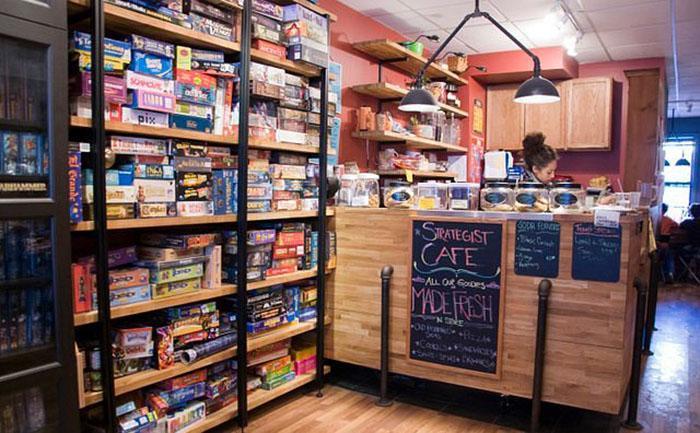 The Brooklyn Strategist is a one-of-a-kind bar with a wide selection of board games for you to choose from. Whether you're into classic strategy games like chess and checkers or more modern ones like Settlers of Catan and Pandemic, this place has got it all.
In addition to their impressive game collection, they also have an extensive menu of drinks and snacks that will keep you fueled throughout your gaming sessions. If you're looking for a fun night out with friends or family, The Brooklyn Strategist is definitely worth checking out.
High Dive
With a fun and laid-back atmosphere, this dive bar offers a wide selection of craft beers, cocktails, and classic bar bites to complement their extensive game offerings.
From darts and arcade games to shuffleboard and foosball tables, High Dive has something for everyone.
Aside from its impressive game collection, what sets High Dive apart from other bars with entertainment in NYC is its welcoming vibe and friendly staff. The bartenders are always happy to recommend drinks or give tips on which games to try next – making it feel like your own personal neighborhood haunt.
The Thirsty Koala
The Thirsty Koala is a popular Australian gastropub located in the vibrant neighborhood of Astoria, New York. This casual hangout spot offers a laid-back atmosphere for locals and visitors alike who are looking for indoor entertainment.
The bar features an impressive list of curated craft beers, creative cocktails, and organic wines that are perfect for unwinding after a long day at work or on weekends.
Apart from its delicious cuisine, patrons can also enjoy social activities like bar games and competitive sports such as axe throwing. The Thirsty Koala delivers an interactive experience that combines both food and fun under one roof.
Overall, The Thirsty Koala provides a unique setting where people can connect over great beer and tasty bites while indulging in their favorite social games without leaving the comfort of the indoors.
The Rosemont
Located in the hip neighborhood of Williamsburg, The Rosemont is a stylish bar with a lively atmosphere and an array of games to entertain guests. With its vibrant decor, this spot attracts young party-goers looking for some fun.
You can enjoy popular games such as pool, ping pong, and foosball while sipping on refreshing cocktails or beer from their extensive drinks menu. The bar also hosts various events like karaoke nights and live music performances that are sure to keep you entertained all night long.
Satellite Bar
Satellite Bar is one of the coolest and entertaining bars with games in NYC. It offers a relaxing atmosphere, delicious cocktails, and an extensive selection of beers on tap.
One unique feature of Satellite Bar is its game lounge area which features several vintage video arcade machines that will take you back to the golden age of gaming.
The bar also has night activities such as karaoke nights where patrons can sing along to their favorite tunes in front of a lively crowd.
Flatiron Hall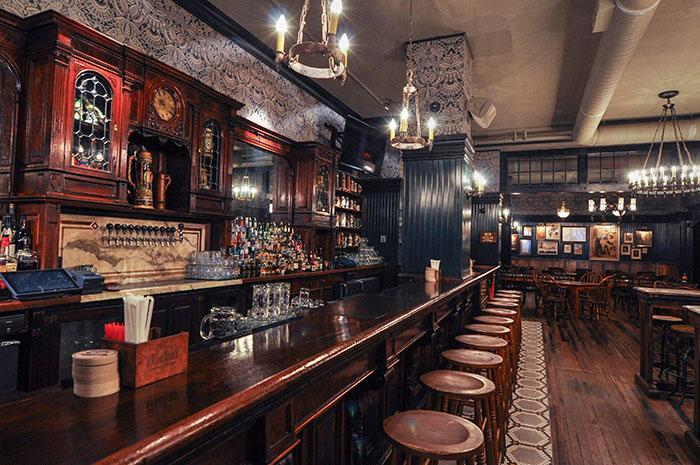 The venue offers visitors an unforgettable experience of classic bar games and exceptional drinks.
Whether you love to play pool, shuffleboard, or even skee-ball, Flatiron Hall has got it all covered.
But Flatiron Hall isn't just about games and beer; they're also known as one of the best sports bars in NYC.
Keywords: Bars with entertainment, Nightlife with games, Fun bars in NYC, Sports bars in New York
Games & Activities Available
Pinball, pool and billiards, shuffleboard, board games, ping pong, darts, arcade games and skee-ball are just a few of the many games & activities available at these bars with games in NYC.
Pinball
Pinball is one of the many games available at some of the best bars with games in NYC. This classic arcade game has been around for decades and still attracts players of all ages.
Pinball machines are a family of games in which a ball is propelled into a specially designed table where it bounces off various obstacles, scoring points. With 18 pinball machines on location at one bar alone, pinball wizards can test their skills against other players or simply enjoy playing solo.
Whether you're looking for fun activities to do with friends or just want to take a nostalgic trip back to your childhood, pinball offers retro gaming entertainment at its finest.
It's no surprise that it remains popular alongside other recreational sports such as pool, skee-ball, and axe throwing at various social clubs and gaming bars in NYC.
Pool And Billiards
If you're a fan of cue sports, then the bars with pool and billiards tables in NYC won't disappoint. Ace Bar, located in the East Village, is one of the best spots to enjoy a game of pool or skee-ball while sipping on low-priced drinks in their spacious setting.
But it's not just about playing pool or billiards at these bars – it's also about the socialization that comes along with it. These games offer an opportunity to bond with friends over friendly competition and make new acquaintances among like-minded folks who share your interest in pub games.
Shuffleboard
Shuffleboard has been a classic bar game for over a century, and it's no surprise that it's still popular today. This fun and social activity involves sliding weighted pucks down a long table in an attempt to get them as close to the scoring area as possible.
It's a great group game but can also be enjoyed solo.
What makes shuffleboard so appealing is its simplicity and accessibility – anyone can play regardless of skill level or physical ability. Plus, with more bars than ever offering this timeless pastime alongside other games like pool and darts, there's never been a better time to grab some friends and enjoy some recreational activities while sipping on your favorite drink.
Board Games
Board games have been the centerpiece of social gatherings for years, and it is no different in bars. Bars like The Uncommons, Next Move Cafe, and The Brooklyn Strategist offer a wide variety of board games for customers to enjoy while sipping on their drinks or enjoying some food.
These board game cafes provide an excellent opportunity to enjoy classic tabletop games such as Settlers of Catan, Ticket to Ride or Monopoly with friends or strangers alike.
If you're looking for something more strategic than the average bar game, these establishments are worth checking out.
Whether you're looking to challenge your friends' intellect or want to try something new over a pint after work with colleagues, board game-focused bars offer an enjoyable alternative that can engage both introverted and extroverted personalities alike.
Ping Pong
Several bars with games in New York City offer ping pong, a popular activity that combines physical exercise and friendly competition. One such venue is SPIN, a social club dedicated to the sport that attracts players of all skill levels.
The establishment features several Olympic-style tables, where patrons can play casually or join organized tournaments and leagues.
Another Brooklyn location known for its ping pong offerings is Full Circle Bar. In addition to serving local beers and craft cocktails, the bar has a game room with three tables available for play by the hour or per game.
Guests can also enjoy other classic arcade games like Pac-Man and pinball as they sip their drinks.
Darts
Darts is one of the classic pastimes that can be enjoyed in several bars all over NYC. It is a game that requires hand-eye coordination and some skill to master, making it an enjoyable activity for many bar-goers.
Ace Bar in NYC is one of the best spots for darts, with its spacious layout and multiple boards available for play. Other bars such as The Gutter and Keystone Bar & Grill also have great dart setups to offer patrons looking to get their game on while enjoying a drink or two.
Arcade Games
As one of the most popular forms of gaming, arcade games have gained a cult following in recent years. They offer an exciting, retro experience that's hard to come by elsewhere.
Luckily for New Yorkers who love their vintage gaming fix, there are plenty of bars in NYC that offer classic arcade games like Pac-Man and Space Invaders.
At Barcade, you can enjoy your favorite brew while playing nostalgic titles like Donkey Kong and Mortal Kombat. Meanwhile, Two Bit's Retro Arcade lets you relive your childhood with classic games such as Street Fighter II and Galaga.
These bars provide an opportunity for socializing with friends or even meeting new people over shared nostalgia and competitive gameplay.
Skee-Ball
Skee-Ball is a classic game that has become a staple in many bars with games in NYC. One of the best places to find Skee-Ball is at Ace Bar, which offers this fun and addictive game alongside other activities like pool.
But Ace Bar isn't the only place to play Skee-Ball in NYC. Brooklyn, especially Williamsburg, has emerged as a hot spot for bars featuring this popular game. In fact, several Brooklyn bars made our top 10 list of best bars with games in NYC, including Two Bit's Retro Arcade and The Royal Palms Shuffleboard Club.
Foosball
Foosball is a popular game that can be played at many bars and social clubs in NYC. Also known as table soccer, it is enjoyed by both casual players and serious enthusiasts.
Playing foosball requires skill and practice to master. Bar Games 101 provides useful tips on how to improve your gameplay, such as learning the right grip technique or mastering advanced shots.
Conclusion
In conclusion, if you're looking for a fun-filled night out with friends or loved ones, NYC has plenty of bars with games to choose from. From arcade games and pool tables to foosball and board games, these 17 top-rated bars offer endless entertainment options.
So grab a drink, challenge your friends to a game, and let the good times roll at one of these social clubs with games! And don't forget to check out our related search terms for more ideas on where to find bars with board games in Brooklyn, fun bars for birthdays, or bars with activities in nearby areas.