Welcome to the vibrant nightlife scene of Jersey City, where you're never short of options for a fantastic night out. As a bustling urban hub with an abundance of top-notch bars and lounges, it can be tough to narrow down where to grab your next drink.
No worries, we've got you covered – introducing the 18 best bars in Jersey City that offer everything from craft cocktails and waterfront views to upbeat live music and flavorful hookah experiences.
Whether you're new in town or looking for a fresh hangout spot, our guide will take your nights on the town to the next level.
Top 18 Bars In Jersey City
Barcade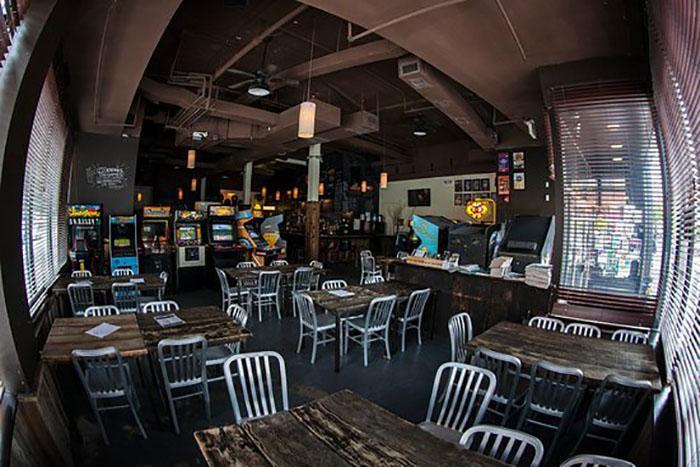 Stepping into Barcade, I'm immediately transported to my childhood memories. The atmosphere of this unique bar in Jersey City is an impressive blend of retro gaming and adult entertainment that's perfect for casual socializing.
Not only does Barcade offer an extensive selection of American craft beers, but it also boasts a wide array of nostalgic arcade games from our youth like Pac-Man and Donkey Kong.
The joy I experience while sipping on a delicious IPA and battling through levels with friends is unmatched by any other nightlife spot in the city.
The Archer
Are you ready to experience a unique vibe in downtown Jersey City? Look no further than The Archer, which not only tops the list of best bars but is also known for its exotic meats and handcrafted cocktails.
While enjoying your time at The Archer, don't miss out on their recommended cocktails like the Tropical Princess or Tiki Derby, both offering exciting flavors that pair perfectly with their menu selections.
Add to that fantastic atmosphere and delightful decor designed by The Archer Group – who are responsible for hotspots such as Low Fidelity as well – you'll have an unforgettable night at one of Jersey City's best alcoholism destinations.
Lucky 7 Tavern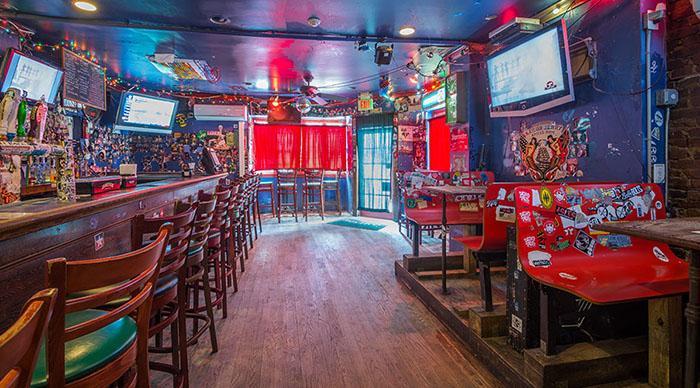 As a local gem in Jersey City, Lucky 7 Tavern is the perfect spot to unwind after a long day or celebrate with friends. Known for their authentic Southern BBQ and extensive selection of beers on tap, this laid-back bar definitely deserves its place among the best Bars in Jersey City.
What really sets this bar apart from others is the diverse crowd it attracts – everyone from artists to bros can be found socializing over amazing food and drinks.
And if you're looking for an event venue that offers an unpretentious atmosphere where all your guests can relax and enjoy themselves, look no further than Lucky 7 Tavern.
Though they took some time off recently, they've returned with a bang by hosting events such as Block Rocker – proof that they continue to excel at providing top-notch nightlife experiences for everyone who visits.
Dullboy
Dullboy, located in the heart of Jersey City, is a top-rated bar known for its mixology and craft cocktails. In fact, it was named one of the Best Bars in America by Esquire magazine in 2016.
The lounge-style atmosphere combined with their extensive drink selection makes Dullboy a go-to spot for anyone looking for an exceptional bar experience.
The bartenders are knowledgeable and happy to make recommendations based on your taste preferences. Additionally, they host a weekly movie night that is perfect for winding down after a long day.
Pet Shop
Pet Shop located at 193 Newark Ave, offering a menu of creative vegetarian eats that pairs perfectly with their selection of beer, wine, and cocktails.
As someone who struggles with alcoholism, I appreciate the variety of non-alcoholic drinks such as the "Kombucha Mule" and "Strawberry Basil Lemonade." Not only does Pet Shop provide delicious food and drinks but it also has a relaxed atmosphere which makes it an ideal spot for those looking to unwind after a long day.
What's even better is that this bar is listed as one of the dog-friendly bars in Jersey City, making it an excellent place to enjoy some quality time with my furry friend while still socializing responsibly.
Mathews Food And Drink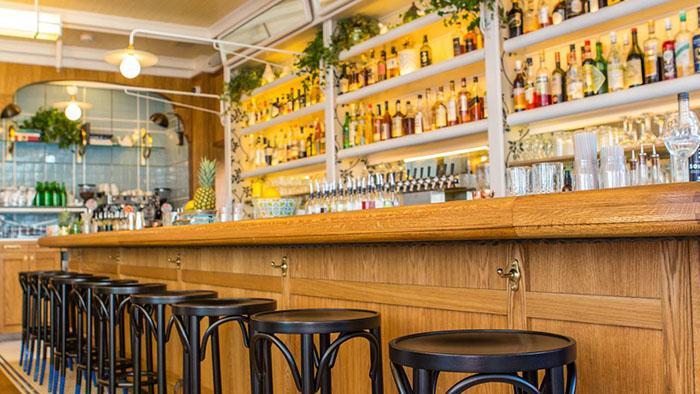 With its modern American cuisine and inventive cocktail creations. At Mathews Food & Drink you'll find more than just your typical bar fare. Their diverse menu features everyday casual dining options like artisanal pizza restaurants and French-inspired bistros alongside classic favorites like burgers and fries.
And let's not forget about their craft cocktails – they're known for their extensive drink menu featuring unique concoctions to satisfy any palate.
Iron Monkey
This historic district establishment boasts an impressive craft beer menu that caters to all tastes.
But what sets Iron Monkey apart is its unique layout – it has four floors, each with its own ambiance and vibe. You can sit back and relax on the rooftop bar and soak up panoramic city views, or enjoy a more intimate setting at their small restaurant-style bar downstairs.
Iron Monkey is also known as one of the best bars in Jersey City for happy hour deals. It's no wonder this spot attracts both locals looking for a casual night out and visitors wanting to experience the city's nightlife scene.
Fox & Crow
As someone who loves a good bar with a relaxed and welcoming atmosphere, I highly recommend checking out Fox & Crow in Jersey City.
Of course, I can't forget about the drinks and food! Fox & Crow offers fantastic bar grub along with an impressive selection of beer, wine, and cocktails.
If you're looking for live music while enjoying your drink of choice, this spot won't disappoint either. And when the weather's nice? Make sure to snag a seat on their patio for some fresh air.
South House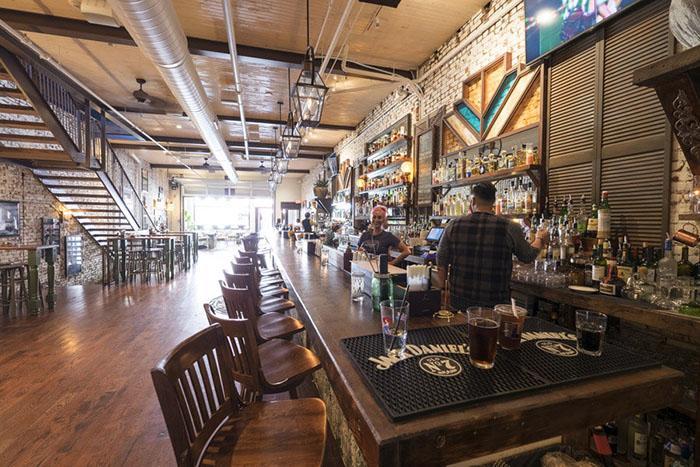 The South House is one of the best bars in Jersey City, as recognized by a recent guide published on a popular website. As someone who struggles with alcoholism, it's important to me to find places that not only offer great drinks but also have lively atmospheres and good food options available.
The South House checks all those boxes for me. Located in a prime area of Jersey City, this bar attracts locals and tourists alike with its extensive drink menu and delicious dishes like their signature fried chicken sandwich or pork belly tacos.
As I navigate my journey through sobriety, finding spots where I can still enjoy myself without feeling pressured to drink is essential. The South House offers unique non-alcoholic cocktails that make me feel included while socializing with friends who choose to imbibe.
O'Hara's Downtown
One of my personal favorite bars in Jersey City is O'Hara's Downtown. It's a great spot to catch a game while enjoying some delicious gastro pub food and quality drinks.
The bar also features a lovely outdoor patio with seating perfect for sipping on cocktails during warm summer evenings. If you're looking for live music, O'Hara's often has local bands and performers playing as well.
For those traveling to Jersey City, O'Hara's Downtown is even mentioned by guests who have stayed at Canopy by Hilton Jersey City Arts District – highlighting how its location can add extra value to your visit.
The Ashford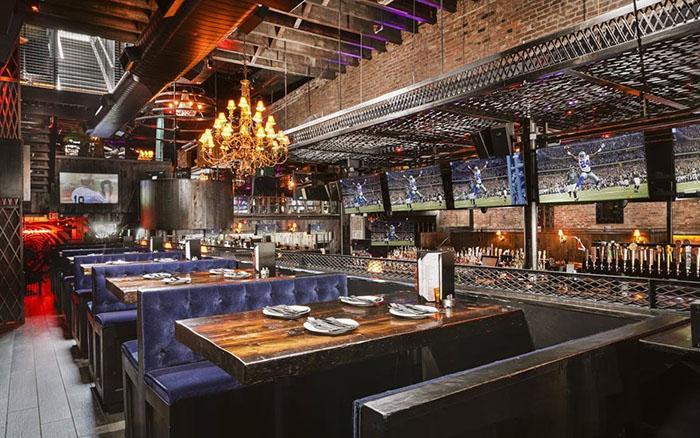 The Ashford is a premier restaurant, bar, lounge, and rooftop located on the pedestrian plaza in downtown Jersey City. It offers a unique ambiance enhanced by over 120 ADJ lighting fixtures which make it perfect for club-goers looking to have an unforgettable night out.
As a sports fan, I appreciate that The Ashford is an excellent destination to catch my favorite games while enjoying tasty food or drinks. Being close to the field also enhances game viewing experiences as fans unite with each other surrounded by vibrant energy through extensive lighting systems.
The Brownstone Diner And Pancake Factory
Not only is the food top-notch, but this family-friendly restaurant also boasts multiple locations throughout NJ, including one in Edgewater.
And for those who love comfort-food restaurants, The Brownstone Diner and Pancake Factory has been ranked as one of the top 50 restaurants in Jersey City.
The Franklin
I have heard great things about The Franklin, considered one of the top bars in Jersey City. With its cozy and inviting atmosphere, it is a perfect place to unwind after a long day at work or to celebrate with friends on weekends.
Not only does The Franklin serve an impressive range of craft beers, but they also offer delicious cocktails and an extensive wine list.
What sets The Franklin apart from other bars is its commitment to showcasing local musicians through live performances. You can catch some of the best emerging artists in New Jersey performing intimate sets inside this hidden gem of a bar.
Plus, their outdoor seating area provides the perfect ambiance for enjoying warm summer nights under the stars with your favorite drinks and company.
Paulie's Brickhouse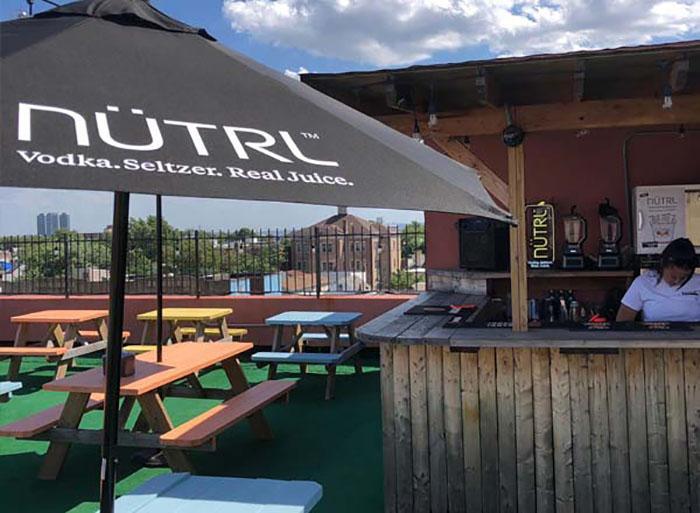 This gastropub located on Central Avenue opened its doors for a soft opening over Christmas weekend back in 2018 and ever since has been listed as one of the best bars to visit in Jersey City.
The bar features a rooftop area where customers can enjoy their drinks with an impressive view while also being treated to delicious menu items cooked on their brick oven.
What makes this venue even more special is its down-to-earth atmosphere, offering patrons classic bar grub, beer, wine, cocktails, and live music performances.
The Hutton
As someone struggling with alcoholism, finding a bar that not only serves great drinks but also provides a cozy atmosphere and elevated cuisine can be a challenge. That's why The Hutton is perfect for those seeking a unique experience in Jersey City.
This neighborhood bar offers an extensive craft beer selection, impressive wine list, and creative cocktails to satisfy anyone's palate.
Its warm and welcoming environment attracts people from all walks of life who appreciate quality food and drinks.
While The Hutton has earned its reputation as one of the area's hottest spots to grab a drink, it also maintains an inviting atmosphere that makes you feel right at home.
Taqueria Downtown
Taqueria Downtown is a well-known restaurant among locals and tourists in Jersey City, serving some of the best Mexican cuisine around. The restaurant has been in downtown Jersey City for over a decade and continues to impress with its authentic flavors and casual dining atmosphere.
One thing that sets Taqueria Downtown apart from other restaurants in the area is its outdoor seating area, which makes for a vibrant atmosphere perfect for grabbing drinks or enjoying dinner with friends.
Low Fidelity
Located in Jersey City Heights, this unique and eclectic bar stands out among the many options available.
But what truly sets Low Fidelity apart from other bars in Jersey City is their impressive cocktail menu. From classic favorites to innovative creations made with house-infused spirits, there's something for everyone on their extensive list.
And if you're feeling peckish, they even offer some tasty small plates to pair with your drinks.
Cellar 335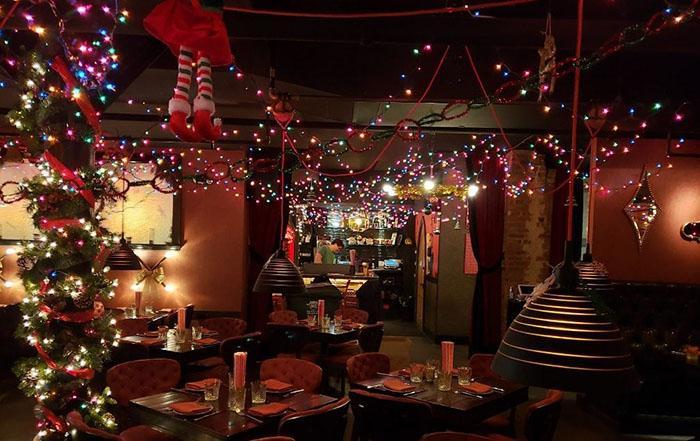 Cellar 335 is a must-visit spot for anyone looking to experience unique cocktails and fusion cuisine. Located in the village part of Jersey City near the 78 highway, Cellar 335 offers progressive American cuisine with Asian influences that will leave you craving more.
You can choose from various delicious dishes like Korean fried chicken wings or their popular General Tso's cauliflower served with pickled veggies and rice. But it's not just about the food at this trendy spot! According to Yelp, there are ten cocktail bars located near Cellar 335 in Jersey City alone, making it one of the best places for a night out on the town.
Conclusion
Jersey City is a hub for exciting nightlife packed with bars and clubs offering something for everyone. From rooftop bars to waterfront lounges, the city has it all. Whether you're in the mood for craft cocktails, beer or wine, there's a bar that will quench your thirst.
So grab your friends and head out to one of these top 18 bars in Jersey City for some fun, entertainment and happy hour deals! With live music, sports games on TV and hookah lounges scattered throughout the city, you won't run out of options anytime soon.