Welcome to the vibrant nightlife of Des Moines, Iowa! With a diverse bar scene catering to different preferences and tastes, your evenings are about to get more exciting.
Get ready to experience the buzzing mixology scene at these trendy spots across town.
The Top 14 Bars In Des Moines, IA
El Bait Shop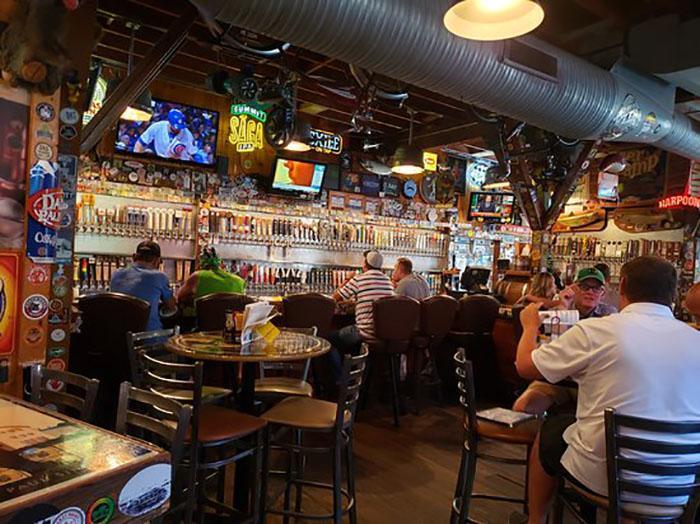 Tucked away in the vibrant city of Des Moines, Iowa, El Bait Shop is a must-visit for any alcohol enthusiast. Offering an impressive selection of over 100 beers on tap and an extensive variety of bottled options, this bar caters to craft beer aficionados and casual drinkers alike.
Since 2006, El Bait Shop has consistently been a popular spot not just because of their extensive drink menu but also thanks to their friendly bartenders and delicious food offerings.
The lively atmosphere often draws crowds looking to unwind after work with happy hour specials or enjoy live music during weekends.
Up-Down DSM
Up-Down DSM offering an irresistible combination of entertainment and nightlife. Nestled in the bustling East Village, this unique drinking establishment caters to craft beer aficionados and cocktail enthusiasts alike.
Socializing is the name of the game at Up-Down DSM as it provides a lively atmosphere for local hangouts with friends or even meeting new people.
As a 21+ venue, guests are assured of an adult-centric environment to enjoy all that this popular bar has to offer – from top-notch beverages selection to unbeatable entertainment options.
The High Life Lounge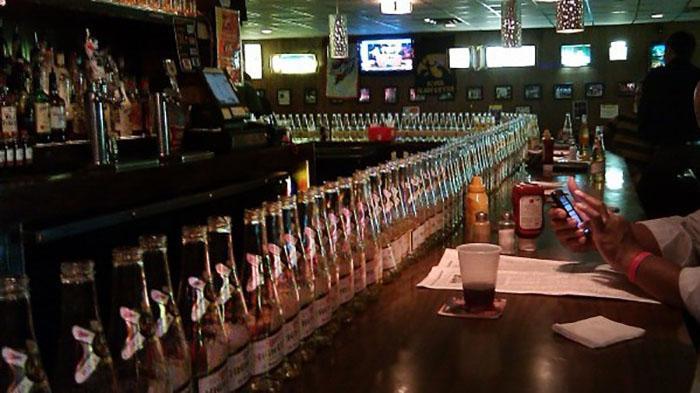 The High Life Lounge, a funky 60's style bar and restaurant situated in downtown Des Moines, offers a unique and nostalgic ambiance that transports visitors to a different era.
This local-owned establishment prides itself on its wide selection of Miller beer products and has been serving classic brews since opening its doors in 2005.
Step inside this popular haunt for an unforgettable night out as you sip on expertly crafted vintage cocktails amidst authentic retro decor. The cozy pub atmosphere and casual dining cater perfectly to patrons seeking after-hours entertainment or late-night bites with friends.
The Bartender's Handshake
If you're looking for a small, intimate neighborhood bar with craft cocktails and homemade bites, The Bartender's Handshake in Des Moines is definitely worth checking out.
Owned and tended by Dave Murrin-von Ebers, who has years of experience in the hospitality industry, the bar serves up unique wines and a rotating selection of beer that keeps customers coming back for more.
Black Sheep DSM
Black Sheep DSM is a must-visit bar located in the East Village of Des Moines, Iowa. This unique tequila bar offers an extensive selection of tequila that will satisfy any alcoholism cravings, as well as other drink options for those who prefer something different.
In addition to their impressive drink menu, Black Sheep DSM also has a speakeasy operating in the basement that is worth checking out while you're there.
Whether you're looking for a casual night out with friends or wanting to try something new and exciting, Black Sheep DSM is the perfect spot to do it all.
Hello, Marjorie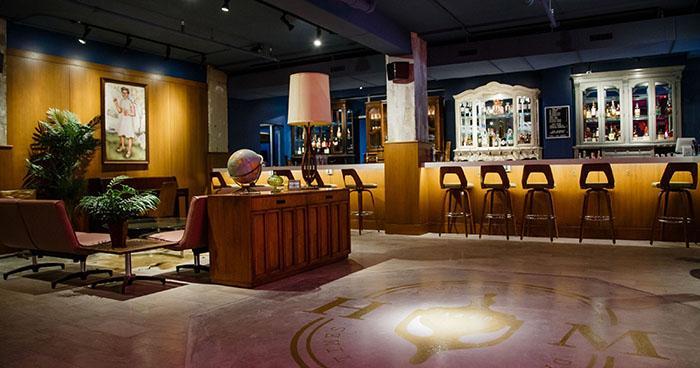 This bar offers an intimate atmosphere with its mid-century design and unique decor. Customers can choose from a variety of craft cocktails and beers while enjoying happy hour specials from 4 pm to 6 pm daily.
What makes Hello, Marjorie stand out among other bars in the area is its secret hidden bar that turns into another space for customers to enjoy.
In Confidence
This newly opened speakeasy-style bar offers a unique experience that's perfect for those looking to unwind from their alcoholism struggles.
Located in a historic downtown Des Moines hotel, In Confidence provides an intimate atmosphere that encourages its patrons to relax and enjoy themselves. The handcrafted cocktails served here are truly exceptional, and you'll be able to taste the difference right away.
300 Craft And Rooftop
This popular rooftop bar has a beautiful patio seating area that offers stunning views of the city's skyline.
Plus, with its extensive tap beer selection, affordable drinks (typically priced around 4 to 5 dollars), and friendly staff, you're sure to have an unforgettable experience here.
For sports enthusiasts, there are televisions placed around the bar playing your favorite games. And if you're feeling peckish, Blaze Pizza location is just steps away from this modern-looking establishment packed with youthful charm and energy.
Fong's Pizza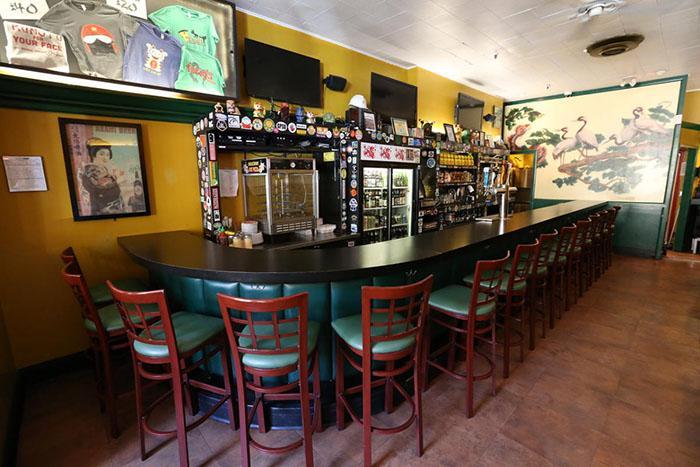 Located downtown at 223 4th St., Fong's is a must-visit spot for anyone looking for unique vibes and delicious drinks.
What sets Fong's apart from other bars in Des Moines is its quirky atmosphere and menu options. From crab rangoon pizza to vegan pies, there is something for everyone on the menu.
It has been recognized by Alton Brown as one of his favorite restaurants, CITYVIEW's Best of Des Moines Readers Poll multiple times and Tripadvisor reviewers have given high marks as well.
The Lift
This cozy and intimate spot offers a range of craft cocktails, beer selections, and comforting pub fare to its patrons.
The soothing ambiance at The Lift makes it an ideal spot to unwind after a long day or simply hang out with friends over drinks.
The Lift's inviting environment ensures that anyone can have an enjoyable night out without feeling pressured to consume alcohol excessively.
Additionally, the bar has strict policies against over-serving customers and actively participates in community efforts for responsible drinking practices.
Iowa Taphouse
Located in the heart of downtown Des Moines, Iowa Taphouse is one of the best bars in the city for craft beer enthusiasts. With 99 taps featuring only Iowa craft brews and a menu that offers delicious pub grub, this popular destination has something for everyone.
Some of their most popular items include their loaded tater tots and mac n' cheese bites, both perfect snacks to go along with your favorite local brew. And if you're not sure what to order from their extensive list of beers, don't worry – their knowledgeable staff will help guide you through your options.
Hessen Haus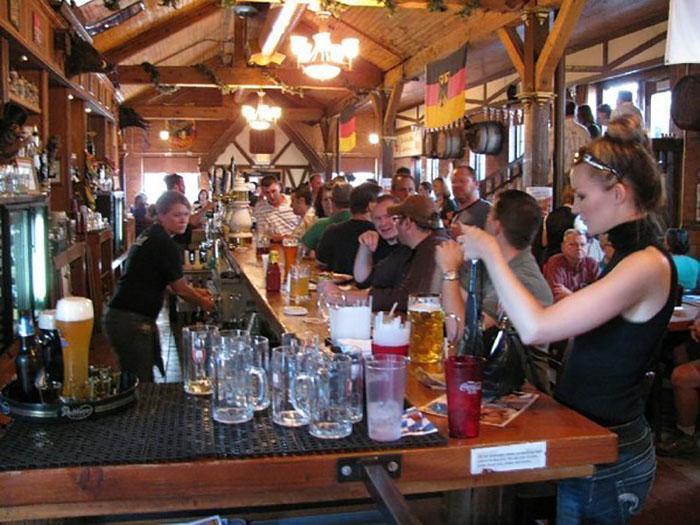 Hessen Haus is a popular bar in Des Moines that offers an authentic German beer hall experience. It is well-known for its extensive selection of craft beers, with over 150 different brews to choose from.
Beer lovers will be delighted to find a range of options, including German and American craft beers, as well as seasonal favorites. The food menu at Hessen Haus offers classic German fare such as sausages, schnitzel, and pretzels, all prepared with quality ingredients.
One of the unique features of Hessen Haus is their drinking games. Patrons can challenge each other to traditional table games like Jenga or Connect Four while enjoying their beverages.
Additionally, the bar hosts various events throughout the year such as Oktoberfest celebrations and live music performances on weekends.
Smash Park
Located in Des Moines, Iowa, Smash Park is a top-rated entertainment center with plenty of indoor activities perfect for those looking for a lively night out.
In addition to its scratch-made cuisine and lively ambiance that leaves visitors satisfied after every visit, Smash Park has recently expanded across the Midwest.
It offers patrons various tap beers and other drink options while also providing family-friendly recreation opportunities through its dedicated area called "The Yard," where guests can enjoy two pickleball courts, two shuffleboard tables, among other games.
Wellman's Pub And Rooftop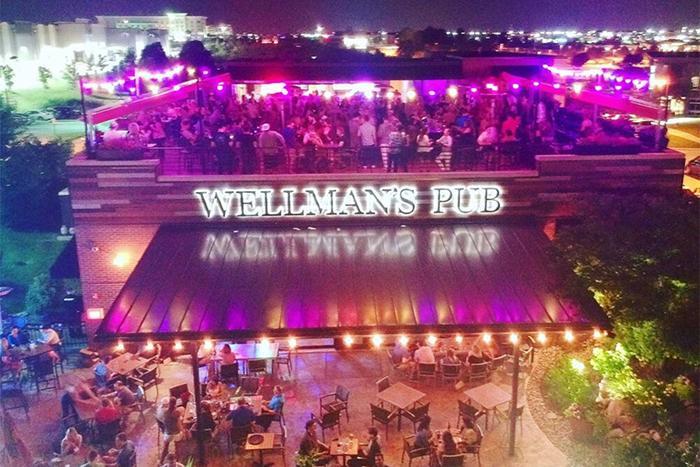 Wellman's Pub and Rooftop is a favorite spot among locals, offering visitors an exciting sports bar experience. It has been a Des Moines tradition since it first opened in 1982 by Mark and Michelle Wellman on Ingersoll Avenue.
The pub boasts of being one of the top bars in Des Moines known for its excellent food, drinks, and fun atmosphere.
Aside from being an ideal place for grabbing food or drinks alone or with friends during happy hour sessions; Wellman's Pub & Rooftop is also available for private parties across West Des Moines areas.