Welcome to the vibrant nightlife scene of Durham, where you'll find an incredible mix of 16 top-notch bars that cater to every style and taste.
Whether you're a craft beer enthusiast, a wine connoisseur, or simply searching for the perfect spot to unwind with friends after work, Durham has it all. In this blog post, we will guide you through our carefully curated list of must-visit drinking venues in town – including local hotspots with live music, outdoor seating, and even mouth-watering bar food options.
The 16 Best Bars In Durham
Motorco Music Hall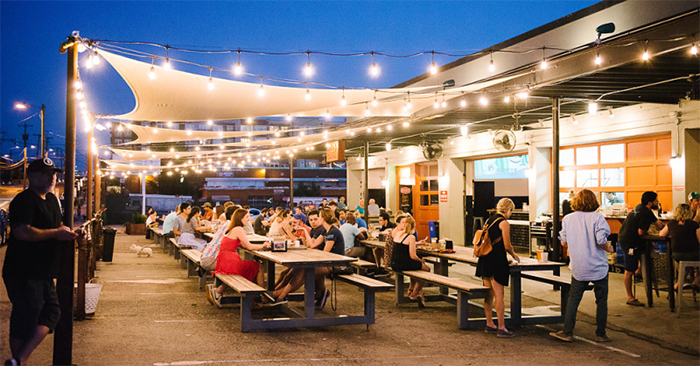 Located in the heart of Durham's Central Park district, Motorco Music Hall consistently ranks among the best bars in the city. This lively venue doubles as an entertainment hub and a go-to spot for those looking to enjoy a diverse range of nightlife options.
Motorco Music Hall offers delicious bar-type food that is not only delectable but also budget-friendly. Whether you're craving gourmet pub fare or just want something light, this establishment has got you covered.
Additionally, patrons can choose between cozy indoor seating or savor their drinks al fresco at one of their outdoor tables.
Beer Study
Located in the heart of Durham, North Carolina, Beer Study has quickly become a local hangout and popular destination for those seeking a relaxed atmosphere to enjoy craft beer.
This dual-concept establishment offers both an impressive selection of brews at their bar, and also serves as a bottle shop for patrons who prefer to take their beverages home.
A true neighborhood gem, this taproom boasts a casual vibe that makes it perfect for unwinding after work or enjoying Durham's thriving nightlife scene with friends.
The knowledgeable staff is always on hand to guide you through your beer tasting journey and help you discover new favorites, while weekly events like trivia nights ensure there are plenty of opportunities for entertainment beyond just sipping on delicious brews.
The Pinhook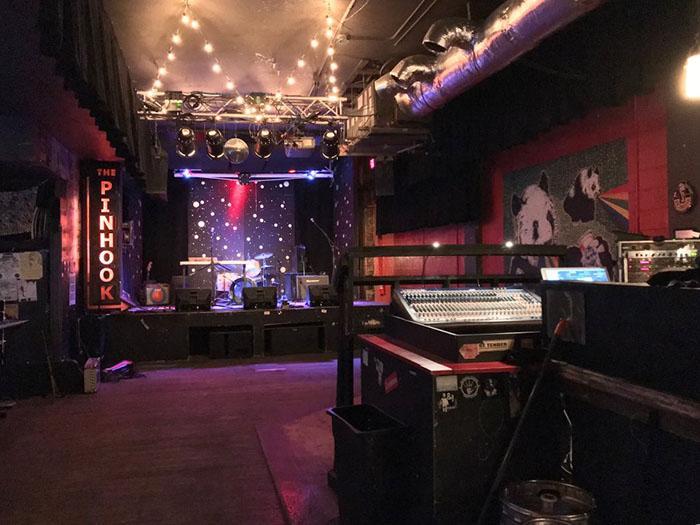 Located in the heart of downtown Durham, The Pinhook is a renowned live music venue and event space that offers a unique experience each time you visit. Featuring concerts, dance parties, karaoke nights, and an inviting atmosphere for hanging out with friends or making new ones.
The Pinhook's diverse events calendar ensures there's always something happening at the lively venue. Whether you're seeking incredible live performances from talented musicians or DJs spinning energizing tunes during their popular dance parties, you'll find it all at The Pinhook.
Additionally, this buzzing nightlife hotspot boasts some fantastic drink options guaranteed to satisfy any alcohol enthusiast.
Arcana
Arcana is a must-visit for those looking for a unique bar experience in Durham. This stylish basement lounge offers an intimate atmosphere that feels like a posh living room, making it the perfect spot to unwind after a long day.
The craft cocktails are simply amazing and have been praised for their creative mixology. One of the things that make Arcana stand out is its occasional tarot card reader and live music performances, adding an extra layer of excitement to your night.
The Glass Jug Beer Lab
Located in Durham Central Park, The Glass Jug Beer Lab is a must-visit for craft beer enthusiasts.
One unique feature of The Glass Jug Beer Lab is their dedication to offering sour beers on tap. With three rotating taps dedicated solely to sours, this bar provides an opportunity for visitors to try something new and refreshing.
So if you're looking for a place to kick back and enjoy some cold brews or want to expand your palate with new beer styles, head over to The Glass Jug Beer Lab – where the best views come hand in hand with great drinks!
Boxcar Bar + Arcade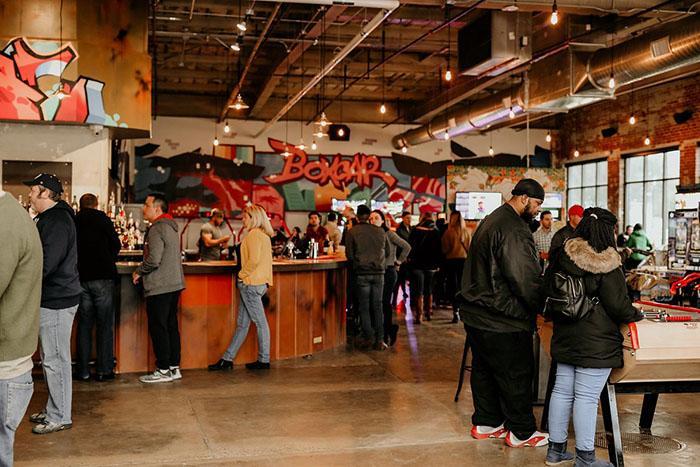 Boxcar Bar + Arcade is a must-visit spot for anyone exploring the Durham nightlife scene. Located in Downtown Durham, this barcade overlooks the Durham Athletic Park baseball field and offers over 70 classic and modern arcade games, including pinball machines and Skeeball lanes.
But Boxcar Bar + Arcade isn't just about the games – it also serves up delicious pizza alongside their drinks, making it an ideal spot for a fun and casual night out with friends.
Plus, its private event space is perfect for hosting unique celebrations of all kinds.
Bull City Ciderworks Durham
Bull City Ciderworks Durham is a must-visit for any alcohol lover in Durham. This popular spot features an extensive list of amazing ciders that will leave you spoilt for choice.
The bar's staff is knowledgeable and friendly, providing excellent service to customers.
Comedy lovers are also in luck as Bull City Ciderworks Durham hosts Wednesday open mic comedy nights that guarantee plenty of laughs and good times with friends.
The Roof At The Durham
The Roof at The Durham is a must-visit for anyone looking for a scenic rooftop bar experience. With unbeatable panoramic downtown views and seasonal menus, this vibrant bar scene location is not to be missed.
The establishment offers a full bar with an impressive wine collection that will cater to any alcohol preference.
If you're looking for an excellent place to hang out with friends or family, then The Roof at The Durham has outdoor seating where you can sip your drink as you take in spectacular views.
West End Billiards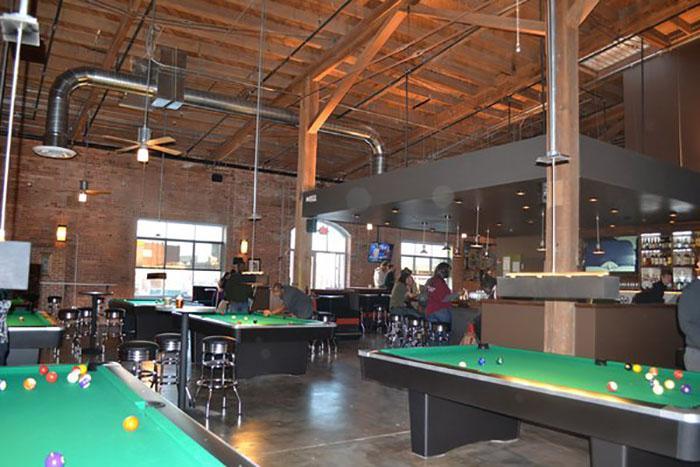 West End Billiards is a must-visit bar in Durham, North Carolina for those looking for a fun night out. This venue has something for everyone, whether you are into playing pool or darts or just want to hang out with friends and enjoy some drinks.
With an extensive list of wines by the glass, liquor, and beer on offer, West End Billiards caters to all tastes.
Located at 601 W Main St in Downtown Durham's drinking district along with other popular bars like The Wine Feed, West End Billiards is the perfect place to socialize with friends and meet new people while enjoying great drinks and entertainment.
Whether it's watching sports on one of their many TVs or playing games like shuffleboard, there's never a dull moment at West End Billiards.
Kingfisher
Located in downtown Durham, Kingfisher is a must-visit craft cocktail bar and backyard burger shop. It's the brainchild of husband and wife team Sean Umstead and Michelle Vanderwalker, who have created an intimate gathering place where you can savor mouth-watering gourmet burgers while enjoying creative cocktails made with North Carolina flavors.
The bar's subterranean speakeasy ambiance adds to its allure, making it one of the best bars in Durham. Don't miss out on trying their signature "The Queen" cocktail, which features local honey from Vanderwalker's father's hives.
Alley Twenty Six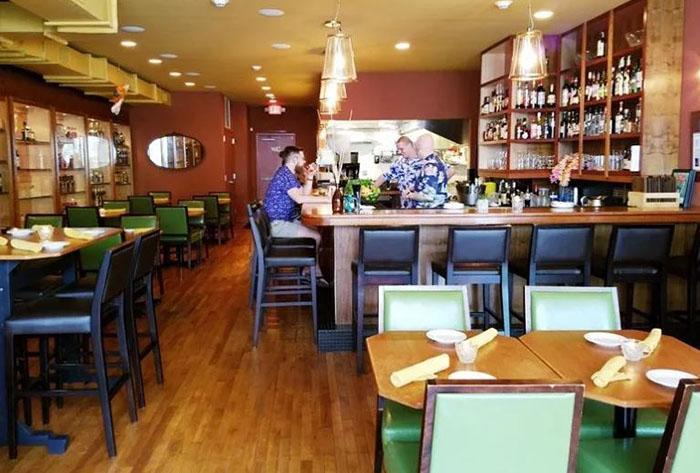 Alley Twenty Six is an upscale cocktail bar and restaurant located in Durham, North Carolina. It has gained popularity for its farm-to-sip approach that uses local ingredients to create specialty cocktails.
The bar focuses on offering a wide array of finely-tuned concoctions that change regularly, ensuring that there is always something new to try. Owner Shannon Healy opened the bar with the aim of creating neighborhood craft cocktails made from locally sourced ingredients.
Alley Twenty Six's attention to detail and mixology expertise have won it accolades such as being nominated for a James Beard Restaurant and Chef Award for Outstanding Bar Program, making it one of the best bars in Durham.
Bar Lusconi
Bar Lusconi was once listed as the Best Wine Bar in Durham, but unfortunately, it has permanently closed. Located at 117B E Main St, Durham, NC 27701, Bar Lusconi had a cozy and intimate atmosphere that made it perfect for casual nights out or even date nights.
The wine list was extensive and carefully curated by the owner Timothy Neill. Unfortunately, during a water main replacement project that led to road closures around their location, the bar struggled to recover and ultimately had to close its doors.
Growler Grlz
Growler Grlz is a unique bottle shop and bar in Durham that caters to beer enthusiasts. With a vast selection of local, national, and international beers available, this establishment has become a favorite spot for those looking for an extensive collection of craft beers.
The inviting pub ambiance makes it the perfect place to meet up with friends or unwind after work. What's more exciting about Growler Grlz is the over 40+ beer options on tap, giving customers plenty of choices to explore new flavors or stick with their favorite brews.
Satisfaction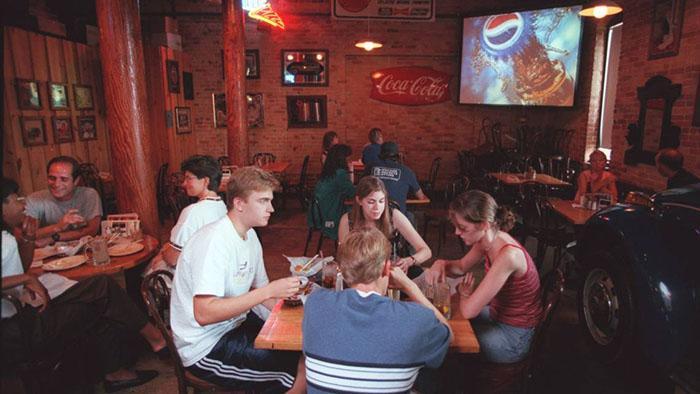 Satisfaction Restaurant and Bar is a great spot for sports enthusiasts in Durham. It's listed as the best Sports Bar in the  Best Bars in Durham 2016 list, so it's definitely worth checking out if you're looking to catch the big game while enjoying some drinks with friends.
Despite its focus on sports, Satisfaction still offers a wide range of drinks and tasty food options – their buffalo wings are particularly popular among locals.
If you're an alcoholism sufferer who wants to enjoy the bar scene without drinking alcohol or triggering your addiction feelings, then keep an eye out for bars that offer non-alcoholic drink specials or mocktails like Boxcar Bar + Arcade.
If you want to take part but don't feel ready yet to go into crowded places or loud music environment, consider trying Bull City Ciderworks Durham which offers outdoor seating areas that allow relaxation from within the safety of social distancing protocols.
Surf Club
The Surf Club is a beach-themed bar that has become popular among locals and visitors alike. The laid-back atmosphere makes it the perfect spot for those who love to relax with a refreshing drink in hand.
This bar prides itself on its extensive selection of craft beer, which includes locally brewed favorites like Fullsteam Brewery and Bull City Ciderworks Durham.
For those who enjoy watching sports while enjoying their drinks, the Surf Club has multiple TVs showcasing all major sporting events.
If you're planning to explore Durham's nightlife scene, be sure not to miss out on visiting the Surf Club along with other hotspots like Boxcar Bar + Arcade and Alley Twenty Six.
Fullsteam Brewery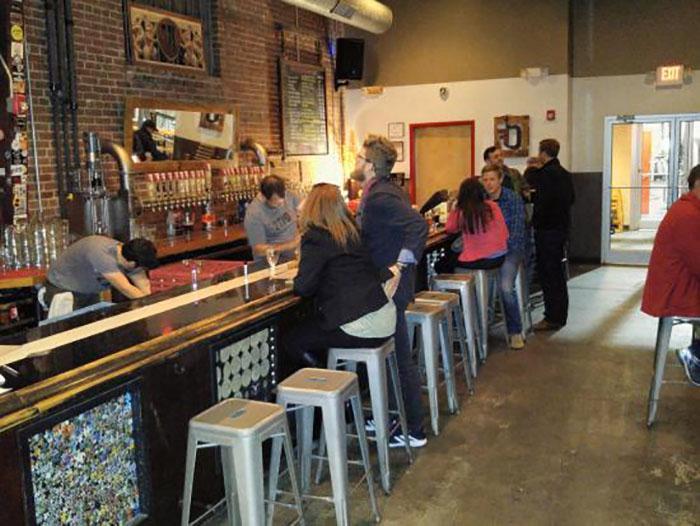 Fullsteam Brewery is a must-visit bar in Durham, NC. This craft brewery offers an impressive selection of house beers and rotating taps from other breweries.
Whether you enjoy hoppy IPAs or smooth stouts, Fullsteam Brewery has something for everyone to try. In addition to beer flights and taproom tastings, they also have a sizable bottle shop stocked with local craft brews and hard-to-find imports.
Located in the vibrant neighborhood of Central Park, Fullsteam Brewery is the perfect spot to grab a cold one with friends after work or on weekends.
Conclusion
If you're in Durham and looking for a great night out, there are plenty of drinking spots to choose from. From craft breweries to wine bars and taprooms, there's something for everyone in the Bull City.
Whether you're interested in happy hour specials or live music venues, these 16 best bars have got you covered. So grab some friends and embark on a pub crawl through Durham's vibrant nightlife scene.