Welcome to the vibrant nightlife of Pittsburgh, where a thriving bar scene awaits those ready for an unforgettable night out! In this lively city, you'll find everything from upscale cocktail bars and historic taverns to sports bars and trendy DJ hotspots.
With 18 remarkable establishments on our list, uncovering the best that Pittsburgh has to offer has never been easier. So grab your friends, let loose, and get ready to explore the top bars in Pittsburgh as we take you on a thrilling tour through a world of diverse tastes, unique atmospheres, and unparalleled experiences—one drink at a time.
Top 18 Best Bars In Pittsburgh
Hidden Harbor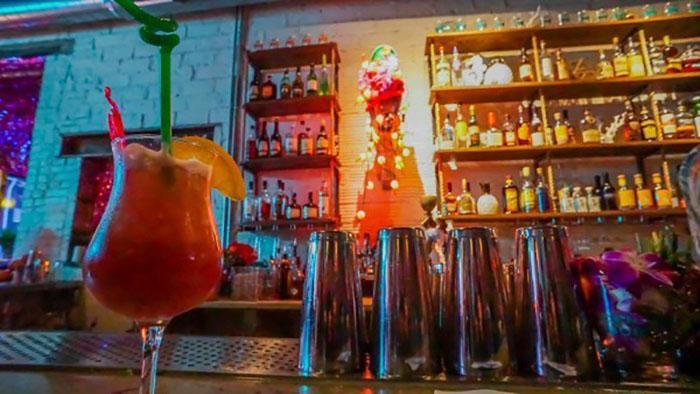 Nestled in the vibrant Squirrel Hill neighborhood, Hidden Harbor is a captivating tiki bar that boasts an immersive atmosphere, offering patrons a much-needed escape from daily life.
Ranked among one of the best bars in Pittsburgh, this hidden gem excels at creating exotic cocktails inspired by classic tiki culture.
A visit to Hidden Harbor promises high-quality tropical drinks served in a relaxing environment—an ideal combination for those looking to unwind after a long day or celebrate special occasions with friends.
The attention to detail doesn't stop with their impressive drink menu; it extends into every aspect of the experience. As part of Pittsburgh's thriving local nightlife scene, this standout spot has become synonymous with memorable outings and unforgettable evenings—making it one of the most beloved themed bars in town.
The Independent Brewing Company
Nestled in the heart of Squirrel Hill, Pittsburgh lies The Independent Brewing Company  a must visit tavern for anyone seeking an outstanding night out. This neighborhood bar is ready to dazzle your senses with its eclectic range of carefully selected beers from Western Pennsylvania and beyond.
Offering more than just drinks, The Independent Brewing Company dishes up mouth-watering local comfort food that pairs perfectly with their beverage options. With an unbeatable atmosphere and unique happy hour specials, it's no wonder that people consider this tavern one of Pittsburgh's best drinking experiences.
The Church Brew Works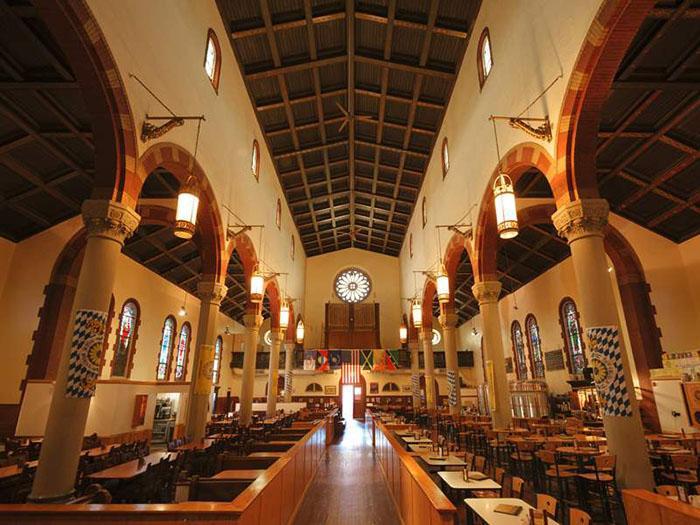 Nestled in Pittsburgh's historic Lawrenceville neighborhood, The Church Brew Works offers a one-of-a-kind experience for both craft beer enthusiasts and those looking for an unconventional atmosphere.
Established in 1996, this unique brewpub calls a restored Roman Catholic church its home, combining old-world charm with modern brewing techniques.
The Church Brew Works has gained notoriety not only for its impressive drink selection but also as a testament to the city's vibrant craft beer scene.
It is important to practice responsible alcohol consumption even when indulging in their delectable assortment of house-brewed beers.
Round Corner Cantina
Round Corner Cantina is a popular spot in Pittsburgh, known for its fun and energetic ambiance. This bar has made it to one of the  best bars in the city due to its unique offerings like craft cocktails and Mexican-inspired cuisine.
Round Corner Cantina offers an impressive selection of margaritas that will have you coming back for more. The outdoor seating area is perfect for those who want to enjoy their drinks while taking in some fresh air.
Happy hour specials at Round Corner Cantina are also something worth checking out as they offer discounts on selected drinks before 6 pm. Although customers have given mixed reviews on TripAdvisor, many people continue to flock to Round Corner Cantina for their party atmosphere and affordable prices.
The Summit
The Summit is a must visit for anyone looking for a top quality bar experience in Pittsburgh. This cozy spot has an extensive selection of craft beers, wines, and spirits from all over the world.
The outdoor seating area offers patrons a view of the surrounding neighborhood while sipping on their favorite drinks. Grab some late night eats and snacks to keep you fueled up during your night out.
In addition, if you're looking for unique drink experiences, try ordering one of their signature cocktails made with fresh ingredients and creative flavor combinations.
Kelly's Bar And Lounge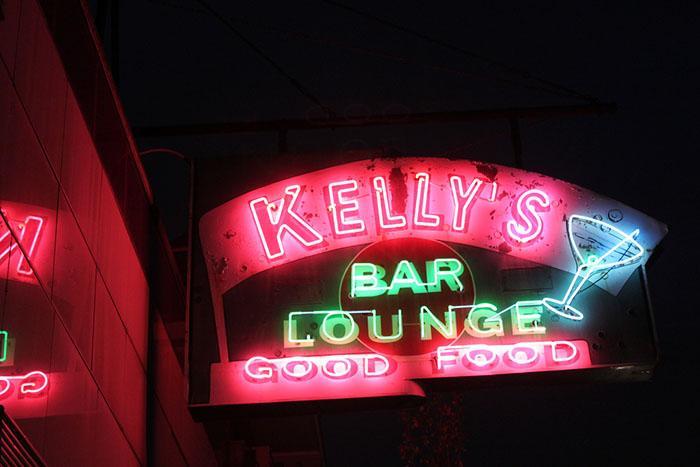 Nestled in the heart of Pittsburgh's East Liberty neighborhood, Kelly's Bar and Lounge is a beloved local watering hole that offers an exceptional drinking experience.
Whether you're looking for a craft beer or a classic cocktail, Kelly's has something for everyone – including those struggling with alcoholism. The bar does offer non-alcoholic beverages and provides a welcoming environment that prioritizes safety over excess consumption.
Bar Marco
Bar Marco is a fantastic choice for those seeking an upscale drinking experience in Pittsburgh. This gastropub has made its way onto several lists of the best bars in the city, thanks to its impressive food and drink offerings.
If you're looking for a unique dining experience, Bar Marco offers a two-course prix-fixe menu Tuesday-Saturday with reservations available from 5-9pm. Alongside their delicious cuisine, they also serve up some of the finest cocktails in town.
It's no wonder that this bar is a favorite among both locals and visitors to Pittsburgh.
Maggie's Farm Rum Distillery
Located in the trendy Strip District, Maggie's Farm Rum has been making waves in the distilling industry since its inception.
What sets Maggie's apart from other bars on this list is its commitment to artisanal spirits and handcrafted cocktails. Their award-winning drinks are made using copper stills, which give their rum a distinct flavor profile that cannot be found anywhere else.
Whether you're sipping a classic Daiquiri or trying one of their signature cocktails like "The Hemingway," every sip at Maggie's Farm will leave you wanting more.
The Goldmark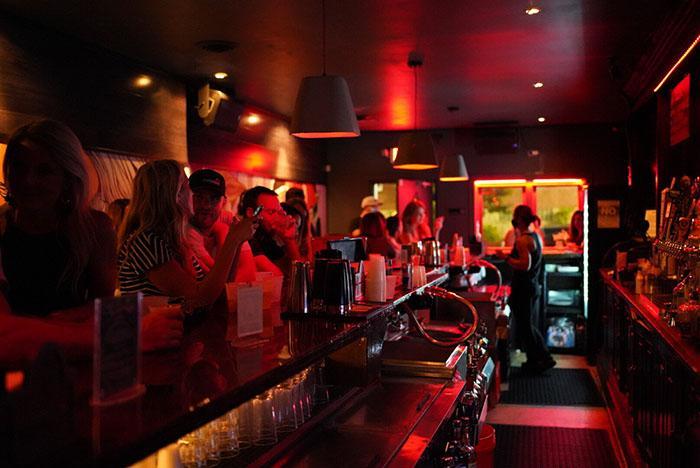 The Goldmark is a trendy bar and lounge located in the Lawrenceville neighborhood of Pittsburgh. Owned and operated by a DJ, this hotspot offers an upscale experience with classy music that's perfect for those looking to have a good time.
The atmosphere at The Goldmark is both casual and sophisticated, making it a great place to relax after work or enjoy a night out with friends. Here you'll find bartenders who are passionate about their craft as they create delicious cocktails, including wine.
Butterjoint
Butterjoint is one of the best bars in Pittsburgh and a must-visit for anyone seeking a top-notch drinking experience. Located in the Shadyside neighborhood, Butterjoint offers an extensive beer selection, creative cocktails, and delicious food options that will satisfy even the pickiest of eaters.
One of Butterjoint's standout features is its impressive cocktail menu. They have an array of classic drinks with their own unique twist like their Old Fashioned made with maple syrup or their Negroni made with pink peppercorn-infused gin.
For those who prefer beer, they offer local brews from popular breweries like Hitchhiker Brewing Company and Dancing Gnome Beer.
The Commoner
If you're looking for a top-rated bar with American cuisine in downtown Pittsburgh, The Commoner should be on your list. This trendy spot is known for its mixology and Happy Hour specials.
It's not just about the drinks though – The Commoner also offers delicious food options such as house-made sausage and chicken liver pate. Its atmosphere combines modern design elements with hints of old-world charm, making it a popular choice among locals and tourists alike.
Mixtape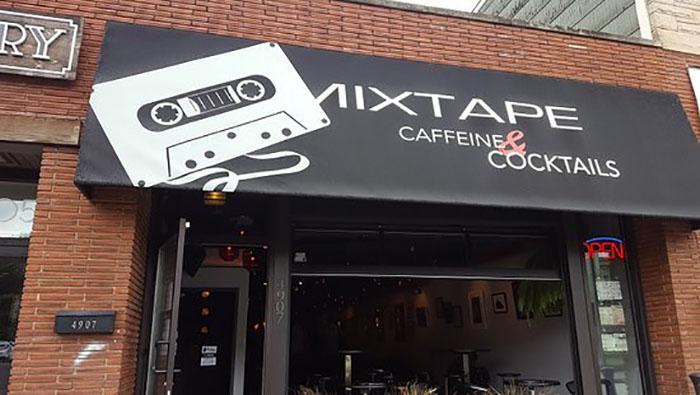 Mixtape is a vibrant addition to the Pittsburgh bar scene, offering an eclectic mix of music and creative cocktails. Located in Lawrenceville, this bar is known for its retro decor, featuring old cassette tapes and vinyl records adorning the walls.
The drinks are equally impressive, with signature cocktails like the "Purple Rain" and "Jungle Boogie" that pack a punch. Mixtape also hosts events like trivia nights and DJ sets to keep the party going all night long.
Piper's Pub
Located in the South Side of Pittsburgh, Piper's Pub is a must-visit for any alcohol enthusiast. It boasts an impressive selection of craft beers, whiskey, and bourbon that are sure to satisfy even the pickiest drinker.
What really sets Piper's Pub apart though is its cozy atmosphere and inviting vibe. Whether you're looking for a spot to catch up with friends or just need a local hangout spot, this pub has it all.
And if you're lucky enough to snag one of their outdoor seating spots on a warm summer evening, you'll be treated to live music while you sip on your favorite brew or cocktail.
Biergarten
Hotel Monaco Biergarten boasts a fantastic beer garden that is perfect for enjoying drinks and food outdoors. With its rustic decor and German-inspired menu, Biergarten provides a unique experience for drinkers looking to escape the hustle and bustle of the city.
They offer an extensive selection of beers on tap along with some great bites like soft pretzels, sausages, and charcuterie boards.
The bar offers a laid-back vibe that makes it easy to unwind after work or spend time socializing over cocktails with friends.
Industry Public House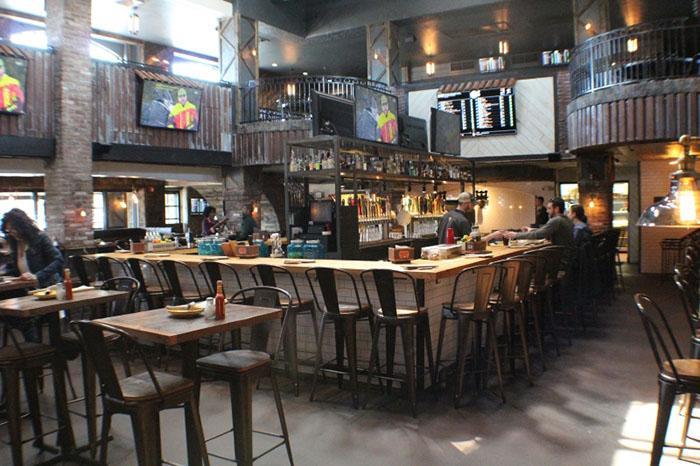 Located on Andrew Drive in Pittsburgh, Industry Public House is a must-visit for anyone looking to experience one of the best bars in Pittsburgh.
With 375 reviews and a high rating on Google maps. This unique establishment also offers an interesting menu according to traveler reviews on Tripadvisor.
The comfortable ambiance makes it an excellent location for people who want to relax and enjoy their drink.
Wigle Whiskey Distillery And Barrelhouse
Wigle Whiskey Distillery and Barrelhouse is a must-visit for any whiskey lover in Pittsburgh. This family-owned distillery opened its doors to the public in 2012, becoming the first of its kind since Prohibition.
Wigle Whiskey is known for using local grains and recipes to produce their award-winning products, including their craft rye whiskey which was awarded Best Craft Rye Whiskey in America in 2015.
One unique feature of Wigle's establishment is their outdoor space, called the Wigle Whiskey Garden and Barrel House which opens from May to September on Thursdays to Sundays.
It's an ideal spot for imbibing with friends or taking tours of the company's barrel house where they age their small-batch whiskeys.
Visiting Wigle also means supporting a socially responsible company that values sustainability and ethical sourcing practices.
Ace Hotel
Ace Hotel Pittsburgh is a boutique hotel chain with locations worldwide, and one of its notable chains is located in Pittsburgh.
Its bartenders are known to be award winning hospitality professionals who offer local spirits such as small batch distilleries and rock star brewers at Level7 bar.
Aside from serving drinks, Ace Hotel collaborates with Brooklyn-based artists Yeldā Ali and Angela Jones on "Baraye Avaleen Bar: Afghan Women on Tintype," an art exhibit that focuses on empowering women through photography.
The Library
The Library, is the perfect spot for those looking to relax and enjoy a sophisticated drink. This trendy cocktail bar boasts an impressive selection of drinks, including their famous signature cocktails such as "The Fitzgerald" and "The Hemingway." The bartenders at The Library are skilled in mixology and can create personalized cocktails based on customers' tastes.
Not only does The Library serve great drinks, but its atmosphere also adds to the experience. Located downtown, this bar has a cozy yet modern feel with dim lighting and comfortable seating arrangements that make it easy to spend hours here unwinding after a long day.
Conclusion
In conclusion, Pittsburgh's bar scene is vast and diverse, catering to all kinds of drinkers and themes. The 18 Best Bars in Pittsburgh list offers a range of options from neighborhood gems to upscale cocktail lounges perfect for happy hours or nights out.
Whether you're looking for craft beer, cocktails, sports bars, or live music venues, this guide has something for everyone.