Welcome to the vibrant and diverse nightlife scene in San Jose, where you'll find some of the finest bars serving exceptional cocktails, craft beers, and offering an unforgettable experience.
In this blog post, we've compiled a list of 16 must-visit bars in San Jose that cater to every taste – from swanky cocktail lounges and hip rooftop patios, to classic Irish pubs and sports bars with lively atmospheres.
Whether you're looking for a relaxing happy hour spot or seeking live music while sipping on local brews, our selection has got you covered.
The Top 16 Best Bars In San Jose
Haberdasher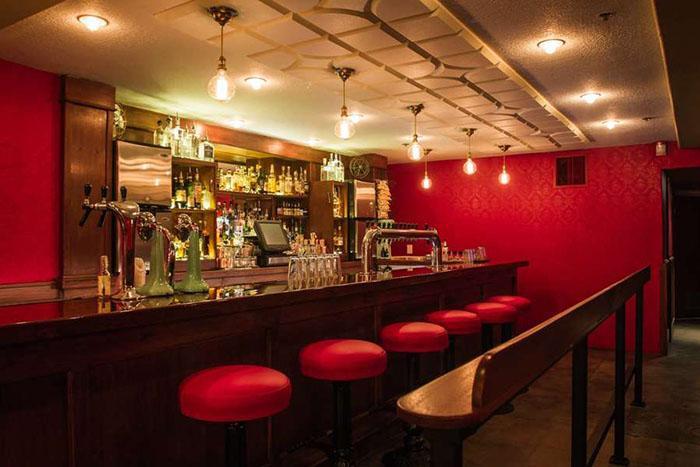 Tucked away in Downtown San Jose, just across from the bustling McEnery Convention Center, lies Haberdasher – a gem among the city's diverse and lively nightlife scene. As San Jose's first craft-focused destination, this elegant cocktail bar has earned its reputation for serving some of the area's best drinks.
Whether you're seeking out classic vodka martinis or exploring more adventurous options like fruity mocktails, Haberdasher has something to delight everyone's taste buds.
Their expert mixologists are renowned for creating high-quality crafted cocktails using only fresh ingredients and unique recipes.
55 South
San Jose's trendy hangout spot, 55 South, is among the Best Bars in the city. This upscale bar experience thrives in the heart of San Pedro Square nightlife, offering a casual atmosphere that attracts visitors and locals alike.
One mesmerizing example at 55 South is their popular Negroni Milk Punch cocktail – a harmonious blend of flavors that exemplify this innovative bar scene.
The combination of unique beverages and an inviting ambiance establishes 55 South as a go-to destination for anyone seeking a memorable night out in San Jose.
Paper Plane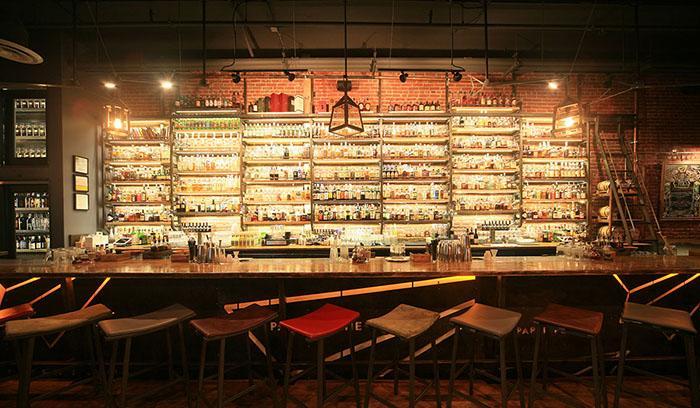 Indulge in an unforgettable craft cocktail experience at Paper Plane. Located in the bustling heart of downtown, this classy yet unpretentious establishment is renowned for its extensive spirit selection and award-winning bartenders like Mary Palac, who was named amongst America's top ten bartenders by Tales of the Cocktail Foundation.
At Paper Plane, expect to find unique concoctions that redefine your taste buds' expectations. Exemplifying their creative flair is the eponymous Paper Plane cocktail which has garnered much popularity among patrons.
Besides their noteworthy libations, you'll also enjoy small plates and snacks crafted to complement your drink perfectly.
O'Flaherty's Irish Pub
This centrally-located establishment has been serving patrons for over 20 years, having opened its doors in 2002. The pub is known not only for its great pints of Guinness on tap but also for its hospitable staff that ensures everyone feels right at home.
The Brit
The Brit is a popular British pub located in downtown San Jose, known for its authentic atmosphere and delicious food. If you're looking to get your fix of fish and chips or bangers and mash, this is the spot to visit.
But it's not just about the food – The Brit also has an impressive selection of craft beers on tap, as well as cocktails and wines.
As one of the  best bars in San Jose, The Brit attracts a diverse crowd with its welcoming ambiance and lively vibe.
Trials Pub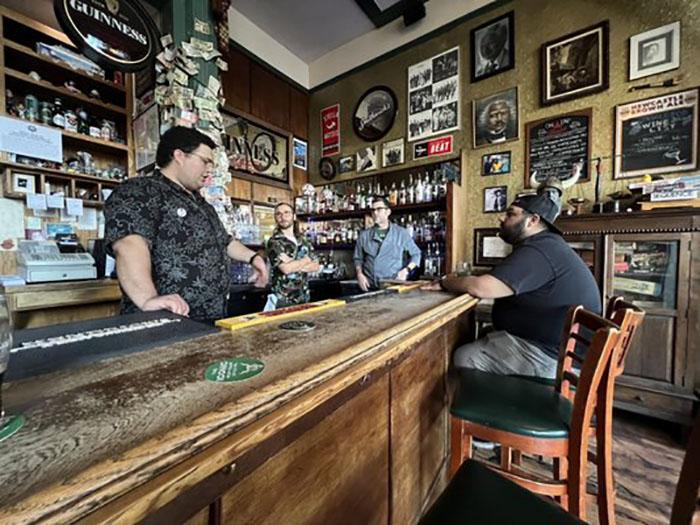 Trials Pub is a must-visit destination for anyone looking to explore the nightlife scene in San Jose. This pub, which features authentic British cuisine and decor, is located in a historic building that adds to its unique charm and appeal.
The pub's menu offers popular British dishes like fish and chips and bangers and mash, as well as brews like Boddingtons cream ale.
The Office Bar And Grill
The Office Bar and Grill is one of the top-rated bars in San Jose that offers an enjoyable drinking and dining experience. Located in downtown San Jose, this bar features a full-service restaurant with outdoor seating for patrons who are looking to enjoy their drinks under the sun.
With COVID safety measures put in place, The Office Bar and Grill remains an excellent spot for alcoholics looking to socialize while adhering to safety precautions. They also offer happy hour specials throughout the week, including discounted drinks and appetizers.
If you're lucky enough, you may catch some local bands or DJs playing live music at night, adding more excitement to your visit.
Single Barrel
Located in the heart of San Pedro Square Market, known for its cozy ambiance and extensive whiskey selection, this bar is a favorite among locals looking for a laid-back night out.
With over 200 rare, aged bourbons to choose from, it's easy to see why whiskey lovers flock here.
Single Barrel has built up a reputation as one of the city's hidden gems. Regulars love the intimate setting and attentive service provided by knowledgeable bartenders who can recommend new drinks based on your taste preferences.
The Continental Bar Lounge & Patio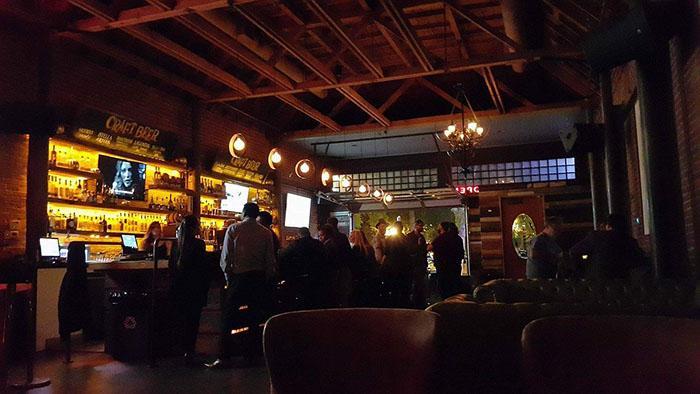 The Continental Bar Lounge & Patio is a popular spot located in the heart of downtown San Jose, offering an array of craft beer on tap and a great selection of affordable drinks.
The large seating area provides enough space for groups to hang out comfortably while sipping their favorite drink.
Moreover, The Continental Bar Lounge & Patio prides itself on its health inspection score as well as their beer selection that caters to different tastes and preferences.
Forager Tasting Room & Eatery
For those looking for a unique drinking experience in San Jose, Forager Tasting Room & Eatery is the perfect spot. This social hub offers more than just artisanal beer and craft cocktails; it features a rotating lineup of local chefs, brewers, musicians, and artists that create an ever-changing atmosphere that's sure to keep things interesting.
Located in Downtown San Jose's SoFA district, Forager has become a popular destination for community events and creative gatherings thanks to its fully private + semi-private event space.
The Farmers Union
The Farmers Union is a fantastic spot for those who enjoy the San Jose nightlife and are looking for a fun atmosphere in an elegantly rustic environment.
The American gastropub serves honest, ingredient-driven cuisine that's perfect for satisfying cravings while catching up with friends over drinks.
The establishment has become quite popular among locals due to its delicious food and drink offerings which attract both sports fans and casual drinkers alike.
The Original Gravity Public House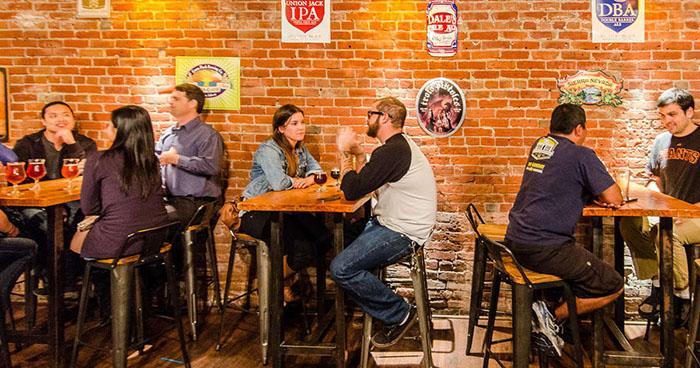 Originally known as the first true craft beer bar in San Jose, this downtown spot was hugely popular among local beer enthusiasts within just two weeks of opening in 2012.
This establishment quickly established itself as a trendy hangout with casual vibes and outdoor seating on its back patio complete with benches.
Five Points Cocktail Bar
They are known for their mixology and creative craft cocktails made with classic ingredients.
Steeped in history, Five Points Cocktail Bar takes its name from New York City's infamous intersection that was once considered the most crime-ridden area of 19th-century Manhattan.
But here at Five Points San Jose, you will find no such issues. Instead, they offer a modern twist on classic drinks with historic references that showcase their dedication to both local bar scene and Mixology trends.
Cafe Stritch
Cafe Stritch is a must-visit for jazz enthusiasts and music lovers in San Jose. The club has been listed as one of the best bars in the city, thanks to its impressive lineup of local jazz talent and lively ambiance.
Located in the culture and arts center of downtown, Cafe Stritch provides a welcoming atmosphere that makes patrons feel right at home. The venue features live performances from various musicians every week, offering locals and tourists alike the opportunity to experience some great music while enjoying delicious food and drinks.
LV Mar Tapas & Cocktails
LV Mar Tapas & Cocktails is one of the best bars in San Jose, and for a good reason. This unique dining experience features culinary excellence with tapas cuisine that bursts with rich flavors.
Expert Chef Manuel Martinez brings creative menu items to life that will surprise and delight your taste buds. The vibrant atmosphere provides a local hotspot for those looking for a high-end cocktail in a neighborhood eatery setting.
Antonio's Nut House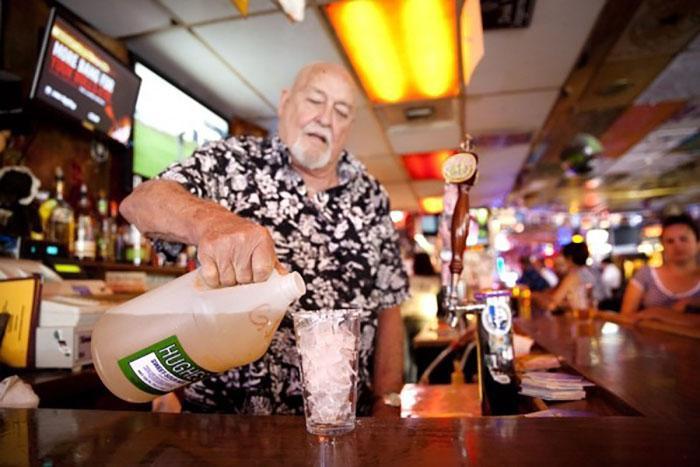 Located in nearby Palo Alto, Antonio's Nut House is a classic dive bar that has been a favorite of locals for decades. Known for its quirky decor and laid-back atmosphere.
The bar offers an extensive beer selection as well as happy hour specials on cocktails and beer pitchers. If you're feeling hungry, try some traditional pub fare like burgers and fries or chicken wings.
Antonio's Nut House also boasts famous visitors like Elon Musk who has been spotted here enjoying himself with friends over cold beers.
Conclusion
In conclusion, San Jose's bar scene is never dull. With numerous bars and clubs offering a range of cocktails, beer, wine, and entertainment options, visitors are spoilt for choice.