Welcome to the ultimate guide on exploring the diverse and captivating nightlife of Colorado Springs! Get ready to dive into our list of 14 must-visit bars, ranging from casual pubs and sports bars with irresistible happy hour deals to upscale wine and whiskey lounges for sophisticated palates.
Whether you're a fan of hand-crafted cocktails, locally brewed craft beer, or just looking for an unforgettable evening out in this picturesque mountain city – we have you covered.
So pull up a barstool, order your favorite drink, and accompany us as we unveil some hidden gems and popular hotspots that showcase the best in food, drink, entertainment, and live music venues in Colorado Springs.
14 Must-Visit Bars In Colorado Springs
The Rabbit Hole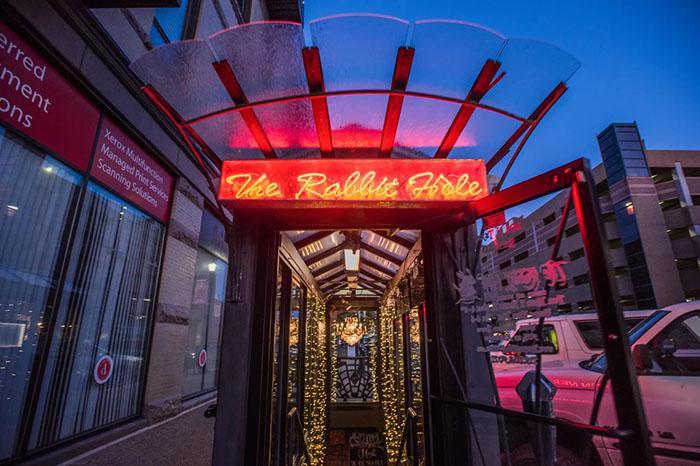 If you're seeking an intriguing and unique bar experience, then look no further than The Rabbit Hole in downtown Colorado Springs. As part of the city's hidden bar scene, this Alice in Wonderland-inspired haunt is considered to be the most haunted speakeasy amongst locals, thanks to its location in a former underground morgue.
Inside The Rabbit Hole, you'll be enveloped by its swanky and sexy ambiance with creative cocktails that allow you to embrace your inner Cheshire Cat. With dimly lit spaces adorned with whimsical decor reminiscent of Lewis Carroll's Wonderland saga, it's easy to see why this underground gem has become one of the best bars in Colorado Springs.
While sipping on one-of-a-kind concoctions like their signature "Smoking Gun" cocktail served inside a smoking glass dome, patrons can forget about reality above ground and instead indulge in mysterious stories that surround not only its haunted history but also explore fascinating secret passageways leading into other parts of Downtown's nightlife scene.
The Wild Goose Meeting House
As a connoisseur of the nightlife in Colorado Springs, I have to tell you about The Wild Goose Meeting House – one of the best bars in our beautiful city.
The Wild Goose Meeting House offers not only craft cocktails but also delicious food options that mesh perfectly with their happy hour specials. As someone who loves local breweries, I was thrilled to see them support other establishments by becoming investors in multiple bars throughout Colorado Springs.
And if you're into live music venues like me, then kick back as they often feature talented musicians who play tunes that are bound to get your feet tapping.
Brooklyn's On Boulder Street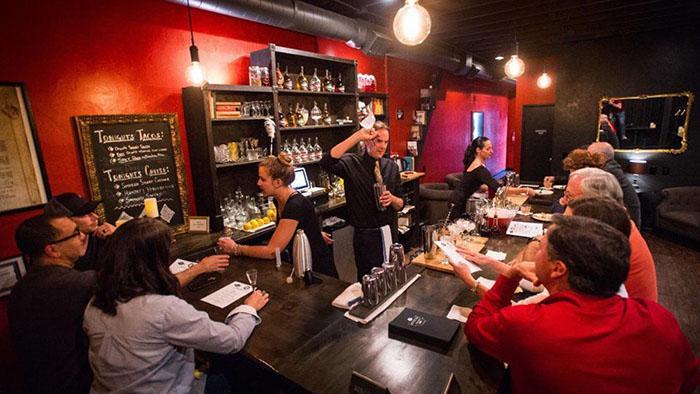 One night on my best bars in Colorado Springs adventure, I found myself stepping into the stylish and upscale setting of Brooklyn's on Boulder Street.
This speakeasy-style gem is widely known for its expertise in gin-based cocktails and scrumptious light bites.
As part of my visit, I couldn't resist trying their signature drink "Let It Linger," which not only lived up to its reputation but exceeded all expectations. You can tell by the numerous positive reviews on TripAdvisor – these folks really know what they're doing behind that bar! And the best part? They're also part of Lucky's St.
Patrick's Day bar crawl here in Colorado Springs, making it a perfect place to celebrate with friends while enjoying some fantastic concoctions.
The Principal's Office
As an alcohol enthusiast, I have to recommend The Principal's Office. This artisanal cocktail and coffee bar is located at the Ivywild School in Colorado Springs, and it's one of the best bars in the area.
The bartenders at The Principal's Office are experts when it comes to creative libations and cutting-edge mixology. They serve up some of the best craft beverages around, paired with gourmet bar snacks that perfectly complement your drink of choice.
Plus, the food menu is worth checking out as well.
Axe And The Oak Whiskey House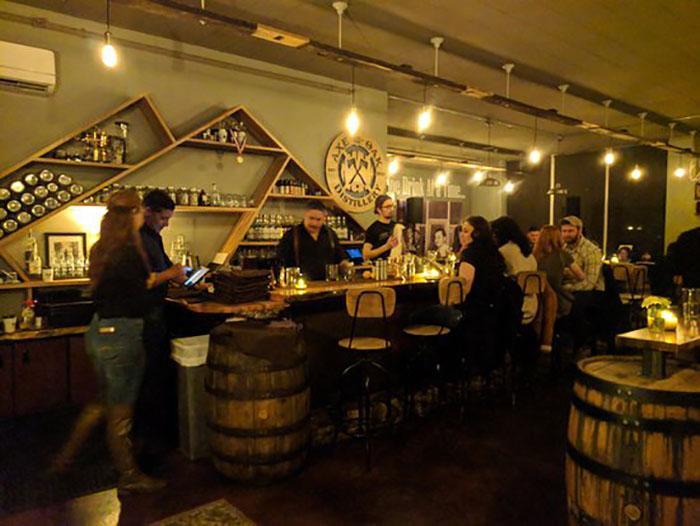 As someone who enjoys a good drink, I highly recommend Axe and the Oak Whiskey House in Colorado Springs. This popular bar has won several awards for its outstanding whiskey selections and cozy atmosphere.
What sets Axe and the Oak Whiskey House apart from other bars is its intimate ambiance that exudes warmth and comfort. The bartenders are friendly, knowledgeable about their craft and ready to suggest something new or old that suits your fancy.
The Archives
The Archives is a hidden gem of a cocktail bar located underground inside Colorado Craft in downtown Colorado Springs.
Open seven days a week until either midnight or 2:00am, The Archives is one of the must-visit bars in Colorado Springs. It's perfect for those looking to enjoy an after-work drink during happy hour specials or spend a night out experiencing the city's lively downtown area.
Benny's Restaurant And Lounge
Benny's Restaurant and Lounge is a local favorite bar located in Colorado Springs. Known for its friendly atmosphere and good food, Benny's has been around since 1953 when it was opened by Benny Raviotti.
The bar has become an institution in the city, offering customers a place to catch up with old friends or meet new ones over drinks and tasty bites.
Sports fans love Benny's because it's one of the popular bars for locals to watch games; they can sit back, relax with their buddies while cheering on their teams on multiple large screens hanging inside this cozy den.
And during these times of "social distancing," there are plenty of seating options available that strictly comply with safety guidelines that won't overcrowd you and your company- making sure everyone enjoys themselves safely.
Shuga's
As someone who enjoys a good drink, I highly recommend visiting Shuga's in Colorado Springs. This hidden gem is both a restaurant and bar, serving up delicious craft cocktails and small plates that are perfect for sharing with friends.
One thing that makes Shuga's stand out is their favorite café tray option – you can try different dishes without committing to just one main meal. It's a perfect way to sample their diverse menu while enjoying some drinks from their impressive selection.
The Wobbly Olive
The Wobbly Olive is a bar that caters to anyone looking for the best drinks and food in Colorado Springs. As someone struggling with alcoholism, it's essential to find a place where you can enjoy your time without feeling overwhelmed by temptation.
The Wobbly Olive offers an extensive drink menu that includes non-alcoholic options alongside their award-winning craft cocktails.
Located in the First & Main Town Center on the city's east side, The Wobbly Olive has earned several recognitions over the years as one of Colorado Springs' top-rated bars.
It was voted Best Restaurant, Best Bar, and Best Happy Hour for seven consecutive years, making it an excellent choice for anyone seeking great happy hour specials or small plates and tapas in Colorado Springs.
Phantom Canyon Brewing Company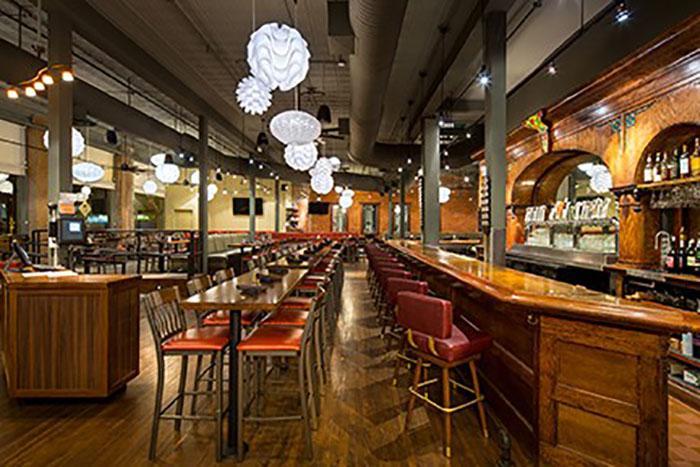 Phantom Canyon Brewing Company, located in the historic Cheyenne building in Colorado Springs, is a must-visit bar for any craft beer enthusiast. As Colorado Spring's oldest brewery, it offers an expansive selection of over 16 beers on tap and has two full bars.
It is popular among both locals and tourists alike as one of the top nightlife spots in the city.
If you're looking for a unique experience, Phantom Canyon Brewing Company delivers with its location in a beautiful historic building. It has something for everyone – from billiards to brewery tours – all while enjoying some of the best beer Colorado Springs has to offer.
Blondie's Ultra Lounge
Blondie's Ultra Lounge is a fantastic bar that ticks all the boxes when it comes to nightlife in Colorado Springs. With its three levels, three bars, and rooftop patio with 360-degree views as well as Happy Hour from 5-8 pm, there's no wonder why it's considered one of the must-visit bars in town.
It doesn't stop there; Blondie's features DJs who play dance music to keep the party going while you enjoy their delicious cocktails and stunning views of the city below.
The Golden Bee
As someone who loves a good gastropub, The Golden Bee is one of my favorite bars in Colorado Springs. Located at The Broadmoor, this bar offers a classy British pub-style atmosphere that makes it stand out from other bars in the area.
What sets The Golden Bee apart is its extensive menu of downhome favorites and classic British cuisine that never disappoints.
But what really keeps me coming back to The Golden Bee is their collection of English and Irish drafts. With so many options to choose from, I always try something new each time I visit.
Overall, if you're looking for high-quality cocktails, delicious food and drinks, history-influenced interiors with classy atmosphere then The Golden Bee should definitely be on your list as one of the best bars in Colorado Springs!
Peaks N Pines Brewing Company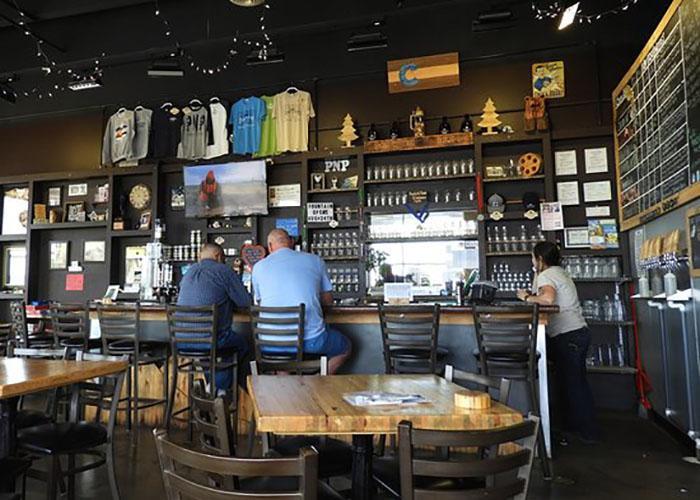 As someone who enjoys a good craft beer, I highly recommend checking out Peaks N Pines Brewing Company. This brewery was founded in 2015 by four friends who are passionate about all things beer.
Peaks N Pines is listed as one of the top breweries in Colorado Springs by local guides, and it's easy to see why. They offer an impressive selection of beers that cater to all tastes, from classic IPAs to seasonal brews with unique flavor profiles.
If you're ever in the area on a Sunday, be sure to stop by between noon and 8 PM when they are open, or check them out on Mondays and Tuesdays from 1 PM to 9 PM.
The Brass Tap
As someone who loves craft beer and exploring the local brewery scene, I highly recommend visiting The Brass Tap in Colorado Springs. This locally owned franchise offers an impressive selection of 60 craft beers on tap, with over 100 varieties available overall.
As I perused their extensive tap list and sampled some of their tasting flights, I couldn't help but appreciate the upscale atmosphere and attention to detail they put into every aspect of the experience.
From the bar food to happy hour specials, everything was top-notch at The Brass Tap.
Conclusion
In conclusion, Colorado Springs is home to some of the best bars and pubs in the state. From craft beer and cocktails to live music and sports bars, there's something for everyone here.
Whether you're looking for a place to relax after work or a night out with friends, the 14 must-visit bars we've covered will not disappoint.