Aloha, NYC adventurers! Are you ready to escape the concrete jungle and immerse yourself in island vibes? Look no further because we've compiled a list of the 15 best tiki bars in NYC that'll transport you straight to paradise.
These tropical havens serve up exotic cocktails, boast beach-inspired decor, and embody all things tiki culture – making them perfect spots for some summer fun or just a well-deserved break from reality.
So put on your favorite Hawaiian shirt, grab your coconut cup, and let's dive into these rum-soaked oases waiting right at your doorstep.
Top 15 Tiki Bars In NYC
Sunken Harbor Club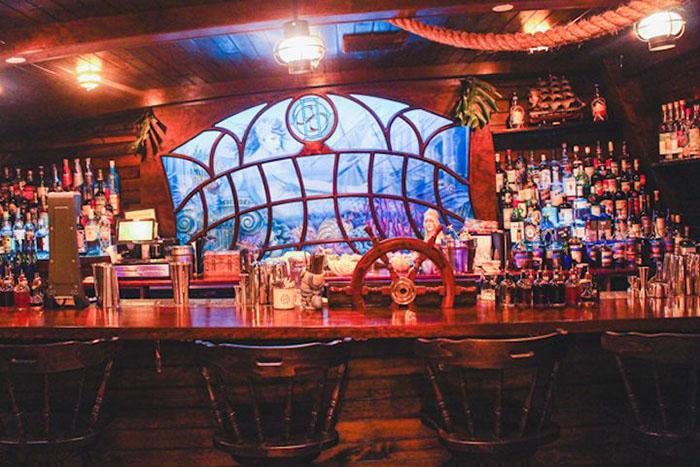 Nestled on the second floor above Gage & Tollner in Brooklyn, the Sunken Harbor Club transports patrons to an intimate nautical wonderland.
Upon entering, you'll be instantly captivated by Sunken Harbor Club's immersive atmosphere. The nautical decor, ranging from pufferfish lanterns to shipwreck-inspired wall art, sets the stage for a memorable evening with friends or loved ones.
Swaying along to exotica music and classic lounge tunes not only adds entertainment value but also heightens the overall tiki experience.
Tiki Chick
Tiki Chick, located in the heart of New York City's Upper West Side, is a must-visit destination for those seeking tropical drinks and island vibes. With its bamboo decor and Hawaiian-shirt-wearing staff, this tiki bar transports you to an exotic South Pacific setting without ever leaving Manhattan.
Tiki Chick has garnered attention from both locals and tourists alike for its unique beachy atmosphere complete with hula dancers and ambient lighting.
The climate-controlled patio ensures that guests can enjoy their colorful libations year-round, whether they prefer the warmth of summer or cooler autumn evenings.
The Woo Woo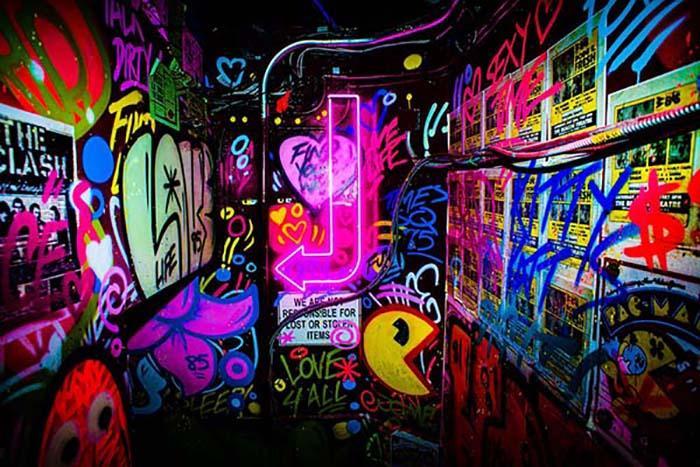 The Woo Woo offers a unique and seductive atmosphere for those seeking island-inspired cocktails.
This hybrid bar and sex shop pays homage to speakeasy culture while providing an enticing twist with its tropical decor, Hawaiian music, and beachy vibes.
The Woo Woo isn't just known for its ambiance but also for its diverse menu of fruity cocktails that appeal to even the most discerning palate. Patrons frequently rave about their perfectly balanced concoctions featuring bold flavors infused with a heavy pour of seduction – truly embodying New York City's vibrant cocktail bars scene.
Otto's Shrunken Head
Otto's Shrunken Head is a must-visit for anyone looking for an authentic Tiki Bar experience in NYC. This bar has earned its place among the best Tiki bars in the city, thanks to its unique blend of island decor and punk rock/rockabilly style.
Located near Stuytown and the ConEd plant in NYC, this dive bar with a twist draws in crowds on Friday nights when they feature traditional Tiki music up front along with live rock and roll performances in the back.
The Friki Tiki
Located beneath the Marseille restaurant in Hell's Kitchen, The Friki Tiki offers an exclusive and exciting underground nightlife experience for alcohol connoisseurs. This hidden gem is a 1200-square-foot space that cannot be accessed by getaway cars, making it a unique and safe place to enjoy exotic drinks with friends.
With retro vibes and Polynesian decor, The Friki Tiki boasts an impressive menu of tiki-themed cocktails that are sure to impress even the most discerning drinkers.
Happy hour deals at this small venue are also worth checking out, as they offer great discounts on their delicious drinks.
Pokito
Pokito is one of the top tiki bars in NYC, offering a Caribbean vibe and island decor that transport visitors to a tropical paradise. With a focus on exotic cocktails made with high-quality ingredients, Pokito has become a popular destination for those seeking an escape from the city's hustle and bustle.
At Pokito, rum drinks are abundant, ranging from classic daiquiris to inventive concoctions like the "Coconut Creamsicle" featuring coconut rum and orange juice. The bartenders here are skilled at mixing up unique cocktails that capture the essence of tiki culture while also appealing to modern tastes.
Zombie Hut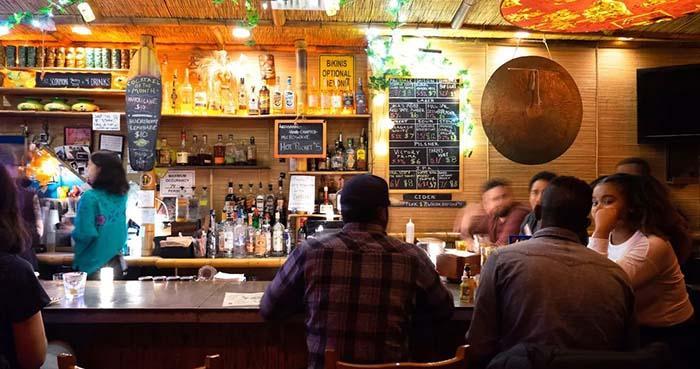 Zombie Hut is a popular tiki bar located in Brooklyn that offers island vibes and exotic drinks to its customers. This top-tier establishment is often listed as one of the best tiki bars in NYC, thanks to its luau-themed decor and beachy atmosphere.
This fantastic spot isn't just a place for a nightcap, but it's also a restaurant and nightclub with plenty of entertainment options available. They offer an array of tasty and fresh cocktails that are sure to impress even the most discerning alcoholism aficionado.
Rockaway Tiki Bar
Rockaway Tiki Bar is a must-visit destination when it comes to the best tiki bars in NYC. Located in Queens, this funky beach bar offers an immersive experience that transports visitors to a tropical paradise.
The menu boasts an impressive selection of tiki-inspired drinks made with freshly squeezed juices and homemade syrups.
In addition to their stellar drink offerings, Rockaway Tiki Bar also features a full bar stocked with small batch spirits. This ensures that every cocktail is expertly crafted and pairs perfectly with any dish from their food menu.
The Polynesian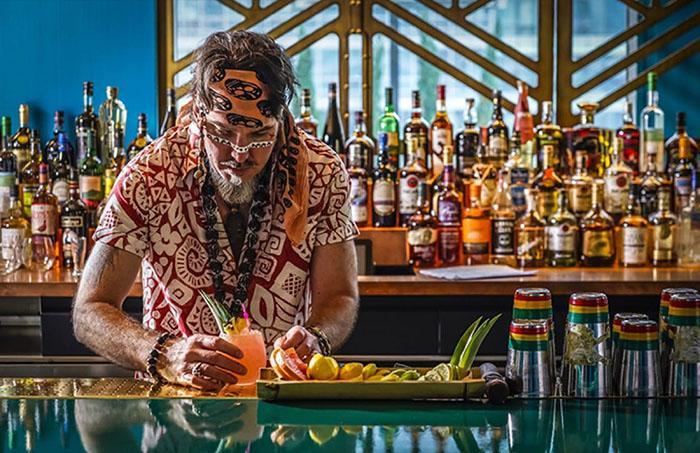 The Polynesian is a must-visit tiki bar in NYC for alcohol enthusiasts looking for an exotic and immersive experience. Featuring Pacific Rim cuisine, island vibes, and retro kitsch decor, The Polynesian offers an engaging ambiance that encourages socializing with friends.
Located near Times Square, this new concept from Major Food Group has quickly become one of the top-rated tiki bars in the city. As some sources consider it the best tiki bar in NYC, patrons can expect tropical cocktails made from fresh ingredients and garnished creatively to match its bamboo furnishings and beachy ambiance.
Broken Shaker
This Miami-style bar boasts a stunning rooftop oasis with breathtaking views of the city.
Visitors can indulge in tropical rum cocktails blended with exotic ingredients like passion fruit, coconut, and ginger. The bar's laidback vibe and creative mixology make it easy to escape from everyday life and enter a vacation-like atmosphere while savoring some truly excellent drinks.
Mother Of Pearl
Located at 95 Ave. A, New York, NY, 10009, this Polynesian-inspired bar offers a unique experience with its retro decor, bamboo furnishings and island vibes.
The exotic cocktails with pineapple garnishes and rum-based drinks are just as impressive as the Caribbean-influenced menu that includes vegan options.
One of their most popular cocktails is the Shark Eye which features light rum, aged rum, passion fruit puree, lime juice and blue curacao served in a shark-shaped glassware that makes it Instagram-worthy.
The bartenders are known to be friendly and skilled mixologists who can whip up any drink to your liking while donning Hawaiian shirts which adds to the overall atmosphere of this tiki haven.
Super Power
This retro bar boasts a tropical paradise ambiance with island vibes, kitschy decor, and exotic drinks to match.
But don't let the laid-back atmosphere fool you – Super Power serves some of the strongest rum-based cocktails in the city and is known for its dance parties that go into the wee hours of the morning.
Diamond Reef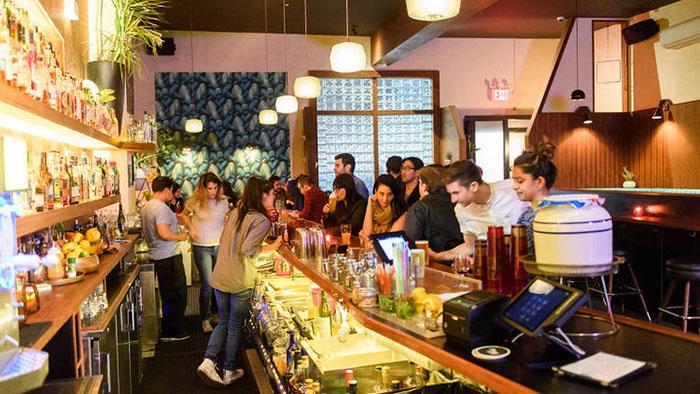 Diamond Reef is an oasis in the heart of Bedford-Stuyvesant, Brooklyn. This tropical-themed bar offers a unique take on tiki decor with its sleek wood design and fern-printed wallpaper.
The real gem of Diamond Reef is its massive outdoor patio, perfect for enjoying exotic drinks with friends on a warm summer night. Their cocktail menu features whimsical names and creative garnishes that have led to the selfie trend taking over social media.
Gilligan's
Located in the trendy neighborhood of SoHo, Gilligan's is one of the best bars in NYC that offers a beachy atmosphere where you can enjoy tropical cocktails and exotic drinks.
It's an outdoor bar and restaurant that boasts expansive outdoor spaces for dining, drinking, and weekend brunch.
With its laid-back ambiance, Gilligan's is perfect for anyone who wants to escape city life without leaving Manhattan; whether you're looking to unwind after work or spend an afternoon with your friends soaking up some sun over drinks- Gilligan's got you covered.
Happiest Hour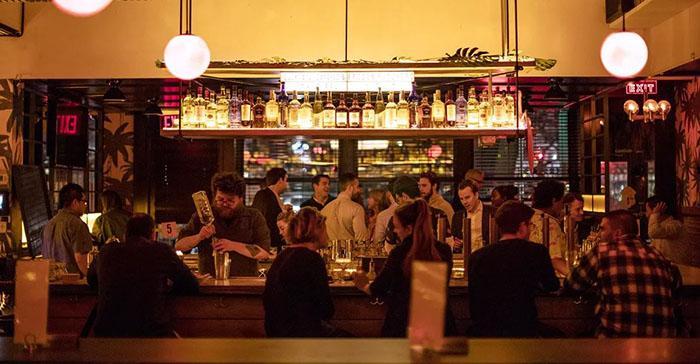 The Happiest Hour, located in Greenwich Village, is a must-visit tiki bar for those looking to indulge in tropical drinks and beachy vibes. The bar features island-inspired decor with bamboo furnishings, vintage tiki-themed artwork, and Hawaiian shirts adorning the staff.
One of the highlights of this bar is its extensive menu of signature cocktails that are rum-based and bursting with exotic flavors. Some of their most popular drinks include the Painkiller, which combines rum and coconut cream for a creamy treat, and the Hemingway Daiquiri that packs a tart punch thanks to grapefruit juice.
Conclusion
In conclusion, if you're looking for a tropical escape from the concrete jungle of NYC, these 15 tiki bars are sure to transport you to an island oasis.
From rum-based drinks served in Tiki mugs to bamboo furnishings and hula dancers, each bar offers its own unique twist on Polynesian culture and exotic cocktails.
So throw on your Hawaiian shirt and head out for a night of beachy vibes and Caribbean flair.