Welcome to Hell's Kitchen, an iconic New York City neighborhood known for its vibrant nightlife and diverse drinking scene. From cozy wine bars to energetic live music venues, this bustling area offers the perfect spot for a night out on the town.
In this blog post, we're serving up a list of the 12 best bars in Hell's Kitchen that cater to every taste and preference.
Top 12 Bars In Hell's Kitchen, NYC
Valhalla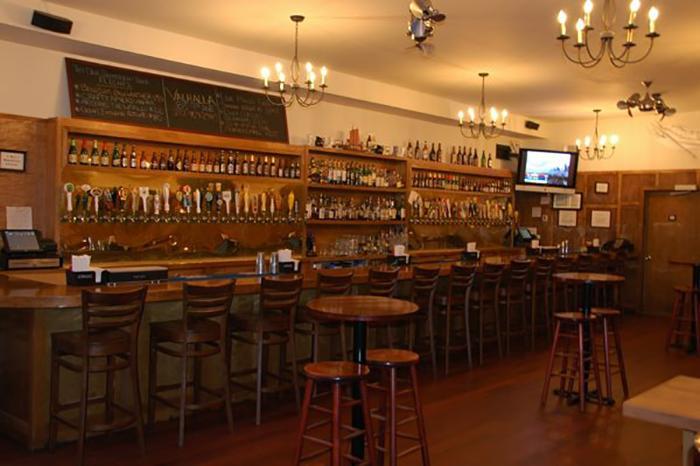 Step into Valhalla and experience a cozy atmosphere inspired by Norse mythology in the heart of Hell's Kitchen neighborhood. This low-key, intimate bar has been recognized as one of the best bars to visit in NYC and is known for its incredible craft beer selection.
Not only does Valhalla offer an impressive array of drinks, but the relaxed setting makes it perfect for unwinding after a long day exploring NYC's bustling nightlife scene.
Rudy's Bar & Grill
Step into Rudy's Bar & Grill, a neighborhood favorite located in the heart of Hell's Kitchen and just a few steps away from Times Square. Established in 1933, this historic watering hole has been serving cheap drinks and free hot dogs to both the hip and square of all ages for nearly a century.
Often featured as one of the best bars in Hell's Kitchen by various publications, Rudy's Bar & Grill invites guests into its no-frills atmosphere with traditional decor that harkens back to simpler times.
This popular tourist attraction offers numerous opportunities for exploration through tours such as the Hell's Kitchen Prohibition Pub Crawl and Ultimate Rooftop Bar & Lounge Night Tour NYC – providing an entertaining mix of local history alongside libations.
The unbeatable combination of budget-friendly prices, historic ambiance, and unforgettable drinks make this iconic spot an essential stopover for anyone seeking an authentic taste of New York City nightlife.
Hold Fast Kitchen And Spirits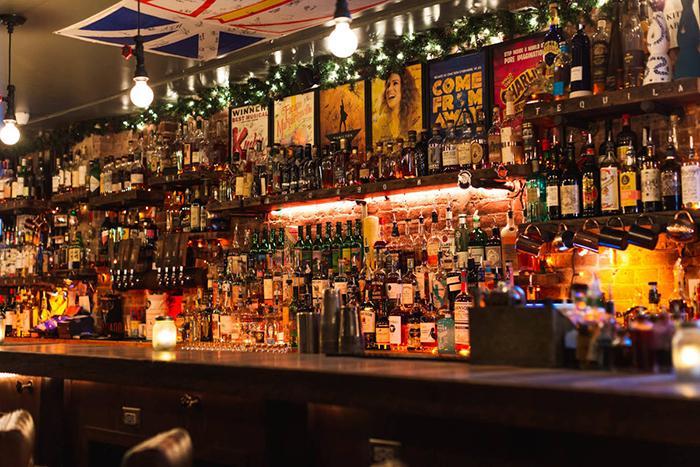 Hold Fast Kitchen and Spirits is a standout amongst the best bars in Hell's Kitchen, NYC.
One of the highlights of this establishment is their extensive beer selection and creative cocktails with a neighborhood twist. Take for instance their cocktail inspired by the famous Hell's Kitchen dog mascot – it perfectly encapsulates the spirit of this vibrant area while offering patrons a unique drinking experience.
Not only does Hold Fast serve up delectable libations, but they also boast an inviting outdoor patio where guests can unwind and immerse themselves in the bustling New York City atmosphere.
The Press Lounge
The Press Lounge, located atop the Ink48 Hotel in Hell's Kitchen, is a must-visit spot for anyone looking to enjoy unforgettable views of Manhattan while sipping on delicious cocktails.
It boasts panoramic and dramatic vistas that overlook the Hudson River and some of the city's most iconic landmarks such as the Empire State Building. The upscale bar has been voted 'best new rooftop bar' many times since it opened its doors, thanks to its sophisticated decor, artistic ambiance, and top-notch service.
Bar Nine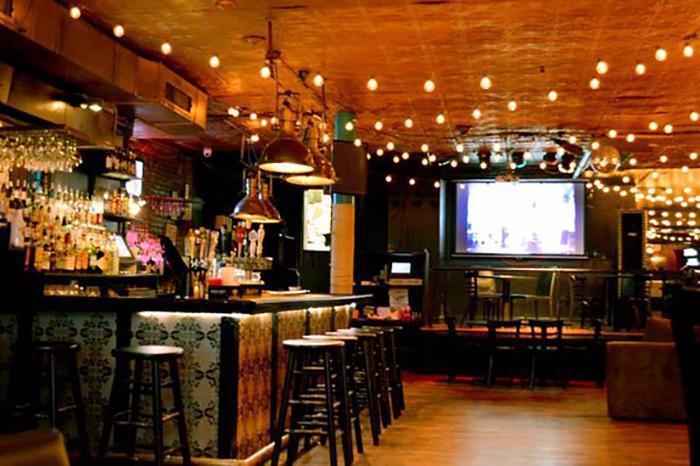 This bar offers live music performances, making it an entertainment destination that attracts many fun-seekers consistently.
With its nightly live music sets, Bar Nine provides ample opportunities to unwind with drinks while enjoying fantastic musical performers. The bar also offers Happy Hour specials on weekdays between 4 pm -7 pm, which includes reasonably priced craft cocktails and beer selections to enjoy while catching up with friends after work.
The Sky Room
The Sky Room is a popular rooftop bar that offers spectacular views of Manhattan's skyline. This top-rated bar is perfect for those looking for an upscale night out or a drink after work with colleagues.
As you sip on your drink and take in the breathtaking view, it's easy to see why The Sky Room is known as one of the best cocktail lounges in Hell's Kitchen.
The Pony Bar
This popular watering hole serves an extensive selection of craft beers from local breweries and beyond.
From IPAs to stouts, they have something for every palate.
One standout dish at The Pony Bar is their lamb sliders – gourmet mini-burgers topped with feta cheese, tzatziki sauce, and arugula – which pair perfectly with their specialty beer menu.
While the bar can get loud when it gets busy, it adds to the overall lively vibe of this hip hangout.
Hourglass Tavern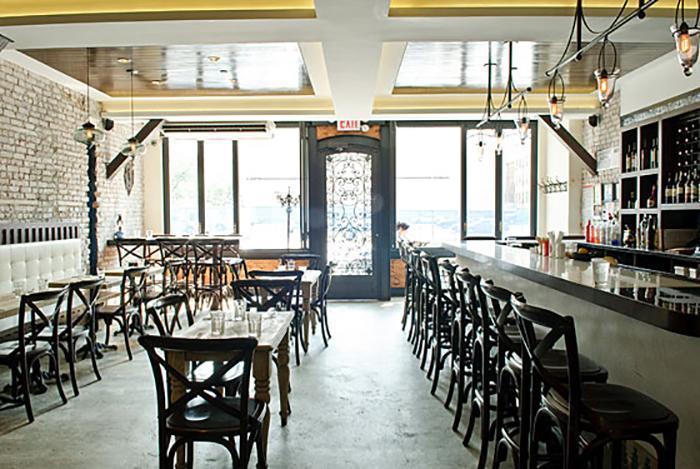 One of the best bars in Hell's Kitchen, Hourglass Tavern is a community establishment located in a historic brownstone building that was built back in 1894. This popular hangout spot has been serving customers for over three decades and is considered to be one of the top bars in New York City.
Unfortunately, due to the COVID-19 pandemic, Hourglass Tavern had to close its doors but it had a pathway to BettiBar where patrons could go instead.
What sets Hourglass Tavern apart from other bars is its cozy atmosphere and excellent selection of drinks and food options. Whether you're looking for handcrafted cocktails or delicious bar bites, this neighborhood gem has got you covered.
With its prime location on Restaurant Row near the Theatre District, it's no wonder why locals and tourists alike flock here for a good time.
The Brazen Tavern
Located next to Hotel Edison, this bar and restaurant has a rating of 4.5 based on 99 reviews from satisfied customers.
The menu at The Brazen Tavern offers fresh and delicious food that rivals some of the best restaurants in the area. In addition to its great food, The Brazen Tavern also boasts a lively atmosphere with entertainment and events throughout the week.
With happy hours and drink specials available, it's no wonder why locals love visiting The Brazen Tavern for a night out on the town.
The Marshall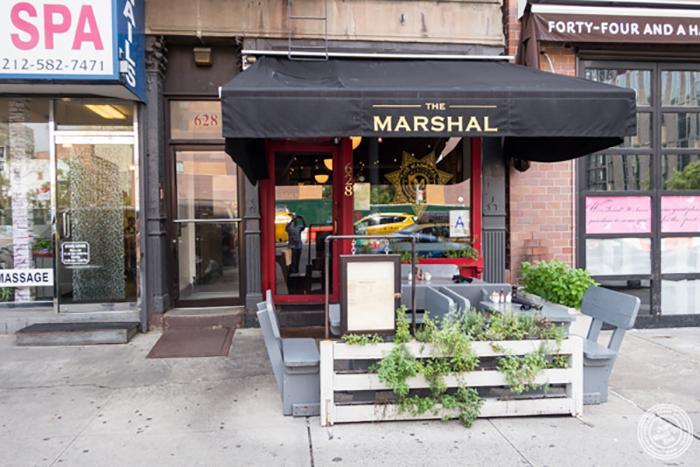 The Marshall is a must-visit bar in Hell's Kitchen for alcohol enthusiasts looking for an upscale hangout spot. Their menu features an extensive collection of wines, cocktails, and beers, perfect for any occasion.
The ambiance at The Marshall is cozy, making it ideal for couples or groups to enjoy some drinks over intimate conversations. What makes this bar stand out from the rest are the bartenders who mix up some unique concoctions that leave you coming back for more.
Gossip Bar & Restaurant
The bar offers American-Irish cuisine with delicious bar food for lunch, dinner, and weekend brunches.
What sets Gossip Bar apart from other bars in the area is its focus on safety and security. It has not been mentioned in connection with recent druggings or robberies related to the gay community in Hell's Kitchen.
This makes it an ideal place to have a safe and enjoyable night out while still enjoying all that this bustling neighborhood has to offer.
Bea
Bea is a popular bar located at 403 W 43rd St (at 9th Ave) in the Hell's Kitchen neighborhood of New York City. This cozy spot offers a welcoming atmosphere, delicious cocktails and food, as well as live music performances from time to time.
For anyone struggling with alcoholism, it's important to remember that drinking can be dangerous, especially when consumed excessively.