Tampa Bay is a bustling hub for nightlife enthusiasts, offering an impressive array of unique bars and drinking establishments. Whether you're looking to unwind with craft beers at a local pub or enjoy stunning views from trendy rooftop lounges, there's no shortage of options in this vibrant city.
Top 12 Bars In Tampa Bay
Ciro's Tampa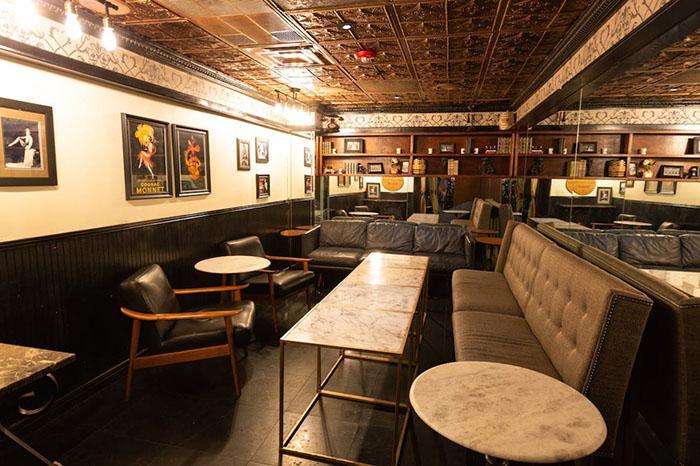 Venturing into the heart of Tampa Bay to explore its vibrant nightlife, Ciro's Tampa inevitably makes it onto many "best bars" lists, and for good reason.
If you're seeking an unparalleled drink experience that stands out among other best bars in Tampa Bay, look no further than Ciro's. Located at 2109 Bayshore Boulevard, they frequently update their social media channels with tantalizing images of their beverage creations and latest specials.
The attention to detail in each concoction is truly impressive and worth trying for yourself.
EDGE Rooftop Cocktail Lounge
As a true connoisseur of high-end bars in Tampa Bay, I can't help but rave about the EDGE Rooftop Cocktail Lounge. Tucked away on the rooftop of the Epicurean Hotel, this gem offers an experience like no other to those in search of craft cocktails and stunning city views.
While you're there, don't forget to indulge in their fantastic selection of small plates that perfectly complement their meticulously crafted cocktails. And for beer enthusiasts like myself, EDGE Rooftop Cocktail Lounge also presents an impressive beer selection catering to every palate.
Gaspar's Grotto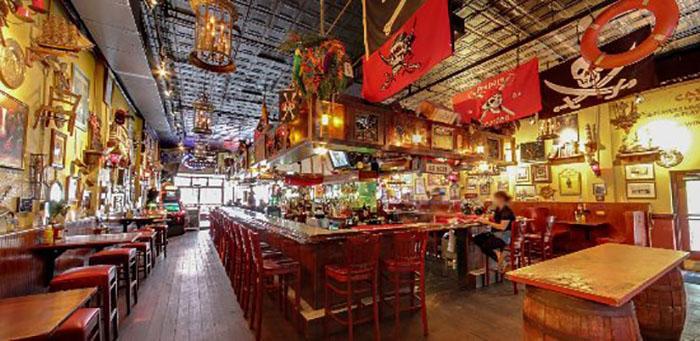 Gaspar's Grotto is a must-visit bar if you're exploring the vibrant Tampa Bay nightlife scene, especially in Ybor City. As a pirate-themed bar and restaurant, this amazing place offers three separate large areas for its patrons to enjoy, including the popular outdoor patio known as the Galley.
A fantastic spot for not only grabbing refreshing drinks but also indulging in delicious food options such as brunch on weekends—I can't get enough of their unique dishes! Whether you choose to visit during one of the lively Tampa Bay Lightning watch parties or just want to unwind after a long day with their craft cocktails menu at hand, this notorious pirate den never disappoints when it comes to providing memorable experiences.
M.Bird
M.Bird is a must-visit bar for anyone looking to enjoy stunning waterfront views of Tampa's cityscape. This sophisticated and trendy rooftop lounge, located at Armature Works in the Seminole Heights neighborhood, offers an experience like no other.
The deco-inspired decor adds to the ambiance of this top-ranked cocktail spot.
At M.Bird, guests can indulge in happy hour specials and take their pick from a diverse menu of drinks and food. Cocktail menus are carefully curated with creativity and attention to detail by expert mixologists.
Lowry Parcade
As someone who enjoys a good drink and some fun activities, Lowry Parcade in Tampa Bay has become one of my favorite spots. This arcade bar offers an incredible selection of craft beers, ciders, and sodas at affordable prices.
What sets this place apart from other bars is the collection of classic games that bring back memories of childhood nostalgia.
Lowry Parcade is not just about drinks and games; it's also a casual hangout spot where you can gather with friends and have a great time. With its wide range of fun activities, such as pinball machines and other vintage games, there's never a dull moment here.
Blind Goat Tampa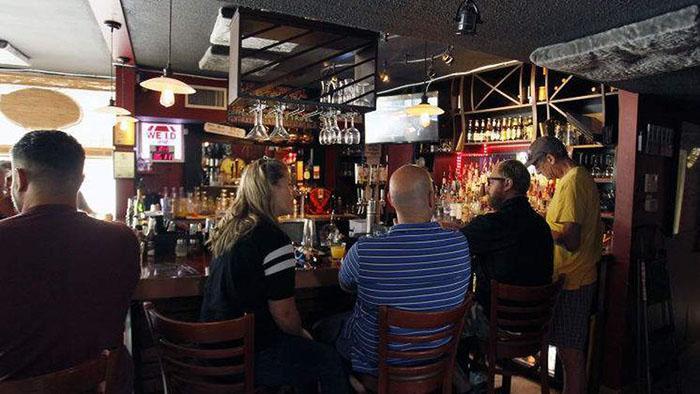 This prohibition-era style gastropub serves up delicious craft cocktails, wood-fired pizza, and Mediterranean small plates that will make your taste buds sing.
One of the best things about Blind Goat Tampa is their commitment to supporting local breweries. They have an extensive list of Florida microbreweries on tap so you can sample some of the area's best beers while enjoying Blind Goat's homey ambiance.
Élevage
This Kitchen & Bar establishment serves up some of the most delicious food and craft cocktails in town, making it a must-visit spot for those looking for an upscale bar experience.
What I love about Élevage is its attention to detail when it comes to food and drink pairing.
Located in the lively SoHo neighborhood of Tampa Bay, Élevage attracts a diverse crowd looking to enjoy a night out with friends or have a romantic date night. The atmosphere is sophisticated yet relaxed, with friendly staff always on hand to offer recommendations or chat about your favorite wines or drinks.
SIX At JW Marriott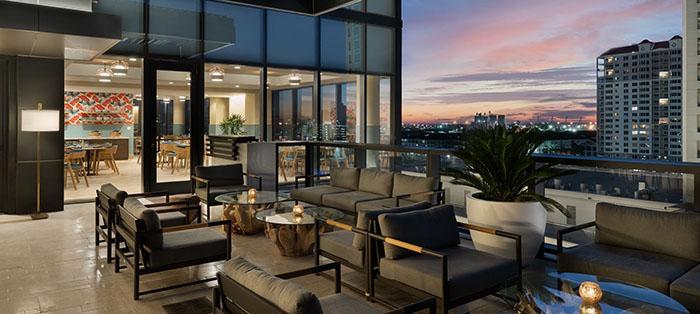 This rooftop bar located on the sixth floor offers stunning views of downtown Tampa and Water Street, making it an ideal spot for a date night or simply taking in the city's beautiful skyline.
The indoor-outdoor space is airy and elevated, perfect for sipping on refreshing cocktails while enjoying some light bites from their locally-inspired menu.
If you're looking to meet up with friends old and new, JW Marriott Tampa's four-story glass lobby bar is an excellent place to do so while enjoying access to SIX's elevated bistro cuisine.
Azure At The Tampa EDITION
Azure at The Tampa EDITION is a one-of-a-kind rooftop Greek restaurant that offers fresh seaside-inspired cuisine and a breezy ambiance.
Created by Michelin-starred chef, John Fraser, Azure is truly an unforgettable dining experience.
The superb location of Azure coupled with valet parking, makes it perfect for socializing among friends while enjoying some of the most unique bars in the area.
With unparalleled views of the cityscape and delicious dishes crafted by renowned chefs like John Fraser, it's no wonder why Azure has become such a hotspot among local residents and visitors alike.
Sal Y Mar Rooftop Bar
Sal Y Mar Rooftop Bar is a must-visit for anyone who loves rooftop bars with stunning views and delicious Latin-inspired cuisine. Located in the heart of Tampa Midtown, this rooftop bar provides its patrons with an unforgettable experience.
The outdoor patio boasts breathtaking views of downtown Tampa while the interior restaurant offers intimate dining perfect for romantic evenings or catching up with friends.
The dual-branded Aloft Tampa Midtown and Element Tampa hotels house Sal Y Mar Rooftop Bar, making it a convenient choice for hotel guests and visitors alike.
With 4,900 square feet of indoor and outdoor seating options available to guests, this trendy bar offers unparalleled city views that will leave you breathless.
Sal Y Mar is also known for its handcrafted cocktails made fresh by talented mixologists using quality ingredients that tantalize your taste buds.
Franklin Manor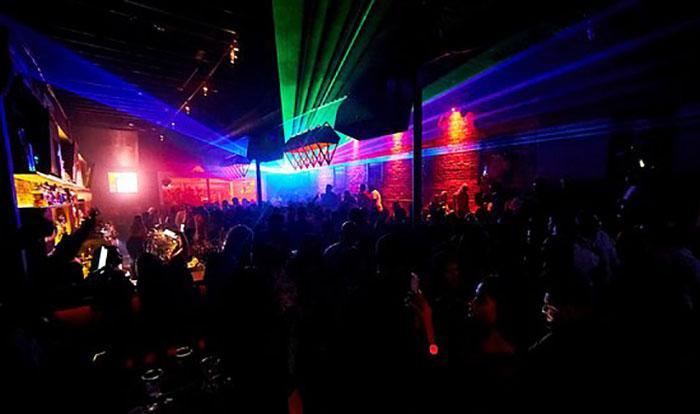 Franklin Manor is definitely one of my go-to destinations when I'm looking to unwind and enjoy some exciting nightlife in downtown Tampa. This establishment boasts a wide selection of craft beer, top-flight liquor, and even offers TeBella tea options for non-alcoholic drinkers like myself.
What makes Franklin Manor stand out amongst other bars in Tampa Bay is its live music offerings and spirits selection. Whether you're into classic rock or pop hits, there's always something happening here that will get your feet moving.
Additionally, if you're feeling peckish after a few drinks, you can indulge your cravings with their culinary treats.
The Hub Bar
The Hub Bar is a legendary Tampa Bay establishment that has been serving locals since 1949 as one of the top dive bars in town. This iconic bar offers a unique experience with its graffiti-covered walls and nicotine-stained interiors, making it perfect for those seeking an authentic downtown Tampa nightlife experience.
The Hub Bar stands out from other bars in the area because of its package store that offers a vast selection of local beer and wine, which you can take home to enjoy later.
If you're looking for historic bars in Tampa that show character and flair, then The Hub Bar should definitely be on your list to visit.
Being listed among the best best bars in Tampa Bay is just one example of how much this bar has made an impact on the city's landscape, but Taste and See's guide goes as far as recommending it as one of the most unique experiences available- which we couldn't agree more with!
Whether you fancy sipping curated cocktails or simply grabbing a cold brew at one of their historic tables or booths- maybe even striking up conversation with some friendly locals- visiting The Hub Bar will truly give you unforgettable memories while exploring landmarks around Tampa Bay.
Conclusion
There you have it, folks – the 12 best bars in Tampa Bay. Whether you're looking for a unique experience or just want to grab some drinks with friends, these spots won't disappoint.
From rooftop lounges to waterfront gems and everything in between, the bar scene in Tampa Bay has something for everyone.
Don't miss out on happy hour specials and live music performances at Blind Goat Tampa and Franklin Manor or sip on craft cocktails while taking in breathtaking views at Sal Y Mar Rooftop Bar or Azure at The Tampa EDITION.