Welcome to Destin, Florida – a paradise known for its stunning beaches and vibrant nightlife! If you're looking to unwind after a day of soaking up the sun or simply craving some fun-filled night out with friends, we've got you covered.
In this blog post, we'll take you on a tour of the 10 best bars in Destin that cater to various tastes and preferences. From beach bars offering oceanfront views to Irish pubs with an authentic vibe, these hotspots are sure to leave you buzzing all night long.
Top 10 Bars In Destin, FL
The Red Door Saloon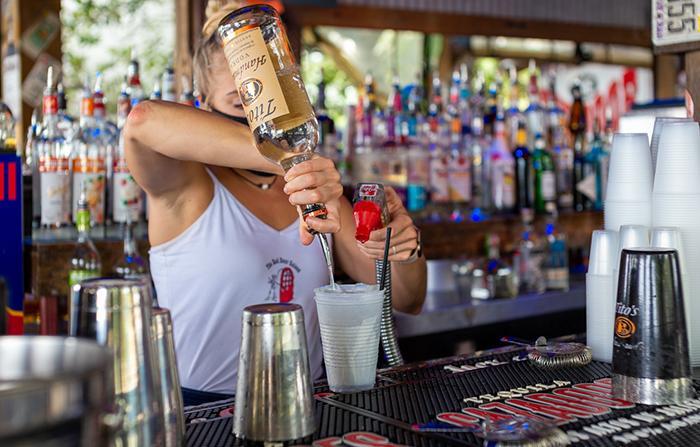 The Red Door Saloon, a highly rated destination in the best bars of Destin, FL, is known for its laid-back atmosphere and irresistible charm. This no-frills dive bar caters to those seeking a simple yet satisfying nightlife experience away from the bustling harbor area.
Located just up the hill from the vibrant waterfront scene, The Red Door Saloon offers an oasis for patrons looking to unwind and socialize with like-minded alcohol enthusiasts.
AJ's Seafood & Oyster Bar
AJ's Seafood & Oyster Bar has been serving scrumptious seafood and refreshing drinks along the legendary Destin Harbor Boardwalk since 1984.
The lively atmosphere at AJ's Seafood & Oyster Bar is perfect for anyone looking for waterfront dining, outdoor patios, or just grabbing some happy hour specials after a long day.
Nestled among other renowned restaurants like Harry T's Lighthouse and Jimmy Buffet's Margaritaville on the boardwalk, it provides an unparalleled experience through its coastal cuisine and craft beer selections.
The Craft Bar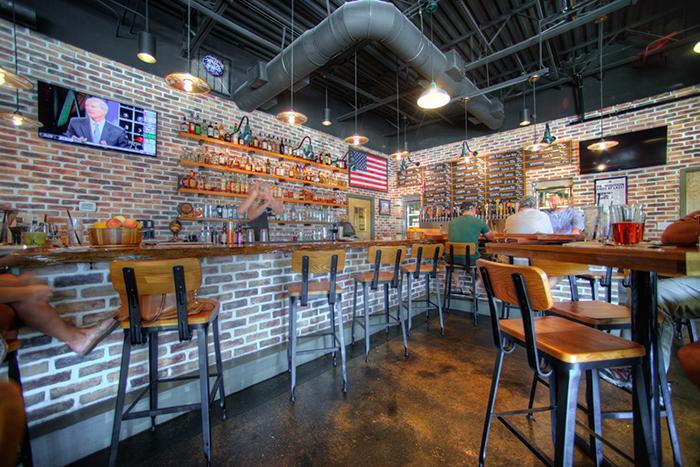 The Craft Bar, located in the Paradise Key Shopping Center, this popular hangout caters to a diverse crowd of both locals and tourists who share an appreciation for high-quality craft beer selections and housemade cocktails.
Further solidifying its place as one of Destin's best bars, The Craft Bar offers patrons an extensive menu featuring various craft beers, cocktails, and food options to suit every palate.
You'll feel right at home sipping on a cold brew while enjoying some mouthwatering dishes expertly prepared by their talented chefs.
Harry T's Lighthouse
The bar is situated in HarborWalk Village, which offers plenty of family-friendly activities including restaurants and entertainment that cater for all tastes on vacation.
Aside from the fascinating backstory, visitors can expect fresh seafood paired with specialty drinks at reasonable prices. However, during peak season, this bar can feel like a tourist trap due to its popularity.
McGuire's Irish Pub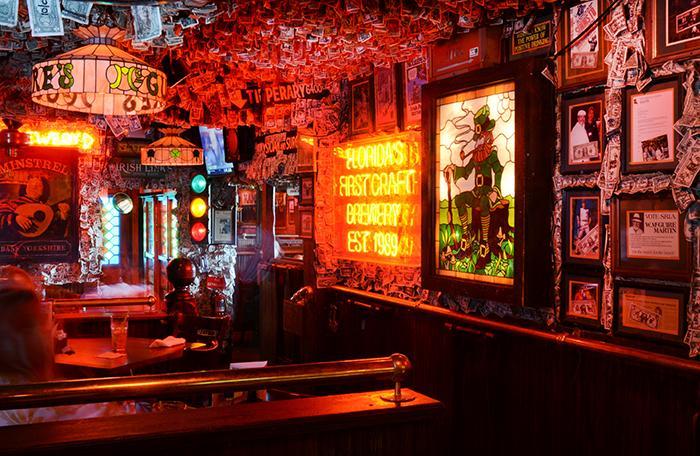 This iconic pub is nestled on the Destin Harbor and offers an authentic Irish experience with live entertainment showcasing traditional music and dance performances.
Apart from the ambiance, what makes McGuire's Irish Pub stand out is its delicious traditional Irish cuisine that will leave your taste buds craving for more. Some popular menu options include shepherd's pie, corned beef and cabbage, fish and chips, just to name a few.
To add to it all, McGuire's has been reviewed as one of TripAdvisor's top-rated bars in Destin FL which speaks volumes about their fantastic service.
The Village Door Music Hall
This award-winning dance club and full-service restaurant has everything from great food to live music performances that will keep you entertained all night long.
One of The Village Door's highlights is its local cuisine offerings. From seafood to craft cocktails, every dish on their menu is made with fresh ingredients sourced from local farms and suppliers.
Additionally, they offer entertainment through their music hall every night of the week, featuring various bands playing live shows throughout the evening.
The Swamp
The Swamp is the ultimate party destination in Destin, Florida. Located directly on the beaches of Okaloosa Island at The Boardwalk, this beachfront club promises to awaken your wildest party desires.
If you're looking for an outdoor drinking spot with ocean views and lively entertainment, then The Swamp should be at the top of your list.
One thing that sets The Swamp apart from other bars in the area is its unique blend of live music and DJs spinning dance hits all night long. Whether you want to sip on a cocktail while watching the sunset over the Gulf of Mexico or dance until dawn, this bar has got something for everyone.
The Back Porch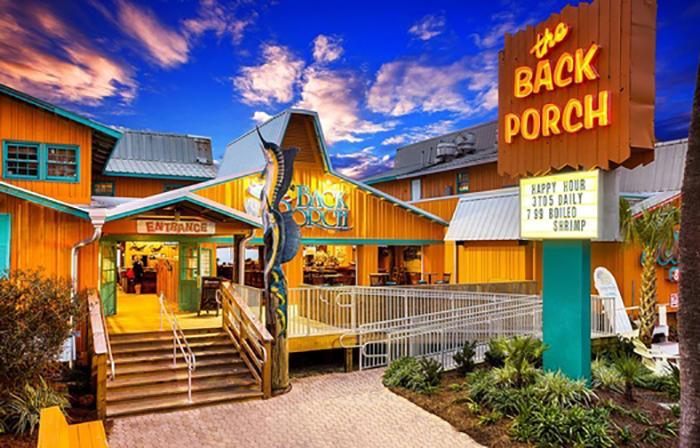 The Back Porch is a must-visit bar in Destin, Florida. Located on the beachside and known for its fresh seafood, it is a popular destination for locals and tourists alike.
This bar first started as a small shack back in 1974 and has since grown to become one of the best-known bars in the area. The Back Porch offers an extensive menu of drinks, including hand-crafted cocktails, draft beers, and wine by the glass or bottle.
Additionally, if you're looking to enjoy some delicious food along with your drinks while watching the waves roll onto shore then The Back Porch should definitely be on your list of places to visit!
Their famous seafood dishes are well-renowned among visitors which include favorites like fried shrimp platter or blackened grouper sandwich that will keep you coming back for more! So whether you're looking for a casual night out with friends or just want to relax after a long day at the beach – make sure to check out this fabulous bar!
The Tipsy Pig
Located in Fort Walton Beach, Florida, The Tipsy Pig is a popular bar that attracts many locals and tourists alike.
With plenty of space to hang out both indoors and outdoors as well as live music playing regularly, visitors can be guaranteed a fun night out at this local favorite.
Coyote Ugly Saloon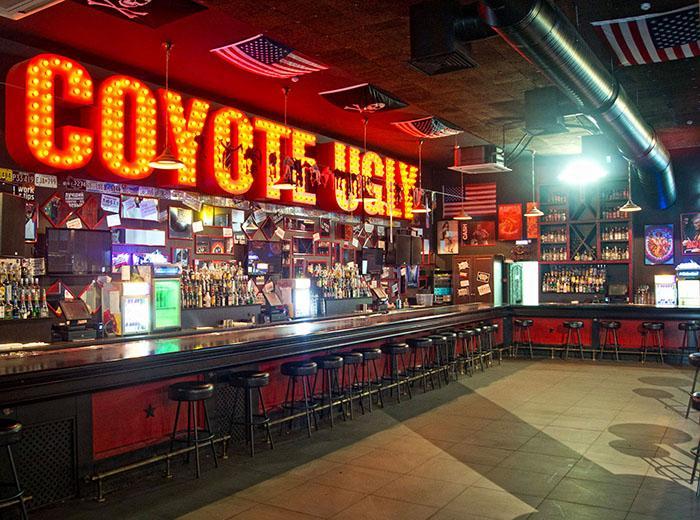 Located in the lively HarborWalk Village, Coyote Ugly Saloon is a must-visit spot for anyone looking to enjoy Destin's bustling nightlife.
Inspired by the movie Coyote Ugly, patrons can expect to see the bartenders dancing on the bar while serving up their drinks. However, recent reports have raised some safety concerns at this establishment.
There have been allegations of possible drugging incidents, and a large-scale brawl took place resulting in multiple people being knocked out. While we always encourage responsible drinking and staying aware of your surroundings when enjoying a night out, it's important to note that security measures are now in place at Coyote Ugly Saloon and police intervention may be necessary if any issues arise.