Planning a cruise getaway on Royal Caribbean and curious about the drink prices? You're not alone as it's something many travelers ponder before setting sail. In this blog post, we'll crack open the details of the beverage costs – from specialty cocktails to wine by the glass.
So, join us for an informative voyage through Royal Caribbean's bar menu; you might just find your perfect drink package deal!
Royal Caribbean Drink Prices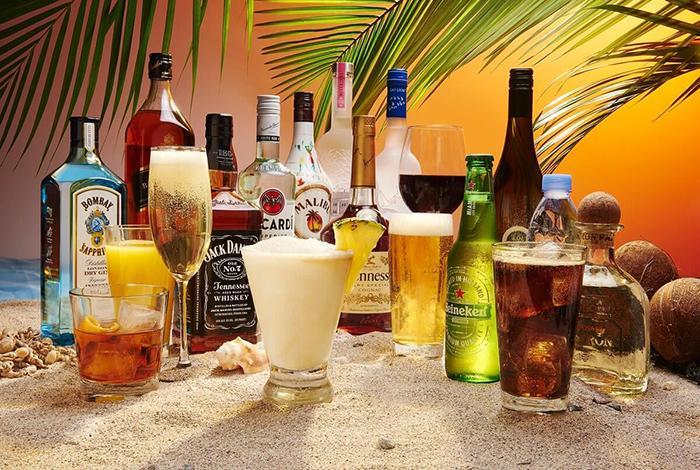 Fleetwide drink menu
The Royal Caribbean fleetwide drink menu is vast and varied, offering a wide range of beverages to suit all tastes and preferences. Whether you're fond of elegant wines, crisp beers, exotic cocktails, or refreshing non-alcoholic drinks, there's something for everyone.
Below is a quick guide to the prices of different drinks in the Royal Caribbean drink menu for easy reference.
| Drink Category | Price Range |
| --- | --- |
| Speciality Cocktails | $14.00 per drink |
| Beers | Between $7.50 and $8.00 per drink |
| Wines by the glass | From $8.00 to $14.00 per glass |
| Cocktails | $14.00 per cocktail |
| Zero-proof Cocktails | $7.00 per drink |
As you can see, Royal Caribbean drink prices are structured to cater to various budgets and preferences. It's important to note that these prices are subject to change based on the ship and itinerary.
Do take advantage of the Royal Caribbean drink package calculator to find the best beverage package for your needs.
Cocktails and mixed drinks
Royal Caribbean offers a wide selection of cocktails and mixed drinks to satisfy any craving. Whether you're in the mood for a classic mojito or a tropical margarita, you'll find plenty of options to choose from.
The prices for these delightful concoctions start at $14, ensuring that you can enjoy your favorite cocktail without breaking the bank.
Plus, with their expert mixologists crafting each drink with precision and care, you can expect top-notch quality every time.
So sit back, relax, and let Royal Caribbean's talented bartenders take your taste buds on a journey with their incredible selection of cocktails and mixed drinks.
Wine prices
Wine enthusiasts on Royal Caribbean can enjoy a range of options at varying prices.
If you opt to purchase wine by the glass without a drink package, you can expect to pay anywhere between $8.00 and $14.00 per glass.
The selection includes both red and white wines, allowing guests to choose their preferred varietals. Whether you're a fan of full-bodied Cabernets or crisp Chardonnays, there's something for every palate onboard.
For those who appreciate the convenience and value of a drink package, there are different packages available that include wine options as well.
So whether you prefer a bold Merlot or a refreshing Sauvignon Blanc, Royal Caribbean has got your wine desires covered during your cruise experience.
Beer prices
Royal Caribbean offers a wide selection of beers at varying prices. Without a drink package, guests can expect to pay between $7.50 and $8.00 for a domestic beer onboard.
The prices may differ depending on the specific brand and type of beer you choose. Whether you prefer lagers, ales, or craft brews, Royal Caribbean has options to suit every beer lover's palate.
So sit back, relax, and enjoy your favorite brew while taking in the stunning views from the deck of your cruise ship. Cheers!
Non-alcoholic drink prices
For those who prefer non-alcoholic options, Royal Caribbean offers a variety of refreshing beverages at reasonable prices.
Enjoy a range of non-alcoholic cocktails and mocktails starting from $7.00 without a drink package.
Craving something fruity and tropical? Try the Zeroproof Lime and Coconut drink at just $7.00, or indulge in a selection of other delicious concoctions that cater to all taste preferences. With affordable options like these, you can stay hydrated and cool while enjoying your cruise experience with Royal Caribbean's wide array of non-alcoholic beverage choices.
Spirits and liquor prices
Spirits and liquor prices on Royal Caribbean cruises can vary depending on the brand and type of alcohol you choose.
Generally, a standard mixed drink or cocktail without a drink package will cost around $14. However, it's important to note that this price can increase if you opt for premium spirits or specialty liquors.
For those who enjoy savoring their favorite whiskey or vodka, it's worth considering one of the beverage packages offered by Royal Caribbean.
These packages provide an opportunity to indulge in top-shelf brands without worrying about individual prices. With options like the Deluxe Package, guests can select from a wide range of spirits and have them conveniently included within their cruise fare.
Royal Caribbean Beverage Packages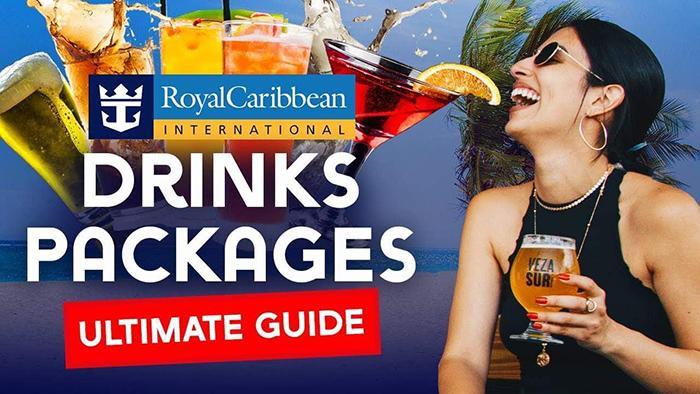 Deluxe Package
The Deluxe Package on Royal Caribbean is a great option for those looking to indulge in a variety of alcoholic beverages while onboard. This package offers an extensive selection of cocktails, spirits, wines, and beers.
With prices ranging from $63 to $98 per person, plus gratuities, guests can enjoy up to $13 per drink with this package. That means you'll have plenty of options to choose from without having to worry about the cost adding up.
Whether you're a fan of craft cocktails or prefer classic favorites, the Deluxe Package has something for everyone. So sit back, relax, and sip on your favorite drinks as you sail through the beautiful waters with Royal Caribbean.
Refreshment Package
The Royal Caribbean Refreshment Package offers a great option for those who prefer non-alcoholic beverages. Priced between $29.00 and $38.00 plus gratuities, this package includes a variety of refreshing options such as mocktails, smoothies, premium coffees, and bottled water.
It is an excellent choice for individuals looking to stay hydrated throughout their cruise while enjoying delicious drinks without the alcohol.
With prices starting from just $7.00 per drink outside of the package, the Refreshment Package provides value for money and ensures that guests have plenty of thirst-quenching choices available to them during their Royal Caribbean vacation.
Classic Soda Package
The Classic Soda Package offered by Royal Caribbean is a great option for those looking to enjoy unlimited non-alcoholic beverages during their cruise.
Priced at around $12 per day, plus gratuities, this package allows guests to indulge in their favorite sodas, mocktails, and other non-alcoholic specialty drinks throughout the voyage.
Whether you're craving a refreshing Coca-Cola or a tasty virgin Piña Colada, you can sip on your favorite beverages without worrying about additional charges.
With the Classic Soda Package, staying hydrated and enjoying your favorite fizzy drinks has never been easier onboard Royal Caribbean cruises.
Coffee Package
Coffee lovers will be pleased to know that Royal Caribbean offers a Coffee Package for those who can't start their day without a good cup of joe. This package allows guests to enjoy unlimited premium coffee and teas throughout their cruise.
With prices ranging from $32 to $39 per person, plus gratuities, it's a great way to save money on your caffeine fix while onboard.
Whether you prefer an espresso, cappuccino, or just a simple black coffee, the Coffee Package has got you covered.
So sit back, relax, and savor the aroma of freshly brewed coffee as you sail away on your Royal Caribbean adventure.
Water Package
The Water Package on Royal Caribbean provides guests with unlimited bottled water throughout their cruise. For those who prefer to stay hydrated without alcohol or soft drinks, this package offers a convenient option.
The cost of the Water Package varies depending on the ship and itinerary, but it typically ranges from $18 to $24 per person for a seven-night cruise, plus gratuities.
This package allows guests to quench their thirst with refreshing bottled water whenever they need it, ensuring they can stay hydrated and enjoy their cruise experience without worrying about additional drink costs.
Tips for Saving Money on Drinks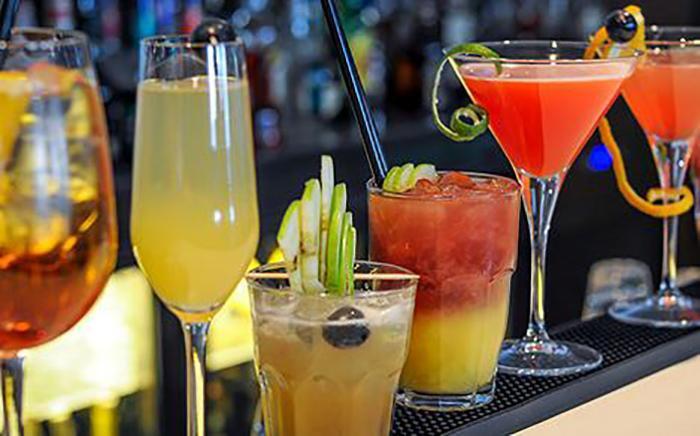 Look for complimentary drinks
On Royal Caribbean, it's always a good idea to keep an eye out for complimentary drinks. While alcoholic beverages are typically not free onboard, there are still opportunities to enjoy some complimentary refreshments.
For instance, during special events like the Captain's Welcome Aboard Toast or the Crown and Anchor Society Celebration, guests can often enjoy complimentary champagne or other sparkling drinks.
Additionally, certain dining venues may offer welcome aboard cocktails upon arrival. So be sure to take advantage of these little perks throughout your cruise and savor those free sips!
Take advantage of promotions
Keep an eye out for special promotions and discounts on Royal Caribbean drink packages. These offers can save you money and allow you to enjoy your favorite beverages without breaking the bank.
Check the Royal Caribbean website or contact their customer service to see if there are any current promotions available. They often run limited-time deals that can provide significant savings on drink packages.
Follow Royal Caribbean on social media platforms like Facebook and Instagram. They frequently post updates about promotions, including discounted drink packages and special offers.
Consider booking your cruise during off – peak times when Royal Caribbean may offer extra incentives or discounts on beverage packages. This can help you save even more money while enjoying your favorite drinks onboard.
Keep an eye out for onboard coupons or vouchers that may be included in your cruise documentation or provided upon check-in. These vouchers can offer discounts on individual drinks or additional savings on beverage packages.
Pay attention to any emails or communications from Royal Caribbean before your cruise. They often send out exclusive offers and promotions to guests who have a booking with them, including discounted drink package options.
Avoid overpaying for the drink package
To avoid overpaying for the drink package on Royal Caribbean, there are a few strategies you can employ.
First, consider if the package aligns with your drinking habits. If you're not a big drinker or prefer non-alcoholic beverages, it might be more cost-effective to skip the package altogether and pay for drinks individually.
Also, keep an eye out for promotions and discounts that may be available. Royal Caribbean often offers specials on their beverage packages, so take advantage of these deals to save some money.
Another tip is to share drinks with a companion if possible. This way, you can split the cost of the package and get more value out of it. Lastly, don't forget that there are other options besides the all-inclusive package.
Share drinks with a companion
You can save some money on drinks while enjoying your Royal Caribbean cruise by sharing them with a companion. Instead of buying individual beverages, consider splitting the cost and enjoying the drink together.
This way, you both get to taste different cocktails or wines without having to spend double the amount.
It's a great way to try out more options while still sticking to your budget. Plus, it adds an element of fun and camaraderie during your cruise experience.
So, grab a friend or loved one and make the most of your Royal Caribbean drink choices by sharing them together!
Take advantage of discounted drinks
Look for happy hour specials and promotions on board the ship. Many bars and lounges offer discounted drinks during specific hours of the day.
Participate in themed nights or events that offer discounted drink prices. Some nights may feature specific cocktails or beverages at a lower cost.
Check for drink coupons or vouchers that may be included in your cruise package. These can often be used towards discounted drinks at various bars and venues on the ship.
Take advantage of any loyalty programs or memberships you may have with Royal Caribbean. These programs often provide discounts on drinks and other onboard amenities.
Consider purchasing drinks during port stops, as prices for alcoholic beverages are typically lower when compared to onboard prices.
Keep an eye out for special promotions or packages that include discounted drinks. Royal Caribbean occasionally offers deals where a certain number of drinks are included with your cruise fare.
Conclusion
In conclusion, knowing the prices of drinks on Royal Caribbean can help you plan your onboard budget better. From specialty cocktails to non-alcoholic options, there is a wide range of choices available.
Whether you opt for a drink package or choose individual beverages, being aware of the costs will ensure that you make the most out of your cruise experience without breaking the bank.
Cheers to smooth sailing and great drinks!