Are you planning a Carnival Cruise and wondering what the on-board drinks might cost?
Fun times are definitely ahead, but it's worth knowing that your beer could start at $6.50 for a 16-ounce serving!
This article will provide detailed information about the prices of alcoholic and non-alcoholic beverages, giving you a clear picture of how much to budget for refreshments.
Get ready as we take a deep dive into Carnival Cruise drink costs!
Carnival Cruise Drink Prices
Alcoholic beverages
Stepping aboard a Carnival Cruise, you're greeted with an extensive variety of alcoholic beverages to add some extra pep to your vacation.
From crisp beers starting at $6.50 for a 16-ounce serving to exceptional wines by the glass that begin at $9.50, there's something for every palate.
If mixed drinks are more your style, indulge in options ranging from $7.50 all the way up to $20 depending on complexity and premium alcohol content.
Noteworthy as well is their specialty cocktails designed by experienced mixologists – these delights kick off at an enticing $10.50 each!
On average though, most passengers settle into a comfortable drink routine around the cocktail menu – typically priced near $12.95 per drink.
Non-alcoholic beverages
Non-alcoholic beverages on a Carnival cruise provide refreshing options for those who prefer to skip the alcohol.
You can quench your thirst with a variety of choices, including soft drinks priced at $2.50 and specialty drinks ranging from $2.00 to $4.95.
These non-alcoholic options allow you to stay hydrated and enjoy flavorful beverages throughout your cruise experience.
Whether you prefer classic sodas or fun mocktails, there's something for everyone looking to steer clear of alcoholic beverages onboard Carnival Cruises.
In addition to the affordable prices, Carnival offers varied selections of non-alcoholic drinks that cater to all tastes.
From carbonated favorites like cola and lemon-lime soda to fruit juices, iced tea, and specialty virgin cocktails, you'll have plenty of delicious options available as you bask in the sun or relax by the poolside deck on your vacation getaway aboard a Carnival cruise ship.
Beverage Packages on Carnival Cruise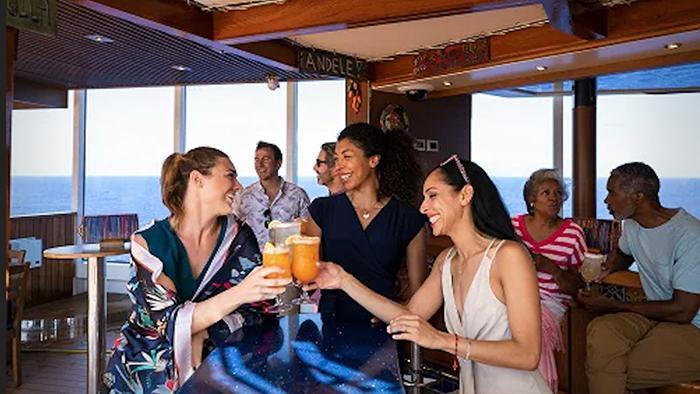 Cheers! Beverage Program
The Cheers! Beverage Program on Carnival Cruise is a fantastic option for those who enjoy indulging in alcoholic beverages.
For a fixed price of $51.95 per person, per day plus an 18 percent gratuity, guests can have unlimited access to a wide variety of drinks throughout their cruise.
This includes beers, wines, mixed drinks, and specialty cocktails with prices ranging from $6.50 to $20.00 individually. With the average cocktail on Carnival cruises priced at around $12.95, purchasing the Cheers!
Beverage Program can save you quite a bit of money if you plan on enjoying more than just a few drinks each day during your vacation onboard the ship.
Please note that these prices are subject to change and may vary depending on the specific itinerary and duration of your cruise with Carnival.
Bottomless Bubbles
Bottomless Bubbles is a non-alcoholic beverage package offered by Carnival Cruise. Priced at $5.95 per day, this package allows you to enjoy unlimited soda and other non-alcoholic drinks throughout your cruise.
With soft drinks priced at $2.50 each, the Bottomless Bubbles package can be a cost-effective option if you're a fan of carbonated beverages or prefer staying away from alcohol.
There's no need to worry about constantly purchasing sodas individually when you have this convenient package that ensures you never go thirsty onboard the ship.
So, whether you're craving a refreshing cola or looking for an ice-cold sprite, the Bottomless Bubbles package has got all your non-alcoholic drink needs covered during your Carnival Cruise vacation.
Is a Carnival Drink Package Worth It?
Cost comparison
The table below provides an overview of the cost per drink type versus the cost of the Carnival drink package.
| Drink Type | Average Price Per Drink | Average Daily Cost (5 Drinks) |
| --- | --- | --- |
| Beer | $6.50 | $32.50 |
| Wine | $9.50 | $47.50 |
| Mixed Drinks | $7.50 – $20.00 | $37.50 – $100.00 |
| Specialty Cocktails | $10.50 | $52.50 |
| Soft Drinks | $2.50 | $12.50 |
| Specialty Non-alcoholic Drinks | $2.00 – $4.95 | $10.00 – $24.75 |
| Carnival Drink Package | N/A | $51.95 + 18% gratuity |
Considerations for purchasing
When considering purchasing a drink package on Carnival Cruise, there are several factors to keep in mind:
Budget: Calculate how much you are willing to spend on drinks during your cruise. Compare the cost of individual beverages to the price of the drink package to determine if it is worth it for you financially.
Drinking Habits: Take into account how often and how much you typically drink. If you enjoy having several cocktails or glasses of wine throughout the day, a drink package may be more cost-effective for you.
Variety of Drinks: Consider the types of beverages you enjoy. If you prefer non-alcoholic options such as soda or mocktails, the Cheers! Beverage Program might not be necessary for you since there is an available Bottomless Bubbles package that offers unlimited soft drinks.
Itinerary: Think about the length of your cruise and the number of sea days versus port days. If your itinerary includes more time at sea, a drink package could help maximize your enjoyment onboard.
Dining Preference: Take note of where and when you plan to have most of your meals onboard. If you tend to dine at specialty restaurants or order room service frequently, the drink package may not offer as much value since those venues typically charge separately for beverages.
Daytime Activities: Consider whether you will be partaking in activities that involve drinking. such as pool parties or trivia nights. These events can provide additional opportunities to make use of a drink package.
Group Travel: If you are traveling with friends or family who also enjoy drinking, pooling together to purchase a group drink package can help save money per person.
Tipping Policy: Be aware that an 18 percent gratuity is added onto the cost of each drink when purchasing a Carnival drink package. Keep this in mind when calculating whether it is worth it for your budget.
Tips to Save Money on Drinks During a Carnival Cruise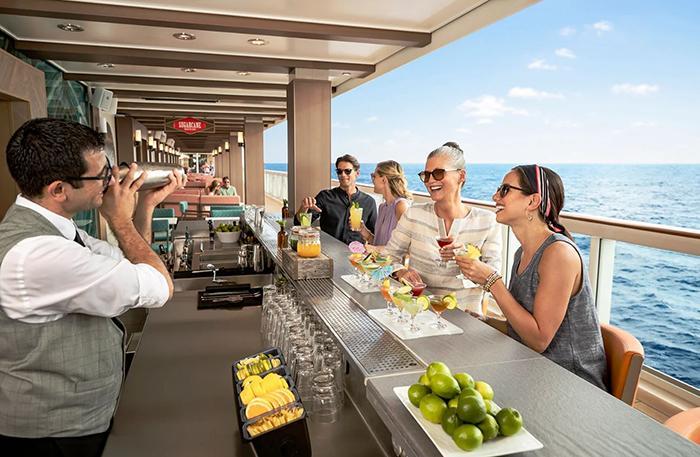 Save money on drinks during your Carnival Cruise by bringing your own beverages, taking advantage of free drink opportunities, and keeping an eye out for happy hour specials.
Bringing your own drinks
Bringing your own drinks on a Carnival cruise can be a smart way to save money and have your favorite beverages readily available. Here are some tips on how to make the most of this option:
Pack your own alcohol: You are allowed to bring a limited amount of wine or champagne (one 750 ml bottle per adult) and up to 12 cans or cartons (20 ounces or less) of non-alcoholic beverages per person in your carry-on luggage. This can be a cost-effective way to enjoy your preferred drinks without having to purchase them on board.
Choose non-alcoholic alternatives: If you're looking to save on alcoholic beverages, consider bringing your own soft drinks or other non-alcoholic options. With prices starting at $2.50 per drink on Carnival cruises, bringing your own can significantly reduce your expenses.
Avoid glass containers: While you can bring wine or champagne, it's important to note that glass containers are not allowed in common areas for safety reasons. Opt for plastic bottles or cans instead.
Don't forget mixers: If you plan on enjoying mixed drinks during your cruise, remember to pack any necessary mixers. Carnival cruise ships offer complimentary ice and garnishes, so you'll have everything you need for a refreshing cocktail.
Be mindful of customs regulations: Before bringing your own beverages on board, familiarize yourself with any customs regulations regarding alcohol consumption in the ports of call visited during the cruise. Some destinations may have restrictions or charges related to importing alcohol.
Taking advantage of free drinks
Free drinks can be a great way to enjoy your Carnival cruise without breaking the bank. Here are some tips on how to take advantage of these complimentary beverages:
Welcome Aboard Party: Kick off your cruise with a bang by attending the Welcome Aboard Party. During this event, you can enjoy free drinks and mingle with fellow passengers.
Captain's Cocktail Party: Another opportunity for free drinks is the Captain's Cocktail Party. This exclusive event allows you to sip on complimentary cocktails while mingling with the captain and other officers.
Casino Drinks: If you're feeling lucky, head over to the casino and take advantage of their free drink service while you try your hand at the slot machines or poker tables.
Art Auctions: Attend one of the onboard art auctions and receive free champagne as you peruse the artwork on display. It's a great way to learn about art while enjoying a glass of bubbly.
Special Events: Keep an eye out for any special events happening during your cruise, such as sail-away parties or themed nights, where free drinks may be offered.
Loyalty Program Benefits: If you're a member of Carnival's loyalty program, VIFP (Very Important Fun Person), you may be entitled to various perks, including complimentary drinks at certain times during your cruise.
Friends in High Places: Make friends with crew members who have access to employee-only bars or lounges. They might invite you for a drink or two during their off-hours.
Tastings and Demonstrations: Attend beverage tastings or culinary demonstrations onboard that include complimentary samples of wine, cocktails, or other beverages.
Happy hour specials
During your Carnival cruise, you'll be pleased to find that there are plenty of ways to save money on drinks. One such way is by taking advantage of the happy hour specials offered onboard.
These specials typically feature discounted prices on select alcoholic beverages for a limited time each day.
So, if you're looking to enjoy a cocktail or two without breaking the bank, make sure to check out the happy hour offerings during your cruise.
With these money-saving options available, you can savor your favorite drinks while still staying within budget.
Cheers!
Conclusion
In conclusion, the cost of drinks on a Carnival Cruise can vary depending on your preferences and consumption. From beer to wine, mixed drinks to specialty cocktails, there is a wide range of options available at different price points.
While purchasing a drink package may offer convenience and potential savings for some, it's important to consider your own drinking habits and budget before making a decision.
Remember, there are also ways to save money on drinks during your cruise by taking advantage of free drink offerings and happy hour specials.
Cheers to finding the perfect balance between enjoying your favorite beverages and staying within your budget!