Welcome to the ultimate guide for discovering the 15 best bars in Union Square, NYC! Whether you're a local or just visiting, this vibrant neighborhood has something for every taste.
From hidden gems serving up craft cocktails to rooftop bars boasting stunning views and Victorian establishments dripping with charm, our list is sure to help you navigate Union Square's bustling nightlife scene.
So grab your friends and get ready to explore a diverse mix of cocktail bars, wine bars, lounges, and more on this unforgettable journey through some of Manhattan's top-rated watering holes.
Top 15 Bars In Union Square NYC
The Belfry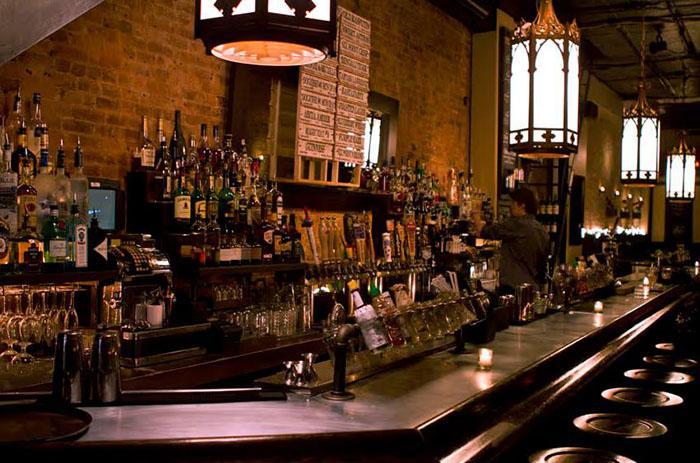 Nestled amidst the bustling Union Square nightlife scene, The Belfry is a must-visit gastropub for those on the lookout for top-notch cocktails, craft beer, and comfort food.
Located at 222 East 14th Street, this Lower Manhattan bar boasts rustic décor designed to transport patrons back to colonial days.
Aside from its historical ambiance, The Belfry is celebrated for its fantastic drinks selection that caters to various tastes – from unique concoctions expertly crafted by mixologists to an assortment of fine craft beers waiting to quench your thirst.
Pair these with some mouthwatering comfort food dishes available in their diverse menu, and you have one unforgettable evening at one of NYC's best bars near Union Square.
Raines Law Room Chelsea
Step back in time to the Prohibition era and uncover one of Union Square NYC's hidden gems, Raines Law Room Chelsea. Named after an 1896 law that aimed to ban drinking in New York City, this swanky speakeasy bar exudes exclusivity and sophistication.
Raines Law Room Chelsea offers more than just their phenomenal nightlife experience — cocktail classes are available for those looking to learn how to make exquisite beverages themselves.
In addition, their gorgeous secret garden provides a serene escape from the bustling streets of Union Square. For private events or special occasions such as music festivals and weddings, Raines Law Room can bring its enchanting atmosphere directly to you through their fully operational Airstream cocktail bar.
Tocqueville
Tocqueville, offers a luxurious and sophisticated experience for those who appreciate fine dining and high-end cocktails.
Located at 1 East 15th Street in Union Square, Tocqueville provides an elegant ambiance within easy reach of many popular attractions. Enjoying recommendations from Michelin Guide USA's latest edition, the food and service at this upscale venue never disappoints.
Alcohol enthusiasts will appreciate the extensive menu featuring various craft cocktails and carefully selected wines to enhance any meal.
The Long Island Bar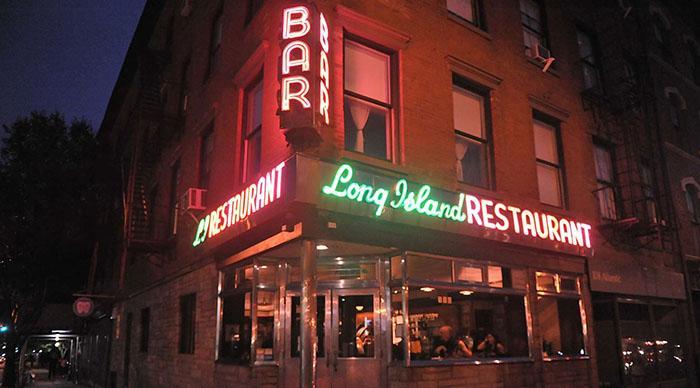 If you're looking for a unique and historic drinking experience, this bar offers just that. Styled after classic American diners with a vintage feel, The Long Island Bar has been serving cocktail enthusiasts since 1951.
Their extensive menu features classic drinks and unique creations served by expert mixologists behind the bar. Locals love the relaxed yet sophisticated atmosphere, making it an ideal spot for unwinding after work or meeting up with friends on weekends.
Blue Water Grill
Blue Water Grill was a beloved seafood restaurant located in Union Square, NYC. Sadly, the restaurant closed its doors in 2017 due to high rental rates in the area, which forced many establishments to shut down.
Located inside a former bank building with historic architecture that added character to its dining experience, Blue Water Grill's menu offerings were almost exclusively focused on seafood dishes.
From fresh oysters to whole grilled fish and lobster rolls, it had something for everyone's taste buds.
The Penny Farthing
Located near Union Square in New York City, The Penny Farthing is a go-to spot for those looking to watch the big game while enjoying classic bar food. This sports bar offers an inviting and rustic atmosphere that sets it apart from other bars in the area.
Aside from their spacious seating area and cozy ambiance, The Penny Farthing prides itself on its menu, which features classic bar-food options such as juicy burgers and crispy buffalo wings.
The Winslow
The Winslow is a spacious pub located near Union Square, and it's one of the best places to hang out with friends or grab drinks after a long day. The bar has a vast selection of beer, cocktails, wines, and whiskey that will keep you coming back for more.
You can also enjoy their delicious meals made from fresh ingredients at affordable prices.
Plus, if you're planning on celebrating your 30th birthday in Union Square NYC or want somewhere to go for happy hour spots in the area, make sure to add The Winslow to your list as they've been mentioned in articles about both topics.
Union Hall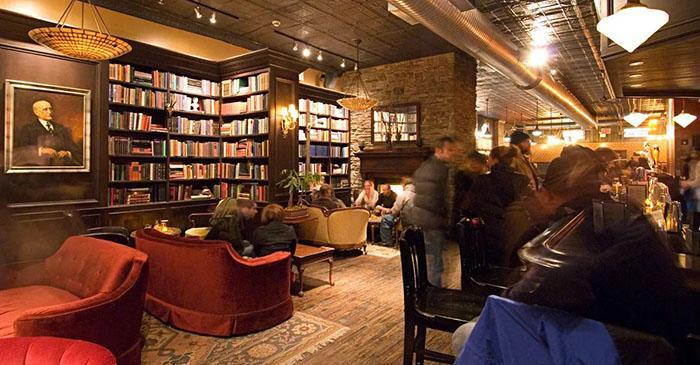 Union Hall is one of the best bars in Union Square NYC for those looking for a neighborhood bar feel with plenty of options. This classic spot boasts craft cocktails, happy hour specials and outdoor seating – perfect for enjoying a drink on a warm evening.
For those who consider themselves sports fans, Union Hall does not disappoint. The bar features multiple screens showing all the latest games and events, giving patrons plenty to cheer about while sipping their favorite brews.
The Gander
The Gander is a must-visit spot for alcoholics exploring the bar scene in Union Square. This upscale restaurant and bar boasts an extensive cocktail menu that features original creations alongside classic drinks with a twist.
The ambiance is chic yet welcoming, making it the perfect place to enjoy some drinks with friends or unwind after work.
In addition to its standout cocktails, The Gander offers delicious food options made with fresh ingredients sourced from local farms whenever possible. From small plates to entrees, there's something for everyone on the menu.
Whether you're looking for a casual dinner or a more formal dining experience, this establishment can accommodate your needs.
Bar Belly
One of Bar Belly's standout features is their happy hour deals which serve up great discounts on drinks and snacks. It's the perfect spot to grab a drink after work or hit up with friends during late-night bar hopping adventures in Union Square.
Pete's Tavern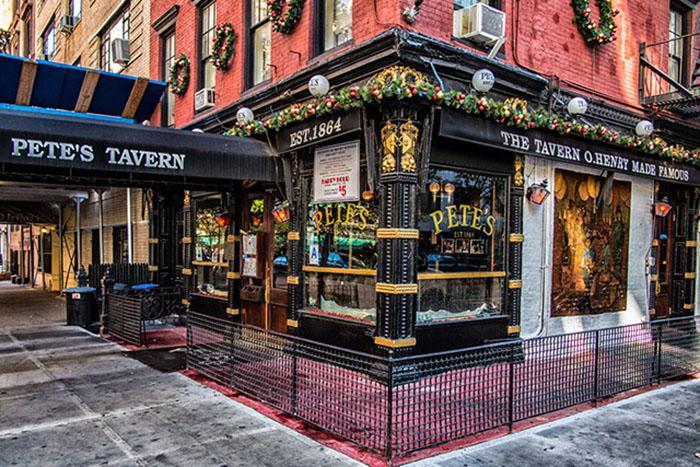 Pete's Tavern is a must-visit spot for those looking to grab a drink in Union Square. As the oldest continuously operating bar in NYC, founded back in 1864, it has become an iconic part of New York City history.
One of the best features of Pete's Tavern is its seasonal outdoor dining area. The gastropub offers fine dining options both inside and out, making it the perfect spot for those who are looking to enjoy drinks and food al fresco while soaking up the bustling ambiance of Union Square.
The Wren
The Wren is undoubtedly one of the best bars in Union Square NYC for alcoholism. They are known for their beautifully crafted seasonal cocktails that use fresh and locally sourced ingredients.
Their cocktail menu features several vintage spirits that have been expertly mixed with modern techniques to create unique and delicious drinks.
Apart from their exceptional drink offerings, The Wren also has an extensive gourmet bar food menu that includes everything from classic bar bites like wings and nachos to more elevated dishes like smoked salmon toast and chicken liver pate.
They offer late-night dining until 1 am, making it an excellent spot for those looking for a midnight snack or nightcap.
The Churchill Tavern
The Churchill Tavern is a must-visit spot for British pub enthusiasts looking to indulge in local beers and traditional English cuisine.
Located at 45 East 28th Street in New York City, this cozy and intimate bar has been serving patrons since 2011.
Interestingly, The Churchill Tavern was once linked to Tammany Hall and operated continuously through Prohibition. Visitors can sample an array of craft beer while indulging in classic pub fare such as fish and chips or shepherd's pie.
The Ginger Man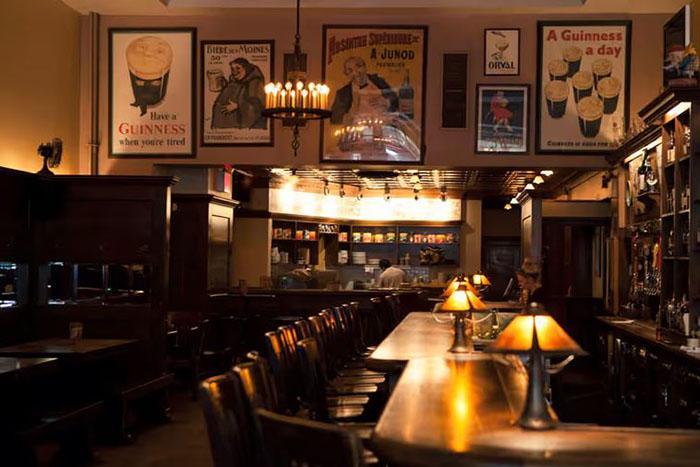 The Ginger Man in Union Square, NYC is a historical and iconic bar that attracts a diverse clientele. With its roots dating back to Tammany Hall's heyday in the 19th century, The Ginger Man is steeped in history and boasts an impressive selection of craft beers on tap.
Whether you're looking for a neighborhood bar where you can catch up with friends or crave some solo time at the bar sipping your favorite drink while enjoying great music playing overhead, The Ginger Man has something for everyone.
From its warm ambiance to its extensive beer menu boasting rare finds from all over Europe and beyond, this beloved New York City establishment will satisfy even the most discerning drinkers.
Dear Irving Gramercy
Dear Irving Gramercy is a top-rated upscale cocktail bar located in the heart of Gramercy Park. Known for its unique and well-made cocktails, Dear Irving offers a classy and speakeasy-style atmosphere that attracts both locals and tourists alike.
This beautifully designed bar is operated by Alberto Benenati and Yves Jadot, who also run Raines Law Room Chelsea. The interior features period-piece decor with expert mixologists who provide high-end service to create a unique bar experience for each patron.
Conclusion
In conclusion, the Union Square area of NYC is home to some incredible bars and nightlife spots. From swanky cocktail bars to cozy dive joints, there's something for everyone.
Whether you're looking for a rooftop bar with stunning views or a Victorian-style lounge with craft cocktails, our list has got you covered.
Don't forget to check out the related search section for more recommendations on wine bars and happy hour specials in the area.